Hello Kid Lit Friends!
It's June, which means I get to talk about all the new releases I'm excited about for the second half of 2019! Yay!
---
Sponsored by All the Books, our weekly podcast about new book releases!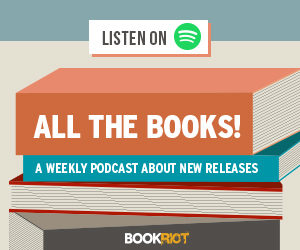 Have you listened to our All the Books podcast yet? On All the Books, Book Riot resident velocireader Liberty Hardy and several rotating co-hosts discuss the week's most exciting and intriguing new book releases from every genre. Stay up to date on the best new books with new episodes every Tuesday (and get bonus recommendations for older books every Friday with the All the Backlist drop-in episodes!). Never miss the buzz on the best new releases: listen to All the Books on Spotify, or your podcatcher of choice.
---
I'll be honest; it was very difficult to narrow down my anticipated picture book list to the ones you'll see below. A lot of fall books haven't come across my desk yet and I simply cannot put all the books I'm excited about in one list – it would be miles long! But here are some that I'm particularly excited about; a look at my choices below and let me know what you think!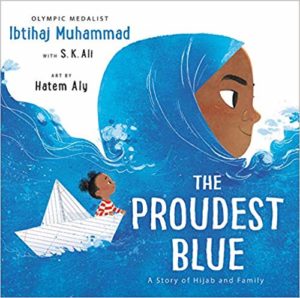 The Proudest Blue by Ibitihaj Muhammad with S.K. Ali, illustrated by Hatem Ali (Little, Brown, 9/10)
With her new backpack and light-up shoes, Faizah knows the first day of school is going to be special. It's the start of a brand new year and, best of all, it's her older sister Asiya's first day of hijab–a hijab of beautiful blue fabric, like the ocean waving to the sky. But not everyone sees hijab as beautiful, and in the face of hurtful, confusing words, Faizah will find new ways to be strong.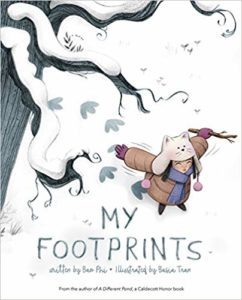 My Footprints by Bao Phi, illustrated by Basia Tran (Capstone, 9/1)
Every child feels different in some way, but Thuy feels "double different." She is Vietnamese American and she has two moms. Thuy walks home one winter afternoon, angry and lonely after a bully's taunts. Then a bird catches her attention and sets Thuy on an imaginary exploration. What if she could fly away like a bird? What if she could sprint like a deer, or roar like a bear? Mimicking the footprints of each creature in the snow, she makes her way home to the arms of her moms. Together, the three of them imagine beautiful and powerful creatures who always have courage – just like Thuy.
Nya's Long Walk: A Step At A Time by Linda Sue Park, illustrated by Brian Pinkney (HMH, 9/2)
Young Nya takes little sister Akeer along on the two-hour walk to fetch water for the family. But Akeer becomes too ill to walk, and Nya faces the impossible: her sister and the full water vessel together are too heavy to carry. As she struggles, she discovers that if she manages to take one step, then another, she can reach home and Mama's care.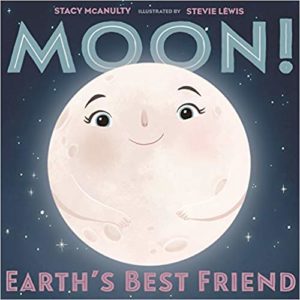 Moon! Earth's Best Friend by Stacy McAnulty, illustrated by Stevie Lewis (Macmillan, 6/11)
Meet Moon! She's more than just a rock―she's Earth's rock, her best friend she can always count on. Moon never turns her back on her friend (literally: she's always facing Earth with the same side!). These two will stick together forever. With characteristic humor and charm, Stacy McAnulty channels the voice of Moon in this next celestial "autobiography" in the Our Universe series.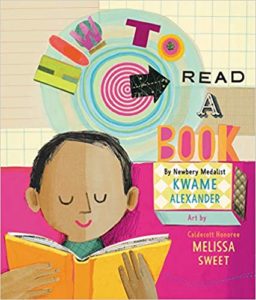 How To Read A Book by Kwame Alexander, illustrated by Melissa Sweet (HarperCollins, 6/18)
From Newbery Medalist Kwame Alexander and Caldecott Honoree Melissa Sweet, this duo has teamed up for the first time to bring you How to Read a Book, a poetic and beautiful journey about the experience of reading.
Find a tree—a
black tupelo or
dawn redwood will do—and
plant yourself.
(It's okay if you prefer a stoop, like Langston Hughes.)
With these words, an adventure begins. Kwame Alexander's evocative poetry and Melissa Sweet's lush artwork come together to take readers on a sensory journey between the pages of a book.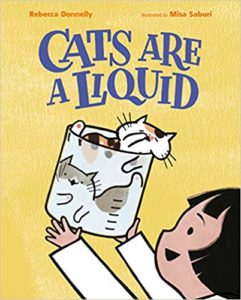 Cats Are A Liquid by Rebecca Donnelly, illustrated by Misa Saburi (Henry Holt, 10/8)
Cats fill./ Cats spill./ Cats flow downhill.// Cats tip./ Cats drip./ Cats grip, snip, rip.// Cats are a liquid/ Except when they're not.
Inspired by an Ig Nobel Prize–winning investigation of how cats behave like liquids, this book introduces some of the physical properties of liquids―they adapt to fit a container, they flow like fluids―and is just pure fun.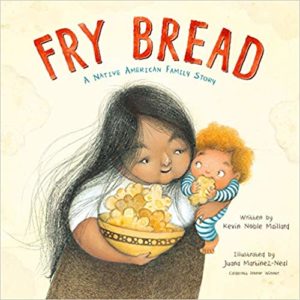 Fry Bread by Kevin Noble Maillard, illustrated by Juana Martinez-Neal (Roaring Brook Press, 10/22/19)
Fry bread is food.
It is warm and delicious, piled high on a plate.
Fry bread is time.
It brings families together for meals and new memories.
Fry bread is nation.
It is shared by many, from coast to coast and beyond.
Fry bread is us.
It is a celebration of old and new, traditional and modern, similarity and difference.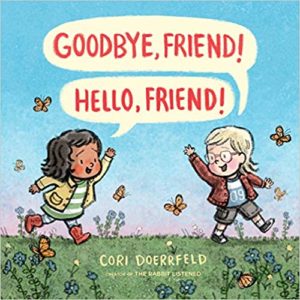 Goodbye, Friend! Hello, Friend! by Cori Doerrfeld (Penguin, 7/2)
Change and transitions are hard, but Goodbye, Friend! Hello, Friend! demonstrates how, when one experience ends, it opens the door for another to begin. It follows two best friends as they say goodbye to snowmen, and hello to stomping in puddles. They say goodbye to long walks, butterflies, and the sun…and hello to long evening talks, fireflies, and the stars. But the hardest goodbye of all comes when one of the friends has to move away. Feeling alone isn't easy, and sometimes new beginnings take time. But even the hardest days come to an end, and you never know what tomorrow will bring.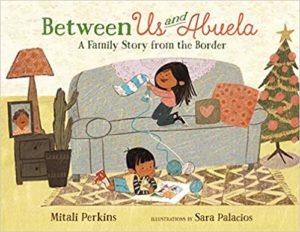 Between Us and Abuela: A Family Story from the Border by Mitali Perkins, illustrated by Sara Palacios (Farrar, Strauss, and Giroux, 9/10)
It's almost time for Christmas, and Maria is traveling with her mother and younger brother, Juan, to visit their grandmother on the border of California and Mexico. For the few minutes they can share together along the fence, Maria and her brother plan to exchange stories and Christmas gifts with the grandmother they haven't seen in years. But when Juan's gift is too big to fit through the slats in the fence, Maria has a brilliant idea.
Here is a heartwarming tale of families and the miracle of love.
The Many Colors of Harpreet Singh by Supriya Kelkar, illustrated by Alea Marley (Sterling, 9/3)
Harpreet Singh has a different color for every mood and occasion, from pink for dancing to bhangra beats to red for courage. He especially takes care with his patka—his turban—smoothing it out and making sure it always matches his outfit. But when Harpreet's mom finds a new job in a snowy city and they have to move, all he wants is to be invisible. Will he ever feel a happy sunny yellow again?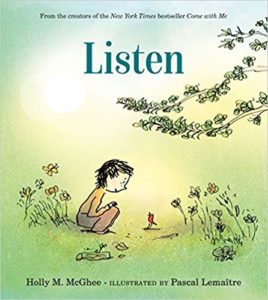 Listen by Holly M. McGhee, illustrated by Pascal Lemaitre (Roaring Brook, 9/3)
Listen
with your heart.
It is your ears
your eyes
your nose
your mouth
your hands–
Author Holly M. McGhee and illustrator Pascal Lemaître ask you, me, and all of us to inspire empathy by exploring what it means to be connected to everything, including the natural world. Simple and tender, Listen teaches us to engage our senses, to taste, see, and feel in order to engage with the world around us.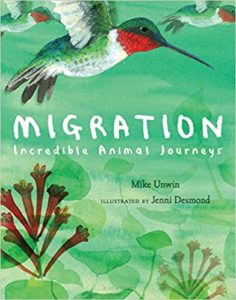 Migration: Incredible Animal Journeys by Mike Unwin, illustrated by Jenni Desmond (Bloomsbury, 8/6)
Animals of all shapes and sizes make epic journeys across our planet, through harsh weather, avoiding hungry predators, in their efforts to survive. Travel around the globe with some of the world's most incredible animals and discover their unique migration stories. Follow the emperor penguin through snow, ice and bitter temperatures; watch as the great white shark swims 10,000 km in search of seals; track huge herds of elephants, on their yearly hunt for water and be amazed at the millions of red crabs, migrating across Christmas Island.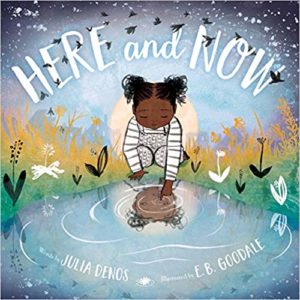 Here and Now by Julia Denos, illustrated by E.B. Goodale (HMH, 9/3)
Explore identity and connection, inspire curiosity, and prompt engaging discussions about the here and now.
Fill out our survey and enter to win! We're always trying to do things better here at Book Riot, so we would love your feedback on this newsletter. Click here to complete the survey and enter to win a $50 gift certificate to Amazon; contest will close on June 30 at 11:45pm
What new releases in 2019 are you excited about? Let me know! Find me on Twitter at @KarinaYanGlaser, on Instagram at @KarinaIsReadingAndWriting, or email me at karina@bookriot.com.
Until next time!
Karina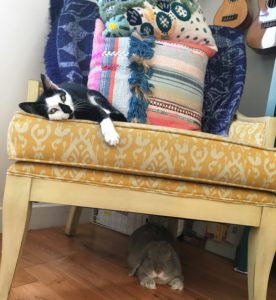 *If this e-mail was forwarded to you, follow this link to subscribe to "The Kids Are All Right" newsletter and other fabulous Book Riot newsletters for your own customized e-mail delivery. Thank you!*