Sponsored by Terry Goodkind in partnership with Head of Zeus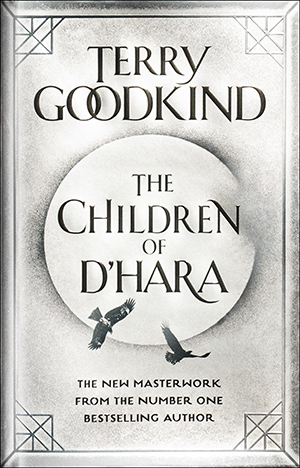 The world has been forged anew. Tyranny vanquished, the breach between the living and the dead healed, the stars themselves realigned. It is the triumph Richard Rahl and his wife Kahlan Amnell fought so hard, over so many years, for. What Richard does not expect is a demand for his immediate, unconditional surrender. Not of D'Hara, but of the entire world… If you've read Terry Goodkind before, welcome back. If you haven't, there's no better place to start than here. Buy The Children of D'Hara now.
Happy Tuesday, shipmates! We're already at the last Tuesday of this short month, and it's Alex with new releases and some genre news for your day. When I went out to pick up dinner (in a safe, socially distanced way) it was actually light out, which is a welcome change. It's a sign that we're getting through the winter at least. And I have to tell you, last night I stayed up until an absolutely unholy hour reading Soulstar, the third book of CL Polk's Kingston Cycle, and I cannot recommend it enough. Stay safe out there, shipmates, and I'll see you on Friday!
The worst has passed in Texas, but they're going to be feeling the effects of the winter storm for a while. If you want to help, you can check this Texas mutual aid directory.
---
New Releases
Note: The new releases lists I have access too were not as diverse as I would have liked this week.
In the far future, humanity survives inside giant space animals, which they have driven nearly to extinction with this exploitation. But after attaining the throne, Doka has crafted life inside his living ship into something that is almost utopian. But his rivals are trying to push him into failure, and when they must open their home to thousands of refugees, external clashes join the internal. It is up to Doka and the one woman he is forbidden to love, his wife, to work to keep and expand the peace.
Telepathic ambush predator Sarah Zellaby has been kidnapped and manipulated by her birth family and undergone a transformation into greater power, though she's still externally the same. Now stranded in another dimension with a few familiar faces who do not recognize her at all, Sarah must figure out who and what she is–and if that's someone she can live with.
Glow by Tim Jordan
After Earth's civilization has been shattered and partially rebuilt by corporations, the factions left behind are vying for control and power. And in that world is Glow, a nanotech drug that jumps through multiple people and cuts and pastes memories and personas. A confused junkie, a corporate founder living on a satellite, and an unstoppable robotic assassin are tied together by the Glow and trying to survive.
Michael Martiniere is a clone of an old man who does not want to die; his life was always intended to end so that Philip Martiniere could live. He's rescued from that fate at the age of five, but he still must struggle against his own body and the mind control used against him if he wants to be free of Philip's legacy.
After her car breaks down in the Nevada desert, Rose hears a radio broadcast of the voicemail her best friend Gaby left just before she died a year ago. She follows the radio broadcast to a small town called Lotus Valley, a place filled with prophets who claim they have been waiting for her, because Rose's arrival heralds a flood that will come in three days and destroy the town.
Klementia and Eli, wizards from the Holy Russian Empire, have come to Ciudad Juarez with the mission of finding descendants of Rasputin. But they're not the only ones on the hunt, and they're all after the same person: Felicia, Rasputin's granddaughter.
News and Views
Reminder: Symphony Space has a Celebration of Octavia E. Butler tomorrow!
Neon Hemlock has picked up a novella by Brent Lambert, to be published in 2022
Big congrats to Sascha Stronach; Saga Press has picked up The Dawnhounds!
Nerds of a Feather has an author roundtable with many of the writers (and the editor) of Recognize Fascism
Interview with Namina Forna, author of The Gilded Ones
We Hunt the Flame is being developed into a TV series
Next SyFy short for Black History Month: Jeremy Kowsoleea's Realisation of Excellence
Spoiler warning, but this is a really good read on WandaVision: How WandaVision is Rewriting Our Understanding of Wanda Maximoff's Story
What Fandom Racism Looks Like: All the Pieces of Heroes of Color
40 times science fiction was wrong about predicted future events
WorldCon 2021 (aka DisCon III) has removed Toni Weisskopf as Guest of Honor after the reporting on violent rhetoric in the Baen forums
Perserverance touched down on Mars. The rover sent its first and second image of the Martian landscape shortly after. And a delightful XKCD comic.
On Book Riot
Ernest Frankenstein: in search of a missing character
12 books like The Selection to read after the series
This month you can enter to win $100 at a bookstore of your choice, a bundle of YA books plus a $250 Visa gift card, and/or a Kindle Paperwhite. And only for Canadian Rioters, a $100 Indigo gift card.
---
See you, space pirates. If you'd like to know more about my secret plans to dominate the seas and skies, you can catch me over at my personal site.