Joan Didion Documentary Coming To Netflix
Will this documentary teach me how to be as effortlessly cool as Joan Didion? Netflix is producing a Didion documentary, Joan Didion: The Center Will Not Hold, chronicling the author's life and work. The film, which will be directed by Didion's nephew Griffin Dunne, will be available on October 27, so plan to have enough popcorn for the Didion doc and horror movies. The article includes a sneak peek and it's really good, yo.
100 Books Across America
What do you think of Literary Hub's list of the non-fiction and fiction books repping every state in America? Do the picks accurately represent your state? The author did admit that it's an impossible task. And I guess I won't argue with Didion's Slouching Towards Bethlehem and Paul Beatty's The Sellout for California.
Sir Terry Pratchett's Unfinished Novels Destroyed By Steamroller
The late Terry Pratchett's wishes were granted when his unfinished works were destroyed by a steamroller. Pratchett's hard drive was crushed by a vintage steamroller named Lord Jericho (of course) at the Great Dorset Steam Fair. We've been seeing a lot of exhumation of late writers' works–scenarios that force us to imagine authors turning in their graves. Nothing would make me happier than for the Discworld series to continue on eternally, but only if Pratchett of sound mind and body went on eternally (he would've been annoyed if my wish had come true).
The New York Times Interviews Jesmyn Ward
Jesmyn Ward talked about her reading life for the Times' By the Book section. TBR hazard zone aside, it's fascinating to learn the titles of the books that influence the great writers of our time. There's always something surprising in the mix. For instance, the books on Ward's nightstand at the time of the interview. No spoilers here–grab your bookstore shopping list and start reading.
---
Thank you to The End Of The World Running Club by Adrian Walker for sponsoring this week's newsletter.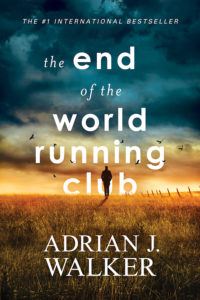 #1 International Bestseller!
When the world ends and you find yourself stranded on the wrong side of the country, every second counts. No one knows this more than Edgar Hill: over five hundred miles of devastated wasteland stretch between him and his family. To get back to them, he must push himself to the very limit—or risk losing them forever.
His best option is to run. But what if his best isn't good enough? A powerful postapocalyptic thriller, The End of the World Running Club is an otherworldly yet extremely human story of hope, love, and the endurance of both body and spirit.