Hey y'all, welcome to the Kissing Books newsletter. I hope your spirit is doing well today. I'm PN Hinton, your guide through the roller coaster of a ride that the world of romance can be. If this is your first time reading this newsletter, I'm glad that you're here. If you're a regular reader, welcome back; it's always good to see you.
Last Saturday, I celebrated Independent Bookstore Day by checking out Black Pearl Books for the first time. And believe me, it won't be the last time. I walked in and immediately felt relaxed. The space was open, warm, and inviting. The owners were friendly and it had a nice variety of books to choose from. They also had merchandise that I will need to go back and get some so I can promote them as I'm out and about since we all know how important it is to boost these types of bookstores so they can flourish.
And of course I did snag a few books, including Savvy Sheldon Feels Good As Hell Taj McCoy for the romance pick. I can't wait to get to it.
Bookish Goods
A modern and minimalist way to stylishly hold your headphones when not in use, our stand features an angled black steel arm set into a natural oak/walnut wood base. It will take up little space while looking good on a bedside table, desk, or next to your TV.
New Releases
After graduating college and having no job prospects, Jasmine returns home to work in her family's donut shop. When a rent increase threatens the future of her family business, she turns to Alex, her old college crush, for help. Sparks fly and there seems to be hope of a future romance until a disastrous dinner date shatters preconceptions and puts both sets of parents against the match. Will Julie be able to pull it all together to save her family business and the hope of a future with Alex?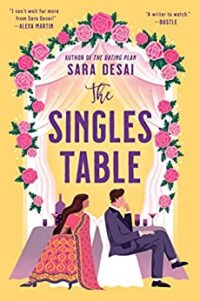 After a terrible break-up, Zara makes a new rule to only be the matchmaker and not the matched. One wedding, she is sat at the same table as Jay, and they strike up a bargain; if he introduces her to his celebrity clients, she will find him his perfect match. However, as the spend the wedding season together, they begin to wonder if they're avoiding the happily ever after staring them in the face.
And that's all I have for you today. I'll be back Monday with a fresh newsletter. In the meantime, I can be found posting on Twitter under @Pscribe801. Have a great weekend and happy reading until then.