Hello mystery fans! I love a good heist film (good = entertaining!) and I recently got to watch two I enjoyed: The Thieves (Viki) and Operation Fortune (Starz).
But first: a newish newsletter + a chance to win books! Book Riot's editorial team is writing for casual and power readers alike over at The Deep Dive! During the month of September, all new free subscribers will be entered to win Parable of the Sower by Octavia Butler plus five mystery books (as in surprise titles) from The Deep Dive. To enter, simply start a free subscription to The Deep Dive. No payment method required!
Bookish Goods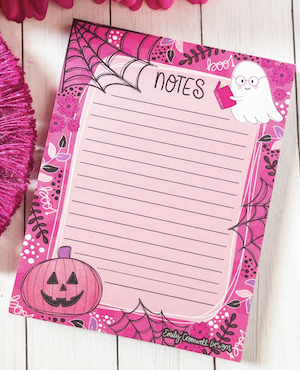 Halloweeny and bookish for those who can't have enough notepads! ($8)
New Releases
If you're wondering how you know the author's name, it's because she's had "controversial" and "Tiger mom" attached to her name since she published a parenting memoir in 2011. In 2019, she made headlines when her daughter got a clerkship under Brett Kavanaugh less than a year after Chua defended him in a Wall Street Journal op-ed.
Her latest release is great for fans of historical fic, past and present mysteries, and procedurals!
Homicide Detective Al Sullivan is drinking in the bar of the Claremont Hotel in 1944 Berkley, California, when a presidential candidate is murdered upstairs. The case is immediately complicated because it draws in a wealthy family, the grandmother a socialite. Not only are two of her granddaughters on the suspect list, but years ago, her third granddaughter, Iris, died in this hotel at the age of 11 while playing hide n' seek. Sullivan is going to have to navigate politics, his personal life as a caretaker for his younger sister, and the long tangled webs of the wealthy Bainbridge family to solve the most recent murder–all while trying to figure out if it ties to Iris' death a decade before.
I was totally absorbed with this one, especially the bits of California history and following the lead detective who, while biracial, navigates a world of privilege because he passes as white.
If you go with the audiobook format, you get multiple narrators (Robb Moreira, Suzanne Toren, Tim Campbell), and there's a bonus chat with Amy Chua on how the book came to be.
(TW child murder/ mentions past suicide attempt and suicides, detail/ brief mention past lynching/ mentions past assumed statutory/ mentions postpartum/ mentions past antisemitic attack/ farm animal butchering/ mentions of historical sex trafficking/ brief testimony of past rapes, including children/ past institutionalization/ suicide, partly on page, detail)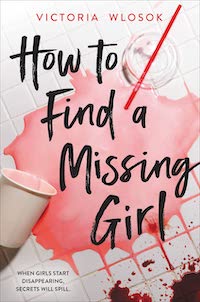 For fans of YA, teams of amateur sleuths creating a PI team, fictional true crime podcasts, and past and present mysteries!
Iris Blackthorn is on a serious deadline: she's very close to turning 18 and the detective on her sister Stella's missing person case has warned her the second she's an adult, she will be prosecuted if she keeps investigating her sister's year ago disappearance. So Iris, and her two friends who make up their amateur detective agency, are on the case. That's all complicated enough–especially since Iris isn't being totally forthcoming with her team–when another girl goes missing. This time it's Iris' ex girlfriend who just happened to be hosting a true crime podcast about Stella…
If you're looking for a sapphic YA mystery with found family and hard lessons learned, grab this one.
(Tw questions parental emotional abuse, no details/ alcoholism, including parent in past/ mentions statutory involving teacher)
For a more comprehensive list of new releases, check out our New Books newsletter.