Sponsored by Early Bird Books.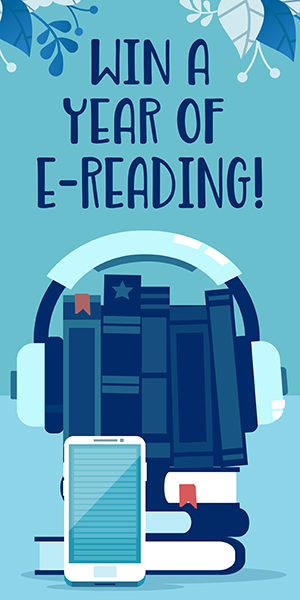 Book Riot is teaming up with Early Bird Books to give away a 1-year subscription to Scribd!
Hello, Tuesday friends, it's time to get excited about new books! Can you believe February is practically over already. THAT was fast. 2021 has been flat-out amazing when it comes to new book releases. Two of my favorites of the year have already been released—The Rib King by Ladee Hubbard and We Could Be Heroes by Mike Chen—and next week another of my favorites is out—In the Quick by Kate Hope Day. You're going to love them! Also, I've been pretty active on Twitter lately and I'm always around on Instagram, and I love to hear from people who have loved a book I've recommended. 😍
I'm looking forward to a lot of today's new releases and I hope that very soon I'll be able to get my hands on Escaping Exodus: Symbiosis by Nicky Drayden, Love Is for Losers by Wibke Brueggemann, and Nubia: Real One by L. L. McKinney and Robyn Smith.
And speaking of today's great books, for this week's episode of All the Books! Patricia and I discussed some of the wonderful books that we've read, such as The City of Good Death, Raceless, The Blizzard Party, and more. (Also, last week I didn't notice the typo in Tirzah's name—sorry, Tirzah! Related: Check out her upcoming book, Pride and Premeditation.)
And now, it's time for everyone's favorite gameshow: AHHHHHH MY TBR! Here are today's contestants:
Megan, a writer working on a book about children's literature, has been anticipating the birth of her first child. But from the very beginning, it is not quite what she was expecting. She is sore and tired all the time, and worried that she doesn't feel an attachment with her new daughter.
This worry only grows when Megan comes home from the hospital and her husband leaves almost immediately for a business trip. But help arrives in the form of a kind upstairs neighbor, who offers to help out with the baby. But the weird thing is that the neighbor is living in a part of the house that didn't used to exist and the neighbor herself is children's book writer Margaret Wise Brown—who has been dead for quite some time. (Yes, the Margaret Wise Brown, author of many books including Goodnight Moon.)
But tired and despondent as she is, Megan is grateful for the assistance, until it turns out that Margaret has unfinished business and Megan and the baby are pulled further and further into her plans. As events turn more chaotic and dangerous, Megan must decide how to free herself and her baby from the situation.
This is a great, intense story of the unrealistic expectations women are fed around giving birth and having children, and the need for further understanding and compassion around postpartum depression. (Also, this is a bit ghoulish, but did you know Margaret Wise Brown died from complications from doing a high kick while she was still recovering from surgery? I learned that in high school and it still haunts me.)
Backlist bump: The Need by Helen Phillips
Smoke by Joe Ide
This is the fifth book in the IQ series now, which seems impossible. I wanted to point it out because it's a great series (which is being made into a television series by Snoop Dogg!)
The main character is Isaiah Quintabe, also known as IQ, a resident of one of LA's toughest neighborhoods who uses his Sherlock Holmes-like abilities of observation and deduction to help solve cases that are written off or ignored by the police. His past cases include the death threats against a rap mogul, dangerous loan sharks and stalkers, a missing mother, and arms dealers.
In his fifth book, IQ will have to decide if he wants to break cover to help a man on the hunt for the state's most prolific serial killer, while his partner, Dodson, has some difficult decisions to make. Some series you can read out of order, but I highly recommend starting at the beginning with this one, because a lot of plot hinges on past events. But don't worry, it's worth it. IQ is the great contemporary Sherlock the 21st century needs.
Backlist bump: IQ by Joe Ide
The Lost Soul by Olga Tokarczuk, Joanna Concejo (Illustrator), Antonia Lloyd-Jones (Translator)
This is a beautiful, contemplative story by Nobel Pirize winner Tokarczuk, author of Flights and Drive Your Plow Over the Bones of the Dead, with unbelievably outstanding illustrations by Concejo.
The story is about a man who is sad and unhappy and so he goes to the doctor, who tells him he has lost his soul. The doctor explains the nature of souls and tells the man he needs to slow his life down. The story is set in the middle of the book, with the illustrations leading up to the story in black-and-white, and the images after the story bursting with color. It's a gorgeous book about taking time to appreciate what you have and what is around you. Remember this one when it's time to give a graduation gift!
Backlist bump: The Gigantic Beard That Was Evil by Stephen Collins
---
Thank you, as always, for joining me each week as I rave about books! I am wishing the best for all of you in whatever situation you find yourself in now. – XO, Liberty