Sponsored by Sounds True.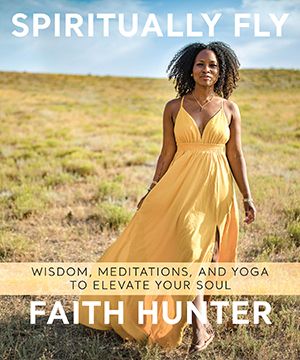 Global yoga and meditation teacher Faith Hunter is known for her ability to help others remember their inherent worth and live more soulful, joyful lives. Here, Faith shares the seven principles behind her life philosophy: the "Spiritually Fly Sutras"―dynamic, sacred principles grounded in movement, breathwork, sound, and self-reflection. When practiced together, Faith teaches, "They have the ability to inspire and ignite an inner revolution."
It's Tuesday again, and I am so happy to be here again with all my bookish friends! How are you all doing today? It's another great day in new book release paradise. Feral Creatures, the sequel to Hollow Kingdom by Kira Jane Buxton is out today, and my new favorite Instagram comic has its first collection out: Dinosaur Therapy by James Stewart and K Roméy. Plus there's new books from Louise Penny and Sarah MacLean. And I want to get my hand on the children's book about Guillermo del Toro: Kid del Toro (Lil' Libros) by Chogrin Muñoz and Pakoto Martinez. (Have you ever seen The Devil's Backbone? SO SCARY.)
And speaking of today's great books, for this week's episode of All the Books! Patricia and I discussed some of the wonderful books that we've read, such as Feral Creatures, Bad Witch Burning, Seeing Ghosts: A Memoir, and more.
And now, it's time for everyone's favorite gameshow: AHHHHHH MY TBR! Here are today's contestants: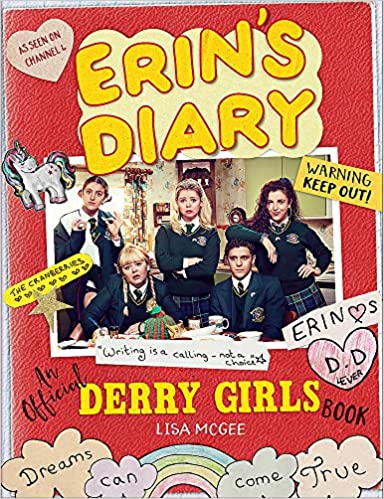 It's finally available on this side of the pond. If you love Derry Girls, the show about five Catholic high school students and their families set amid the political conflict of Northern Ireland in the 1990s, then you will definitely love this book! It is jammed packed with images of the show, with hilarious diary entires from Erin, written by the show's creator, plus Erin's doodles and poetry and illustrations. It will help get you through the long wait for season 3 of Derry Girls, which isn't expected until at least 2022. Another way to occupy the time is to look up the actual ages of the actors playing teenagers (WOW), watch Nicola Coughlan in Bridgerton, and check out Siobhan McSweeney on the most recent season of The Great Pottery Throw Down.
Backlist bump: The Carnival at Bray by Jessie Ann Foley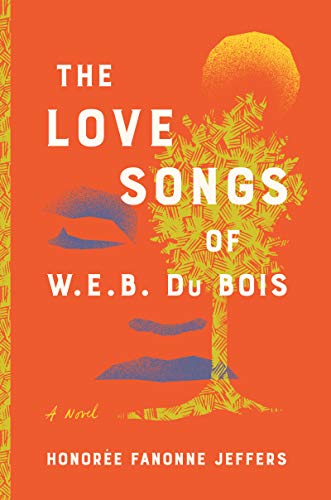 This is an amazing, sprawling epic, following generations of a Black family from the early 1700s to present day. It is a strong novel about the women of this family and the trauma and hardships they endure. The main focus of the book is Ailey Garfield, a young Black woman who grows up in the northern part of the country with her parents and two sisters. This novel is a powerful look at racism, slavery, trauma, family, friendship, and more. The book is so big, I feel it difficult to write more about the plot succinctly, but please don't let my failings—or the book's 800 pages!—dissuade you from picking it up. It's full of history and mentions of important works, and is sure to be on a lot of 2021's best books of the year lists!
(CW for racism and racialized violence, sexism, violence, sexual violence, death, and more.)
Backlist bump: Homegoing by Yaa Gyasi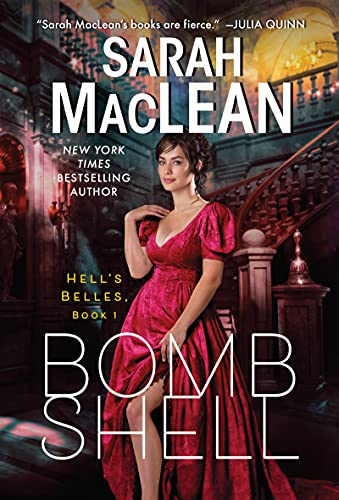 And perennial Book Riot favorite Sarah MacLean is back with the first in a fabulous, feminist series of romance and intrigue. I can't say too much about it without spoiling it, so you're going to have to trust me. I can tell you it's about a young woman named Lady Sesily Talbot, who uses her scandalous reputation to her advantage to do…not what you would expect. And there's Caleb Calhoun, a young man who has tried to resist his attraction for her, but is failing. It's saucy and super smart, with hot sexy times on the page! You can always count on MacLean for a great read. Bring on the next book, please!
Backlist bump: Nine Rules to Break When Romancing a Rake by Sarah MacLean.
On your mark…get set…add to your TBR!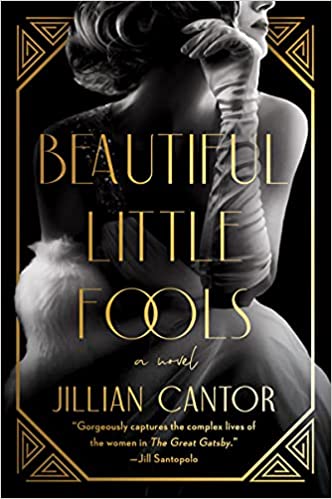 Beautiful Little Fools by Jillian Cantor (Harper Perennial, January 4, 2022)
Okay, I am going to start out this recommendation by saying something that always surprises people, but it is what it is: I don't find The Great Gatsby interesting. And that's okay! Not every book is for every person. I do, however, like Jillian Cantor, so I went ahead and read this novel anyway…and I think it's excellent! She has taken the women of The Great Gatsby, maybe changed the end of Fitzgerald's classic, and made an excellent historical mystery!
First you need to remember spoilers for a century-old classic: At the end of The Great Gatsby, George Wilson kills Jay Gatsby and then himself. But in Beautiful Little Fools, a detective finds a diamond pin in the bushes by the pool, and has a strong suspicion that the shootings didn't go down the way they first appear to have happened. His suspects: Daisy Buchanan, known love of Jay Gatsby; her best friend, the golf pro Jordan Baker; and Catherine McCoy, suffragette and sister-in-law of the deceased Tom Wilson.
Told in alternating chapters between the three women and the investigating detective, this is a Jazz Age mystery of romance and betrayal that looks at Jay and Daisy's early romance, Jordan's time on the golf circuit, and Catherine's fights for women's freedom and independence. And it teases the question: what really happened at Gatsby's pool? I really dug it. I thought Cantor did an excellent job staying true to these characters while giving the story an updated feel, and I found the story compelling and believable.
(CW for mentions of sexism, homophobia, chemical use and abuse, abuse by a partner, war, sexual assault, car accident violence, and murder.)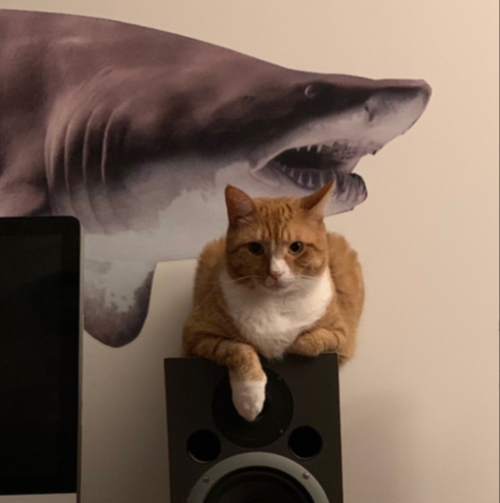 This week: I'm currently reading Memphis by Tara Stringfellow, and I still have to finish Night Shift in my Stephen King reread. (While fun, this reread is not a top priority.) Outside of books, I just watched all of the episodes of Housebroken that are available, which I found okay but think it has more potential, and the song stuck in my head is Drive by R.E.M. And as promised, here is a cat picture! "It's right behind me, isn't it?" —Farrokh
---
Thank you, as always, for joining me each week as I rave about books! I am wishing the best for all of you in whatever situation you find yourself in now. And yay, books! – XO, Liberty ❤️