Hello, my friends, and welcome to another Tuesday talk about books! I hope that you had a lovely weekend and are reading something that is knocking your brain's socks off. Lucky me, I read two such books last week! The first was The Husbands by Holly Gramazio, about a woman whose attic in her flat starts creating husbands. And the other is Moonbound by Robin Sloan, about a young boy, a wizard, and a quest, but set 13,000 years in the future. Both of these were incredible, and you can hear me rave about them on this week's episode of All the Books! I finished them just in time to be able to shout them out. Phew!
For this week's newsletter, I have three books out today that I am really looking forward to reading, including a dark fantasy novel about The Nutcracker! You can hear about more fabulous books on this week's episode of All the Books! Patricia and I talked about books coming in 2024 that we're excited about, including The Book of Love, Little Rot, and Wandering Stars.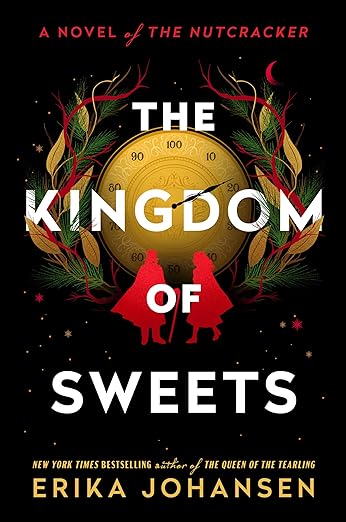 If you listened to All the Books! a few weeks ago, you know that I am not a fan of The Nutcracker. I don't know what it is about it, but I've never enjoyed it, not even when I was little. And by all accounts, I should because it has giant dancing rodents! But even though I don't enjoy it, that's not going to stop me from picking up this new novel. It's a dark fantasy retelling of The Nutcracker, which, as Jenn pointed out on ATB, sounds right because the ballet is a dark fantasy! And I bet this is going to be a good time. The novel is about two sisters, Clara and Natasha, a curse, jealousy, and Natasha's revenge.
Backlist bump: The Queen of the Tearling by Erika Johansen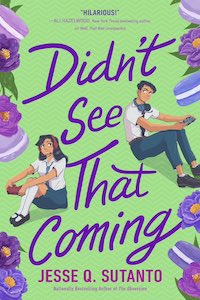 This is another new book from Jesse Q. Sutanto, one of the hardest-working writers in the business. It's her fourth release of 2023! Yes, you read that right. This last offering for the year is a charming YA novel about a teen named Kiki, who is a big-time gamer online. She is friends in-game with a player named Sourdawg, who she discovers is a student at her new school. It's one of the reasons she enjoys playing the game. But Kiki can't tell him who she is because she plays as a male character online to avoid harassment and is worried Sourdawg won't want to be her friend anymore when he finds out she's a girl. Can she discover which student is Sourdawg and manage to stay friends…or maybe more?
Backlist bump: Well, That Was Unexpected by Jesse Q. Sutanto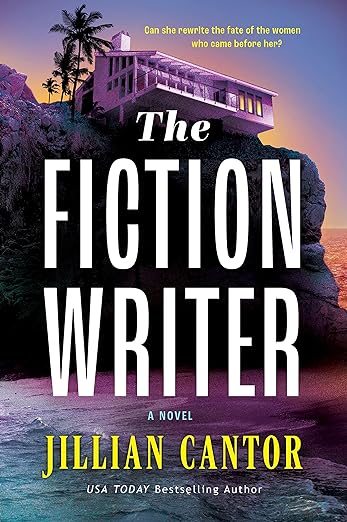 Jillian Cantor has written a LOT of novels, and each seems to be better than the last. They have mostly been in the genre of historical fiction, but her last novel was a historical mystery retelling of The Great Gatsby that I thought was fantastic and deserved more love. So, I am very excited to pick up this most recent book, which is a straight-up thriller. It's about a down-on-her-luck author named Olivia who is offered a lucrative position ghost-writing a biography for a famous billionaire. Henry "Ash" Asherwood has a secret he wants to share about his late grandmother and Daphne du Maurier, the author of Rebecca. But the more Olivia digs into Ash's family history, the more dangerous things become for her. Is signing an NDA going to mean she winds up DOA? (Lol, that was bad. But I'm keeping it in because it's funny-bad.)
Backlist bump: Beautiful Little Fools by Jillian Cantor
Indulge your inner book nerd and join a community of like-minded readers looking to expand their knowledge and their TBR. Subscribe to The Deep Dive, where Book Riot's editorial staff draws from their collective expertise to bring you compelling stories, informed takes, tips, hacks, and more. Find out why the bestseller list is broken, analyze some anticipated books, and explore the great wide world of books and publishing. Get a free subscription for weekly content delivered to your inbox, or upgrade to paid-for bonus content and community features.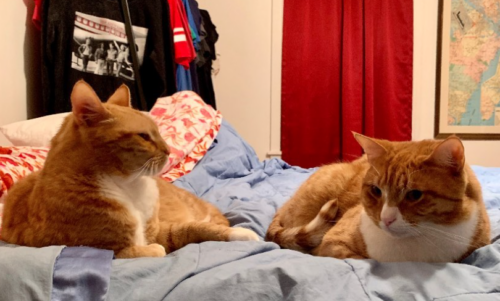 This week, I am reading Prophet Song by Paul Lynch (which just won the Booker Prize on Sunday!), The Ministry of Time by Kaliane Bradley, and The Frozen River by Ariel Lawhorn. In non-book things, I started watching Obituary on Hulu, but I'm not loving it, so back to rewatching Psych it is! The song stuck in my head this week is "Strangers" by Mt. Joy. And here is your weekly cat picture: Zevon and Farrokh rarely get this close to one another for more than a few seconds, so I have to wonder if they're plotting something.
Thank you, as always, for joining me each Tuesday as I rave about books! I am wishing you all a wonderful rest of your week, whatever situation you find yourself in now. And yay, books! See you next week. – XO, Liberty