Sponsored by Early Bird Books.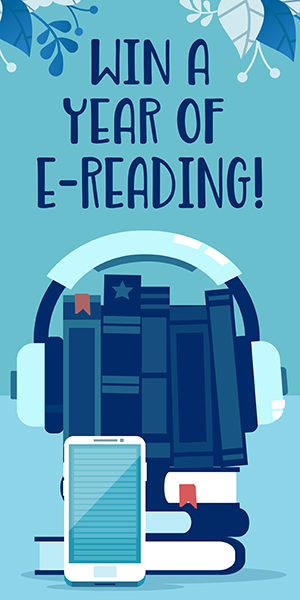 Book Riot is teaming up with Early Bird Books to give away a 1-year subscription to Scribd!
Hey there Horror Fans, I'm Jessica Avery and I'll be delivering your weekly brief of all that's ghastly and grim in the world of Horror. Whether you're looking for a backlist book that will give you the willies, a terrifying new release, or the latest in horror community news, you'll find it here in The Fright Stuff.
Welcome to the last Fright Stuff of this year's Women in Horror Month! But remember, just because WiHM is ending, doesn't mean you have to give the boot to the women in your TBR. 2021 is shaping up to be a truly phenomenal year in horror publishing, and some of the most exciting titles on my pre-order list are by the remarkable women of the horror genre! So, as promised, here is a list of forthcoming adult horror titles by women to help you move your reading list out of February and have the joy of reading horror by women all year long.
Dead Space by Kali Wallace (March 2)
Hey so if we haven't breached this subject yet in the Fright Stuff, I am obsessed with space horror. I don't know if it's the vast vacuum of space, or the fact that said vastness isolates and confines you to the strict boundaries of what is basically a haunted house in space, or the tantalizing possibility of the unknown, but I love space horror more than life. So I am beyond excited for Kali Wallace's forthcoming novel, Dead Space. Sometimes when your big life plans go awry you end up working a dead-end job in an asteroid belt. Hester Marley is a security officer for a mining company, spending her days on petty crimes, when an old friend resurfaces. They're both survivors of the terrorist attack that ruined Hester's life, but before she can learn what her friend claims to have discovered about their shared tragedy, he's murdered. Leaving Hester to search out both his killer, and his secrets.
Star Eater by Kerstin Hall (June 22nd)
This forthcoming dark fantasy novel sounds like it's going to be 110% my thing. Shadowy cabals, espionage, power, deceptions, violence? Yum. Elfreda Raughn can handle the day-to-day duties of serving the Sisterhood of Aytrium, no matter how gruesome. But she will do whatever it takes to avoid becoming pregnant and fulfilling her part in preserving the Sisterhood's magical bloodline. There are different kinds of sacrifices, and in order to avoid the fate she most despises, Elfreda will have to choose a path that leads her into the upper echelons of the Sisterhood, and a lavish world of parties and power struggles. This is definitely going to be one of those reads where I'm up all night because I couldn't put it down.
Oh look. More space horror. I told you how much I love space horror, right? A team of former criminals, disbanded in the wake of a mission-turned-disaster, must rejoin forces if they want to uncover what really happened on their last, fateful last job. And if they want to rescue their missing team member. These women, half-clone and half-machine, must return to Dimmuborgir, the site of their past failure, but they are not the only ones in search of the planet's secret. In a world where the universe's AI have evolved into an independent force with their own agency and will, the team must face down not only their own pasts but also a sentient force determined to see that humans never regain control.
I mean she had me at sentient ships, so someone just give her my money and I'll be over here waiting for June.
I admit that I haven't been able to find much information yet about Flowers from the Sea for all that, according to the publisher's site, it is due out in September. But that just makes me more curious! I'm willing to wait because this novella sounds fantastic. Survivors of a flooded land exist in isolation, fighting for their continued survival on an ark. Supplies are dwindling, hungry, terrifying sea monsters circle – in other words, circumstances are NOT ideal. Among the survivors is Iraxi, pregnant with a child that may not be entirely human. The future of the ark and its survivors is uncertain, and Iraxi's own fate may be darker still.
You might remember me shouting enthusiastically about the cover of this book earlier this month, and it's definitely not just the cover that I'm excited about. This promises to be the very height of Gothic horror goodness and I'm so excited. Jane Shoringfield has a carefully calculated plan: husband, marriage of convenience, the ability to remain independent and pursue meaningful work. She sets her mind on Doctor Augustine Lawrence, and the reclusive physician agrees with one (suitably ominous) condition. His family are the Lawrences of Lindridge hall, a (suitably crumbling heap of a) manor outside of the town, and Jane must never, never go there. But, as these things tend to happen in any good Gothic novel, fateful weather sees Jane stranded at the door of Lindridge Hall on her wedding night, and the haunted, paranoid man within bears little resemblance to the man she thought she married.
Please, universe, just put this in my eyeballs. October is so far away.
Fresh from the Skeleton's Mouth
Need more books to fill out your 2021 TBR? Don't forget to bookmark Nightfire's excellent list of all the horror they're excited about in 2021!
Here's your reminder that the Horror Writers Association's second Females of Fright panel has been scheduled for next Friday, February 26th and will feature authors V. Castro, Larissa Glasser, Alma Katsu, Nicole Givens Kurtz, Cynthia Pelayo, Sarah Read, and Danielle Trussoni!
Looking ahead to the rest of your reading year? The Horror Writers Association (HWA), in partnership with United for Libraries, Book Riot, and Booklist, have announced their 2021 Summer Scares reading list so get those TBR's prepped!
---
As always, you can catch me on twitter at @JtheBookworm, where I try to keep up on all that's new and frightening.