Sponsored by MIRA Books.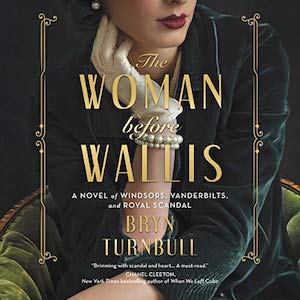 This stunning novel tells the true story of the American divorcée who captured Prince Edward's heart before he abdicated his throne for Wallis Simpson. In the summer of 1926, when Thelma Morgan marries Viscount Duke Furness after a whirlwind romance, she's immersed in a gilded world of extraordinary wealth and privilege. In a twist of fate, her marriage to Duke leads her to fall headlong into a love affair with Edward, prince of Wales. But happiness is fleeting, and their love is threatened when Thelma's sister, Gloria Morgan Vanderbilt, becomes embroiled in a scandal with far-reaching implications. The audiobook is on sale for only $3.95!
Hola Audiophiles, and greetings from the other side of a very rare Portland snow storm! I finally got to make snow angels and touch actual powdery, fresh snow for the first time. I'm feeling very grateful to have been warm, cozy, and safe for the whole experience because a lot of folx are out there struggling. My thoughts go to all of you in places ill prepared for the weather you're experiencing.
For those of us who are able: consider dropping off food, water, blankets, warm clothing, etc for those in need (both the houseless and those otherwise affected). Instagram has been a great resource for me to find places accepting donations here in Portland, and here's a directory of mutual aid organizations in Texas.
Ready? Let's audio.
New Releases – Week of February 16
(publisher descriptions in quotes)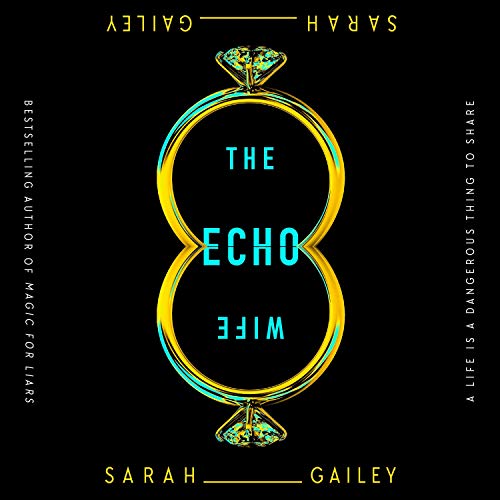 Evelyn is a brilliant scientist who's just won a prestigious award for her research in the field of human cloning. She should be ecstatic, but her personal life has fallen apart. Not only did her husband Nathan cheat on her, he did it with a clone of Evelyn, a clone he created behind her back using her own research without her knowledge. The "oh snap!" moments don't stop there though. That clone, Martine, is pregnant when she's not supposed to be able to conceive, making her very existence an ethical violation. And another thing: she's just killed Nathan in self defense after he attacked her first. This is a sci-fi light ride from start to finish that flips the domestic thriller on its head. Oh, to be inside of Sarah Gailey's mind. What a place! (science fiction, thriller)
Read by Xe Sands (Magic For Liars by Sarah Gailey, The Great Offshore Grounds by Vanessa Veselka)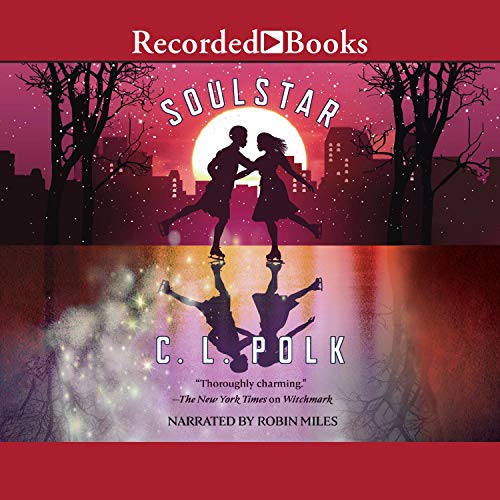 Yesss we finally have the third book in C.L. Polk's Kingston cycle! Robin Thorpe has kept her magic hidden for years to avoid imprisonment by the state, keeping her head down in Riverside. Then Grace Hensley comes knocking with wonderful news: Robin's days of hiding are over! Freed witches are flooding the streets of Kingston and returning to the families they were ripped from. Robin begins hashing out a plot to ensure that Aeland remains free and just, but that won't be easy. She'll also have to face the "long-bottled feelings for the childhood love that vanished into an asylum 20 years ago."
Read by Robin Miles (Caste by Isabel Wilkerson, The Yellow Wife by Sadeqa Johnson, Just As I Am by Cicely Tyson)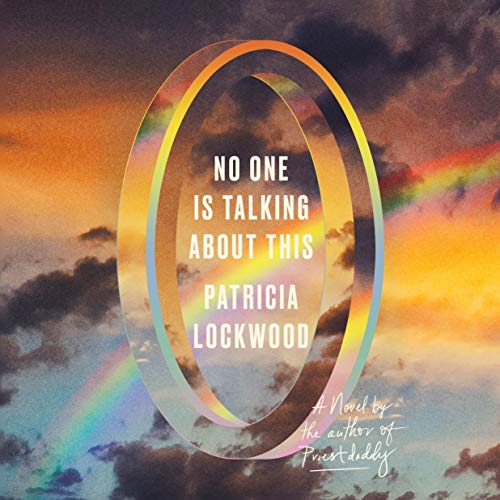 Everyone who's read this has told me two things: that it's one helluva genre-bender and that you should go into it knowing as little as possible. So I'll just give you this: "a woman who has recently been elevated to prominence for her social media posts travels around the world to meet her adoring fans" and then sh*t gets a little too real. I'm a huge fan of Lockwood's Priestdaddy and can't wait to see what she's done with fiction! (fiction)
Read by Kristen Sieh (One to Watch by Kate Stayman-London)
Latest Listens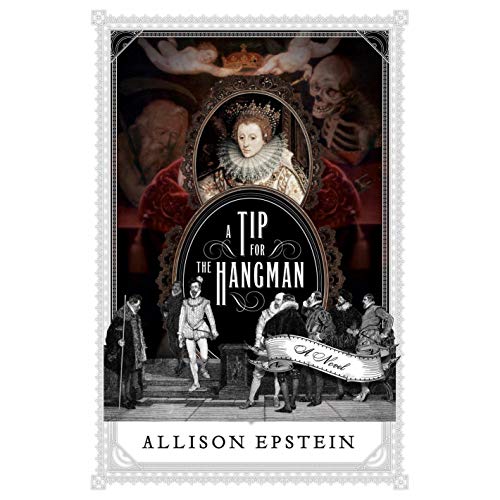 For those not familiar with Christopher Marlowe, he was a famous Elizabethan poet and playwright, a contemporary of Shakespeare's and probably his most important predecessor in English drama. He was a bright kid who went on to earn his B.A. from Cambridge and was soooort of working on his master's a few years later. The university tried to deny him the degree, presumably due to a slew of unexplained absences and rumors that he'd converted to Catholicism and would soon be ditching Cambridge for a Catholic institution—how dare! Then a funny thing happened: advisers to Queen Elizabeth intervened, recommending that Marlowe receive the degree on account of his "services for the state." In case you're not picking up what I'm putting down here, it is pretty commonly accepted today that Kit Marlowe was a spy for the Crown. We'll never actually know for sure because of how spying works, but historical records from that time (of which there are way more of than I expected!) make a pretty good case.
A Tip for the Hangman is an Elizabethan spy thriller that fictionalizes, with creative license, Christopher "Kit" Marlowe's story. When the book opens, Kit gets called to a meeting by the head of his department at Cambridge, and he assumes Cambridge is about to give him the boot for slacking off. But no, not exactly: the Queen's spymaster is at this meeting to recruit Marlowe to spy on the papist Mary Stuart (aka Mary Queen of Scots) and prove she's involved in a plot to commit treason. I say "recruited," but it's more like he's voluntold, so off he goes, more than a little nervous but hoping to get it over with quickly. Spoiler alert: nah.
Kit is smart and resourceful, but also clearly out of his depth. He gets by mostly by the skin of his teeth because he's a great liar, but you just know his luck is gonna run out sooner or later. He's also clearly conflicted by the work he does the further he gets pulled into this web of espionage, especially when his involvement starts to have consequences in his personal life. In the middle of a string of treacherous missions and impossible decisions, we also watch his career as a playwright explode. In spite of the fact that you kinda know the ending here ain't a happy one (if you know a bit about Kit Marlowe), you just keep hoping the author will write in a change of course. The final chapter (and off, the final pages!) just gutted me. Let's just say hope is a helluva drug.
The performance of this book by James Meunier is just wonderful. He nails the snark and irreverence of Kit's character so well that you'll forget, for just a moment, that this isn't an author telling you their own story, but a voice actor reading the role of a fictional character. He tells it all so naturally, conveying everything— annoyance, love, lust, desperation, betrayal, abject terror—like he was feeling every one of these emotions himself in real time. The parts where he gets low and tender (you'll see what I mean) are so heartfelt that I had to pause what I was doing and remind myself again that James was not personally traumatized by the beheading of Mary Stuart, or heartbreak.
This book is perfect for fans of historical fiction who also enjoy a queer romance, a lot of snark, and all the tense, suspenseful parts of a classic spy novel. Oh, and make sure to listen to the author's note for some important notes on artistic license. It's all just catnip fo history nerds.
From the Internets
AudioFile's new podcast, Audiobook Break, is bringing novels into a serialized podcast format, presenting an extraordinary audiobook chapter by chapter.
Also from Audiofile, here are six second-chance romance audiobooks to keep you believing in that thing called love.
Libro.fm has a ton of amazing author interviews up on their blog right now:
Over at the Riot
5 of the Best Audiobooks About Food and Cuisine. Yum. I read Rebel Chef last year and loved it! A must-listen if you like reading about celebrity chefs.
Excellent Gifts for Audiobook Lovers – I really love the bright mustard yellow color of that sweatshirt!
Picture it: you go to pick an audiobooks and see there are several versions of the same book. Here are some tips for choosing between varying versions, narrators, and content.
---
Thanks for hanging with me today! Shoot me an email at vanessa@riotnewmedia.com with with all things audiobook or find me on Twitter and the gram @buenosdiazsd. Sign up for the In The Club newsletter and catch me once a month on the All the Books podcast.

Stay bad & bookish, my friends.
Vanessa
---
Thanks again to MIRA Books for sponsoring this week's newsletter, publisher of The Woman Before Wallis by Bryn Turnbull. This stunning novel tells the true story of the American divorcée who captured Prince Edward's heart before he abdicated his throne for Wallis Simpson.