Hola Audiophiles!
I'll spare you the photo of JT and his blonde NSYNC era curls and just come out and tell you that IT'S GONNA BE MAY. At least it is at the time of my writing this. May is already upon you fine people as you read this and that means it's time for new audiobooks!
Once again, I couldn't pick 10 for the month so I'll be splitting the new books up in two parts. Today I'll hit you with ten picks from the first two weeks of May releases. Ready?
Let's audio.
---
Sponsored by our giveaway of $100 to spend on YA lit!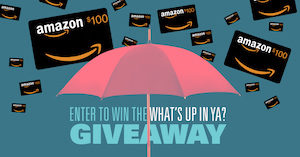 What's Up in YA? is our biweekly newsletter about all things young adult literature, and we're giving away a $100 gift card to Amazon to support all (well, some of) your YA purchasing! Just sign up for the newsletter below to enter, and enjoy young adult new release news, interviews, backlist recommendations, and deals!
---
New Releases
(publisher's descriptions in quotes)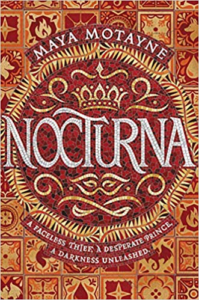 Nocturna by Maya Motayne, narrated by Kyla Garcia (May 7)
You've heard me talk plenty about this one already both here and if you follow my Friday YouTube vids. While I had some concerns about not being as moved by the narration as I might have been in print, I do still solidly recommend this first installment in Motayne's Latinx-inspired fantasy trilogy.
A refresher for you: Prince Alfehr (Alfie) is grieving the loss of his brother Dez, the heir to the throne who was captured in a failed coup by some doers of dark magic. Alfie clings desperately to the hope that Dez might still be alive and goes to some sketchy lengths to get him back, including a high-stakes magical and super shady card game where he meets face-shifting thief Finn Voy. The two immediately clash but are thrown together in a quest to save the world when Alfie kinda sorta accidentally unleashes an ancient, deadly evil; they'll have to use each of their unique types of magic to somehow pull off the impossible. I loooove all the Spanish spellcasting here. I've tried some at home. No luck so far.
Pride, Prejudice, and Other Flavors by Sonali Dev, narrated by Soneela Nankani (May 7)
I read the words "pride," "prejudice," and "flavors" and was interested; then I read "their assumptions crumble like the spun sugar on one of DJ's stunning desserts" in the description and added to cart with the quickness. This latest from Sonali Dev follows Trisha Raje, an acclaimed neurosurgeon who's defied her immigrant Indian family's traditions all her life and ostracized herself in the process. She gets the chance to redeem herself and get back in good standing with the fam when she meets up-and-coming chef DJ Caine. He's doesn't like or trust Trisha, seeing her as just another rich girl judging his humble beginnings and lack of pedigree. It turns out Trisha is also the only surgeon who can save his sister's life, so… insert that spun sugar analogy here.
I really enjoyed Soneela Nankani's narration of Internment by Samira Ahmed. I'm excited to spend time with her and in a lighter, brighter setting.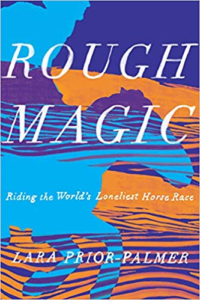 Rough Magic by Lara Prior-Palmer, narrated by Henrietta Meire (May 7)
I had the privilege of meeting Lara Prior-Palmer at a dinner during Winter Institute and managed not to give her swine flu! Her story is nothing short of bananas, so weird and wonderful that it sounds made up when it's not.
At age 19, Prior-Palmer stumbled across a website for "the world's longest, toughest horse race."  This race is an annual competition where riders race a bunch of wild ponies across 1,000 kilometers of Mongolian grassland in a recreation of the route used in Genghis Khan's horse messenger system… insert Lil John voice WHAT?!? Had she prepared for years like most contestants? Nah. Had she even raced a horse before? Nope. Did she have any experience with any activities involving this extreme test of endurance? Sure didn't. She got on that plane anyway and made her way to East Asia, hoping a love of horses and a state of restlessness would fuel her through the challenge.
What follows is a gripping, suspenseful account of the 10 day race: storms, stifling heat, falls, injuries, hunger, sleep deprivation, dehydration… you name it. But the woman sticks with it, mounting a fresh pony every morning until she WINS THE THING. Youngest woman to do so ever. Work, girl.
The Unspeakable Mind by Shaili Jain, M.D., narrated by Carol Jacobanis (May 7)
Post Traumatic Stress Disorder (PTSD) is a condition that affects millions worldwide but it's still so shrouded in myth and misinformation, not to mention stigma. While we have seen a giant spike in instances since 9/11 and both the Iraq and Afghanistan wars, it now goes far beyond warfare in its terrible reach and scope. I'm both eager and a little anxious to learn more about the condition, its diagnosis, and innovations in treatments from Shaili Jain, a Stanford professor, psychiatrist, and trauma scientist at the National Center for PTSD. "Combining vividly recounted patient stories, interviews with some of the world's top trauma scientists, and her professional expertise from working on the front lines of PTSD, The Unspeakable Mind offers a textured portrait of this invisible illness that is unrivaled in scope and lays bare PTSD's roots, inner workings, and paths to healing."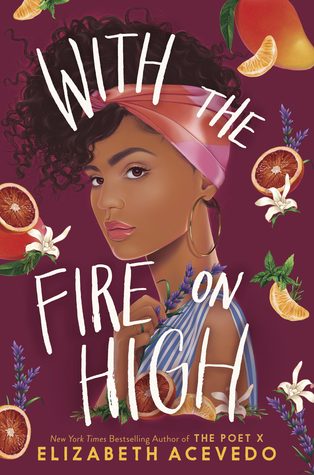 With the Fire on High written and narrated by Elizabeth Acevedo (May 7)
I mean how hard do I really have to sell you on Elizabeth Acevedo? In her follow up to the smash success of The Poet X, Acevedo introduces us to Emoni Santiago, a teen mother working hard to raise her young daughter and take care of her abuela. The kitchen is where she finds solace and dreams of being a chef, but dreams feel both impractical and impossible when her priority is survival. Some talents are just too big and bold to shove to the side though, a lesson Emoni learns when everything leads back to the food.
Yo, because I care: maybe eat a snack before you listen. The aromas and flavors described in this book will make your mouth actually water.
The Conviction of Cora Burns by Carolyn Kirby, narrated by Emma Fenney and Kris Dyer (May 7)
Snap, this sounds good! Take a trip with me to the grit and grime of Victorian London and meet Cora Burns, a young woman with a history of violence who was birthed to a convict in jail and hardened by a harsh upbringing in a workhouse. After a stint at the Birmingham Gaol, she finds work in the home of a scientist studying hereditary criminality and befriends a living experiment named Violet. Things get a little weird when Cora suspects there might actually be two Violets, and that maybe she is a subject of this weird experiment herself. A study on the nature of violence in this creepy London setting is so up my alley, you don't even know.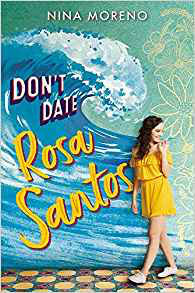 Don't Date Rosa Santos by Nina Moreno, narrated by Almarie Guerra (May 14)
Rosa Santos is a Cuban American just out of high school who wants to know more about her Cuban heritage. She gets no help from her family on the matter: her abuela is a Cuban exile who wants nothing to do with Cuba and her artist mother is at best a sporadic presence. Rosa picks a four year college with a study abroad program in Cuba hoping get some answers firsthand, but that dream is shattered when changes to the political climate make travel to the island impossible. That's when she – literally- runs into a mysterious boy with tons of ocean tattoos who sort of changes everything.
This is truly the rom-com I didn't know I needed. The descriptions of everything from the hot, flaky, buttery pastelitos to the men playing dominos on the sidewalks were a blast to the very streets I walked on but a couple of weeks ago. The Spanish is super Cuban (as it should be!) and the identity stuff is just so, so relatable. Ah, representation done right is just so delicious.
Spying on the South by Tony Horwitz, narrated by Mark Deakins and Tony Horwtiz (May 14)
I had no idea that Frederick Law Olmsted, the farmer, journalist, and eventual landscape architect who co-designed Central Park, went undercover in the 1850s as a correspondent in the South for what was then a fledgling New York Times. He traveled for 14 months while on assignment through what was quite hostile territory for a Yankee. in Spying on the South, author Tony Horwitz attempts to retrace Olmsted's steps down to his modes of transport, weaving his way through Appalachia, down the Mississippi River, into Louisiana, and across Texas borderlands to see what all has changed – or hasn't- since then..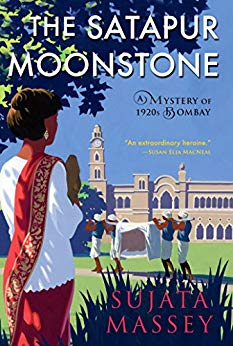 The Satapur Moonstone by Sujata Massey, narrated by Sneha Mathan May 14)
Mistry in the house!!! I am so jazzed to dive back into the 1920s India with Perveen Mistry, solver of mysteries and teller of truths. Picking up after The Widows of Malabar Hill, this next piece in the series opens in the remote Satara mountains where the maharaja and his teenage son have both suddenly died. The dowager queen and the maharaja's widow are left to raise the surviving crown price and require legal counsel to advise him, which of course gets a little tricky when they observe purdah all the lawyers are men. Or are they!!!??. Enter Perveen to save the day, if she can find her way out of the traitorous trap she steps into the moment she's involved.
Tears of the Trufflepig by Fernando Flores, narrated by Raul Castillo (May 14)
I'm not entirely sure I understand what's going on in this book and I kind of love it? From what I gather so far, this funky work of fiction is sort of a love letter to the myths of Mexican Culture where everything is sort of turned on its head. Narcotics are legal in this South Texas parallel universe where the new contraband is stuff like ancient Olmec artifacts and shrunken heads. There are also these things called "filtered animals" which sound like animal zombies brought back to life for funsies?? So we meet this guy named Esteban Bellacosa who's gotten pretty good at avoiding the not-narcos (because what do I call them??) who make their money through trafficking. Then a journalist invites him to an illegal underground dinner serving filtered animals and he's suddenly submerged in the world he took such pains to avoid. "Bellacosa soon finds himself in the middle of an increasingly perilous, surreal, psychedelic journey, where he encounters legends of the long-disappeared Aranaña Indian tribe and their object of worship: the mysterious Trufflepig, said to possess strange powers." Still a little confused. Still a lot intrigued.
From the Internets:
Narrating any kind of copy is so much more challenging than it sounds. You think you won't stumble on words but of course you just do, then there are the mouth noises and the breath sounds and all sorts of other factors to consider. My experience with this is just in ads spots and podcasts, too. I can only imagine how much harder it is to narrate an entire audiobook!
You might think you know what a piece called Successful People Listen to Audiobooks is about, but in this case you'd be wrong. Check out this commentary on the rise of audiobook popularity, the technology behind it, and pervasiveness of Audible and Amazon at large, and the perceived passivity of listening to a book. Lots to chew on.
Over at the Riot:
Attention please: freeee audiobooks! Yes free! Gratis! $Free.99!
---
That's all I got today! Shoot me an email at vanessa@riotnewmedia.com with audiobook feedback & questions or find me on Twitter and the gram @buenosdiazsd. Sign up for the In The Club newsletter, peep the Read Harder podcast, and watch me booktube every Friday too!
Stay bad & bookish, my friends.
Vanessa