Sponsored by Nightfire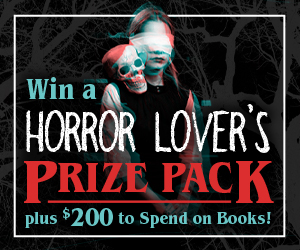 tk
Get A First Look at R.L. Stine's Just Beyond Adaptation from Disney+
If you loved Netflix's Fear Street adaptation, you'll be excited to hear there's more R.L. Stine coming to television very soon! There's a new Disney+ anthology series called Just Beyond, based on the BOOM! Studios comics by R.L. Stine. And now you can get a first look at some of the images from the series. Set to debut on Disney+ this fall, the eight-episode series is written by Seth Grahame-Smith (Pride and Prejudice and Zombies), who will also serve as the showrunner. Marc Webb (The Amazing Spiderman) will direct two of the episodes. Each episode will be a different story, introducing new characters.
Ashley M. Jones is Named First Black Poet Laureate for Alabama
Ashley M. Jones has been chosen to be the first Black poet laureate for Alabama. The announcement was made during a meeting on Sunday that was part of the Alabama Writers Cooperative's yearly conference. Jones is also the youngest person to ever hold this position. The poet laureate for Alabama is responsible for being the ambassador of poetry for the state. According to the announcement on Sunday, Jones' responsibilities will be "to make appearances at schools, universities, libraries and other state institutions, as well as give lectures, read poetry and hold workshops on a local and national level." In a statement released by the Magic City Poetry festival, Jones said, "I'm so honored to serve my home state as an ambassador, advocate, and as a lover of poetry and all the people who write it, read it, and find new magic from it in this life…I'm so excited to spend the next four years helping to make Alabama poets and poetry radiate here at home and beyond."
Paul McCartney's New Book Will Feature Previously Unreleased Lyrics
Paul McCartney's upcoming book The Lyrics, which the musician describes as a "self-portrait in 154 songs," will include the previously unseen lyrics to an unrecorded Beatles song, "Tell Me Who He Is." The never-before-seen lyrics were found handwritten in one of McCartney's notebooks, and the lyrics are believed to be from the early 1960s. McCartney's book will be released on November 2nd, and it will include "many further treasures" from McCartney's archives.
9 Books By Women from Afghanistan to Read Right Now
Over the past few weeks, the Taliban have once again seized control of Afghanistan. If you're wondering how you can learn more about women's experiences in Afghanistan, here are 9 books by Afghan women to get you started.