Sponsored by Starscape.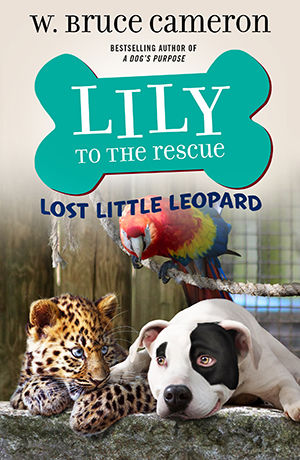 Lily to the Rescue is an irresistible, illustrated chapter book series from the New York Times bestselling author of A Dog's Purpose, W. Bruce Cameron. Once a stray puppy, Lily was rescued by the kind people at the animal shelter run by Maggie Rose's mom. Now Lily has a very important purpose: to rescue other animals in trouble. Join Lily in two brand new adventures featuring a misfit donkey and a lost little Amur leopard. It's Lily to the rescue!
Welcome to Check Your Shelf. It's snowing again. Please make it stahhhhhhp!!
---
Collection Development Corner
Publishing News
Baen's Bar, the private forum run by SFF publishing company Baen's Books, has been put on hiatus for allegedly being used to advocate for extremist political violence. (TW for political violence and racist commentary)
Literary agent Brooks Sherman leaves his agency and is dropped by a number of prominent authors, including Angie Thomas, following allegations of unprofessional conduct.
In not unsurprising news, fake Amazon reviews are apparently being sold in bulk.
Rick Riordan Presents moves into YA territory with Daniel José Older.
We Need Diverse Books partners with Penguin Random House to launch the Black Creatives Fund initiative.
Latinx in Publishing launches two new fellowships.
New & Upcoming Titles
Benjamin Alire Saenz announces a sequel to Aristotle and Dante Discover the Secrets of the Universe.
Sally from A Nightmare Before Christmas gets the YA novel treatment from Shea Ernshaw.
US Navy Admiral William McRaven is adapting Make Your Bed: Little Things That Can Change Your Life…and Maybe the World into a children's book called Make Your Bed With Skipper the Seal.
Actress Evanna Lynch is publishing a memoir on September 14th.
Jenna Fischer and Angela Kinsey (aka Pam and Angela from The Office) are publishing a book next year called Office BFFs: Tales of The Office From Two Best Friends Who Were There.
Here's a preview of Amor Towles' next novel, The Lincoln Highway, which comes out in October.
Recent and forthcoming dark academia thrillers.
25 new books written by women of color coming out this year.
24 YA books coming out before spring that you'll want to pick up ASAP.
11 anticipated YA books by trans/nonbinary authors.
Every book you'll want to read in 2021.
Weekly book picks from Bustle, Buzzfeed, Crime Reads, LitHub, The Millions, New York Times, Shelf Awareness, and USA Today.
5 books you may have missed in January.
February book picks from BookPage (SFF) and Crime Reads (international crime fiction).
What Your Patrons Are Hearing About
No One is Talking About This – Patricia Lockwood (The Atlantic, New York Times, NPR, USA Today)
True Believer: The Rise and Fall of Stan Lee – Abraham Riesman (LA Times, USA Today, Washington Post)
Vibrate Higher: A Rap Story – Talib Kweli (USA Today, Washington Post)
RA/Genre Resources
I can't believe people are still questioning if romance novels are "real books."
Black romance authors who center Black love and joy on the page.
Crime Reads has a panel discussion with espionage authors Lara Prescott, Lauren Wilkinson, Rosalie Knecht, and Tracy O'Neill.
Where to start with Toni Morrison's books.
Here's a new crime subgenre for you: maternity leave noir.
On the Riot
25 must-read 2021 picture books for your child's bookshelves.
5 recent essay collections you won't want to miss.
20+ of the best book newsletters for readers.
Reading pathways for Terry Pratchett's Discworld series.
---
All Things Comics
Cypress Hill are telling their story in a graphic novel.
First look at V.E. Schwab's new superhero comic, ExtraOrdinary.
On the Riot
DC's Infinite Frontier is still a boy's club.
Recent and upcoming nonfiction comic releases.
10 of the best fantasy comics fit to print.
---
Audiophilia
AudioFile launches a new podcast called Audiobook Break, which presents an individual audiobook chapter by chapter.
6 romance audiobooks with a second chance at love.
Can there be too many narrators for an audiobook?
On the Riot
AudioFile SYNC is bringing more free audiobooks to teens this summer.
How to choose audiobooks with varying versions, narrators, and content.
5 of the best audiobooks about food and cuisine.
7 audiobooks for times when being an adult is too much.
Audiobooks to make your chores more interesting.
---
Book Lists, Book Lists, Book List
Children/Teens
Children's books that feature characters with disabilities.
Picture books that make great gifts for adults.
21 YA books set abroad that will let you live vicariously.
25 YA romance novels to read after watching To All the Boys: Always and Forever.
YA books to read if food is your love language.
Adults
Anti-racism reading list for children and adults.
Angie Thomas and Henry Louis Gates Jr. recommend books for Black History Month.
25 notable books by Black Canadian authors.
The best books about Billie Holiday.
18 epic fantasy books starring magical Black leads.
7 books to read for President's Day.
8 books featuring big queer families, found and otherwise.
10 Australian women writers you should be reading.
48 romance recommendations by trope.
A belated Galentine's Day reading list.
8 mesmerizing gothic books to read this winter.
On taking kink seriously: a reading list.
Fall in love with some of SFF's hottest royals.
On the Riot
10 children's books about snow.
11 books about the incarceration of Japanese Americans during World War II.
21 Chinese history books by #OwnVoices authors.
5 shorter novels from around the world.
9 books that were made to be reread.
12 great workplace fantasy novels to maintain a magical outlook.
---
Level Up (Library Reads)
Do you take part in Library Reads, the monthly list of best books selected by librarians only? We've made it easy for you to find eligible diverse titles to nominate. Kelly Jensen created a database of upcoming diverse books that anyone can edit, and Nora Rawlins of Early Word is doing the same, as well as including information about series, vendors, and publisher buzz.
Waaake me up…when this winter ends…
—Katie McLain Horner, @kt_librarylady on Twitter. Currently reading The Marriage Pact by Michelle Richmond.