Welcome to Check Your Shelf. We've got snow on the ground in Chicago land. It's less than an inch, and a lot of it melted today, but the cold weather is definitely here, and no one's happy about it.
Are you looking for the perfect gift for that bookish special someone in your life this holiday season? Tailored Book Recommendations is here to help! Here at TBR, we pair our customers with a professional book nerd (aka bibliologist) who just gets them. They fill out a survey and then sit back and relax as we pick books just for them. We've got three levels — recs-only, paperback, and hardcover — and you can gift a full year or one time, so there are options for every budget! Get all the details at mybtro.com/gift.
Libraries & Librarians
News Updates
Partisan bickering amongst Pennsylvania legislators has led to a delay in already-approved funds for public libraries.
The New York Public Library is facing significant graffiti cleanup costs following several weeks of protests in the city.
A new bylaw will allow some Montreal libraries to fine and remove patrons with poor personal hygiene. "People will be fined between $350 and $1,000 for a first offense, $2,000 for a second offense, and $3,000 for subsequent violations." This is absolutely horrendous.
Gaza authorities say that the Gaza Public Library has been destroyed by Israeli strikes.
Cool Library Updates
The Houston Public Library has launched a self-service book kiosk at Hobby Airport.
Book Adaptations in the News
Talia Hibbert's Ravenwood series has been optioned for TV.
Paul Greengrass is adapting and directing TJ Newman's Drowning: The Rescue Of Flight 1421 for Warner Brothers.
Censorship News
When is a book ban not a book ban? The rebrand of a national pastime.
Most parents rank librarians as trustworthy in the latest survey from Book Riot and the EveryLibrary Institute.
What is SkyTree Book Fairs? A "new" Scholastic competitor.
In the battle over books, who gets to decide what's "age-appropriate" in libraries? Who indeed…
Moms for Liberty reported more than $2 million in revenue in 2022.
Across the US, Catholic groups are often behind LGBTQ book banning efforts.
PEN America joins 16 other organizations in filing an amicus brief over the Texas READER Act.
(May be paywalled): Conroe ISD (TX) is modeling its book policy after the controversial policy approved by Katy ISD.
More out of Conroe ISD, and this one is bonkers: This "mystery" 20-year-old woman spoke at a recent board meeting about how her exposure to a "single kiss" in a Scholastic book led to a debilitating addiction to porn, which she cited as a reason for the district to ban Drama, get rid of Scholastic books, and end their participation in the Scholastic book fairs. Turns out that this woman is an employee of Brave Books, which, if you read the previous link about SkyTree Book Fairs, you'd know that there is a strong connection between the two, so there's a very obvious monetary motivation here to push the district away from Scholastic.
The Alachua County School District (FL) has removed Gender Queer from library shelves, despite questions about the complaint's validity — there are some who believe that the woman who submitted the challenge is not a legal resident of the county.
Hernando County School Board (FL) removed three of the six books that were recently challenged. They are keeping And Tango Makes Three, The Family Book, and Julian Is a Mermaid, and removing Thirteen Reasons Why, The Handmaid's Tale, and This Day in June.
Pasco County (FL) residents are demanding that the schools sever ties with the American Library Association because the affiliation goes against their Christian beliefs.
The Rockwell Public Library (NY) has been closed since September when the director and all but one staff member resigned simultaneously in response to public harassment over a drag queen story hour. Three other board members quit, which left the board without a quorum and unable to function. At the board's most recent meeting, the Sheriff had to be called after the meeting turned violent and punches were thrown.
Heartstopper is being challenged in front of the Ocean City School Board (NJ) because it was available for purchase at a school book fair.
The Fluvana County High School (VA) received two dozen book challenges from a would-be school board candidate back in October, and they've finally begun the review process. The problem is that these books were removed from the shelves shortly after receiving the challenges, meaning they've been out of circulation for over a month.
Spotsylvania School District (VA) has decided to use Kirk Cameron's new book fair.
Here is the full 75-title list of books removed by the Hanover School District (VA) — paywall broken courtesy of Kelly Jensen.
What happened after the Yancey County Public Library (NC) put up a Pride display in June. (I'll summarize — most of the initial comments they got were supportive, but a few bigoted residents and politicians got involved and raised an enormous stink.)
Charlotte Mecklenburg Schools's (NC) superintendent has decided to ban Jack of Hearts (and Other Parts) despite the review committee's decision to keep it. Why even bother having a review committee if you're just going to override their decisions?
Catawba County Schools (NC) are requiring students to have parental permission in order to borrow Lolita or Extremely Loud and Incredibly Close.
Despite parents' efforts to get Flamer returned to school library shelves, the Marietta School District (GA) has permanently banned the book
"More than 11,000 Pulaski County (AR) students are unable to access online educational materials through their local public library as a legal precaution, according to school district administrators, in light of the statewide debate over what content children should be able to access in libraries."
Former Arkansas Senator Jason Rapert has been appointed to the state's library board by Sarah Huckabee-Sanders. The article doesn't give much information about his thoughts regarding library policy and governance, but if he was appointed by Huckabee-Sanders, then I think that gives all of us an idea of what he'll be in favor of.
Conservative issues stall after backlash in St. Charles County (MO), including a proposal to remove a requirement for diverse materials and classroom libraries in the Wentzville School District.
Meanwhile, in St. Charles County, "an internal review committee has determined that the controversial book Bang Like a Porn Star: Sex Tips From the Pros should be removed from the St. Charles City-County Library system — just not right away." They're waiting until the holds list clears out. The library CEO said that the book was purchased because "'it was the only item readily available at the time about sexuality and sexual health for gay men.'" Also worth noting that this book was purchased five years ago, but the controversy is only showing up now.
"New restrictions could be coming to the Rutherford County Library System [TN]. County officials are looking to pass stricter rules on funds provided to their local libraries, along with an age-restrictive checkout policy. The new policy debate comes as the county and city of Murfreesboro have been embroiled in controversy and legal wrangling over what constitutes community decency."
Maryville High School (TN) will retain The Perks of Being a Wallflower, even after the decision to keep the book was appealed.
The right-wing group "Save My America" is fighting to remove Making a Baby from the children's section at the Pickaway County Public Library (OH).
The Hamilton East Public Library (IN) has thankfully agreed to end their book review and relocation policy after wasting an inordinate amount of staff time and tax dollars.
A proposed Republican bill in Wisconsin would require libraries to notify parents about the books their kids check out.
A Menomonee Falls School Board (WI) member doesn't believe the district followed its own book banning policy, and she wants all 33 books put back on the shelves.
This newspaper's editorial board published a piece criticizing the Lake Crystal Wellcome Memorial School District's (MN) practice of removing challenged books from library shelves before they've undergone an official review.
Lambda Legal and the ACLU of Iowa have filed a federal lawsuit to block key provisions of the state's recent book banning legislation.
Oklahoma Moms for Liberty are continuing to challenge elementary school textbooks — now they claim that the math textbooks contain inappropriate "social-emotional learning concepts."
Garfield County (CO) commissioners suggest that the library's refusal to ban books could have consequences. Know what that sounds like? Intimidation and fascism.
A Billings (MT) parent is criticizing the school district for having Assassination Classroom on the library shelves.
The Community Library Network in Idaho discussed a policy modification that would allow the library to evaluate books "in part" rather than in their entirety, which goes against all professional and legal standards for evaluating materials for content. This will give book banners free rein to continue cherry-picking passages from books they don't like as evidence for why these books should be banned.
The Chino Valley School District (CA) has enacted a book-banning policy that would allow books and teaching materials to be pulled due to "'sexually obscene' content, or even political material."
A quirk in Washington state law may give the Liberty Lake City Council an opportunity to try and have city trustees take over library governance again after the proposal was defeated earlier.
Tracking banned books in Canada.
Books & Authors in the News
A 2017 state law in Arkansas requires academics and writers to sign a pledge that they will not participate in anti-Israel boycotts in order to receive a speaker's fee for their presentations and engagements. Author Nathan Thrall recently refused.
A group of nonfiction authors have filed a lawsuit against Microsoft and OpenAI for copyright infringement.
Numbers & Trends
The best-selling books of the week.
The best-selling indie books of the year.
Almost one million children in the UK don't own a book.
Award News
The 2023 Booker Prize winner has been announced.
Related: A Booker judge admits that it's nearly impossible to read ALL the books.
1700 Canadian writers are asking the Scotiabank Giller Prize to drop charges against a group of pro-Palestinian protestors who disrupted the recent awards ceremony.
Bookish Curiosities & Miscellaneous
In the age of AI, Merriam-Webster's word of the year is "authentic."
Anthony Burgess, author of A Clockwork Orange, was also a composer, and now a newly-discovered string quartet composition from Burgess will have a premiere.
On the Riot
10 reading volunteer opportunities.
What to do when you hate your own book club pick.
A beginner's guide to Tolkien studies and commentary.
A dive into pop culture cookbooks.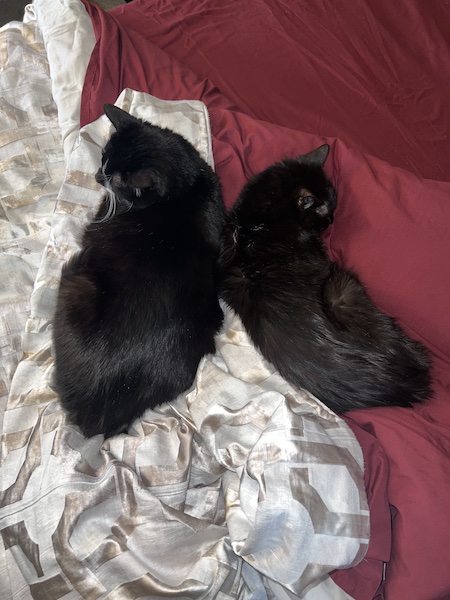 Nothing but brotherly love in the Horner household! Look at these snurgly boys!!
Okay, friends. I'm going to grab a warm pair of slippers and hiss at the freezing temperatures outside. I hope you have warmer weather or at least can tolerate cold weather better than me. See you on Tuesday!
—Katie McLain Horner, @kt_librarylady on Twitter.