Sponsored by Oni Press.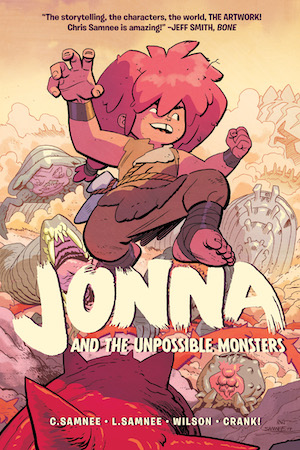 Rainbow has been looking for her younger sister, Jonna, for over a year—since the monsters appeared and the world began to dry up. Rainbow asks every survivor she meets: Have you seen my sister? Then, one day, Jonna's spotted out in the wild: filthy, but very much alive—and strong. Strong enough to knock back a towering monster with one punch. All this time, she's been surviving. On her own. Without Rainbow. Without anyone. But there are more dangers in the world than monsters, and when the two sisters reunite, they'll discover the secrets of this new and terrifying world firsthand.
Welcome to Check Your Shelf. In this latest iteration of weird pandemic interests, my husband sent me down a rabbit hole of watching Adam Driver's SNL skits, and now I think I'm mildly obsessed. Can't explain it, and I'm not going to try.
So let's talk about books!
---
Collection Development Corner
Publishing News
Hachette Books will acquire Workman Publishing.
The police officer involved in Breonna Taylor's shooting returned his book advance and is now looking for a new publisher.
New & Upcoming Titles
Here's a look at Seanan McGuire's Seasonal Fears, the follow-up to Middlegame.
Scholastic is releasing a set of illustrated children's books based on the characters from Friends.
Barbra Streisand is working on a memoir.
George Floyd's aunt, Angela Harrelson, will be coming out with a book in 2022.
150 of the most-anticipated books for Fall 2021.
Canadian fiction and nonfiction books to look for this fall.
5 gripping new thrillers to get lost in.
The best books of 2021 so far.
Weekly book picks from Crime Reads, New York Times, and USA Today.
August picks from Crime Reads (psychological thrillers, international crime), and Tor.com (YA SFF).
September picks from Barnes & Noble (adult, children/teens), Chicago Tribune.
What Your Patrons Are Hearing About
The Ones Who Don't Say They Love You – Maurice Carlos Ruffin (Entertainment Weekly, L.A. Times, New York Times)
The Reckoning: Our Nation's Trauma and Finding a Way to Heal – Mary L. Trump (The Guardian, USA Today, Washington Post)
Silent Winds, Dry Seas – Vinod Busjeet (New York Times, NPR)
Velvet Was the Night – Silvia Moreno-Garcia (USA Today, Washington Post)
Dirty Work: Essential Jobs and the Hidden Toll of Inequality in America – Eyal Press (New York Times, NPR)
The Afghanistan Papers: A Secret History of the War – Craig Whitlock (New York Times, Washington Post)
RA/Genre Resources
NPR readers' 50 favorite SFF books from the last decade.
Why we need ADHD representation in fiction.
How to diversify your reading, and why it's so important.
On the Riot
New releases by women in translation.
New and forthcoming YA disability nonfiction.
New weekly picks to TBR.
What makes a book an absorbing read?
Mystery series you can read out of order.
How you know the mystery genre is still leaving out marginalized voices.
This reader's point of view about POV in romance.
All Things Comics
Walter Mosley is writing a six-issue series featuring The Thing, which will debut in November.
New DC comics are coming to Webtoon, the South Korean webcomics publisher.
Cixin Liu's short stories are being adapted into graphic novels.
It's actually almost impossible for most writers and artists to make money in comics.
8 must-read modern Superman comics.
On the Riot
Where to read comics online for free.
The impact of crowdfunding on indie comics.
8 of the scariest manga to keep you up at night.
10 manga like Jujutsu Kaisen for monster lovers.
Exactly how big is the Marvel Comics Universe?
Audiophilia
After 46 years, Judy Blume's Forever is finally becoming an audiobook.
Your audiobook guide to book awards.
17 audiobooks to make your next road trip that much more fun.
On the Riot
6 myth retellings on audio.
7 audiobooks under 7 hours to help tune out the world.
Book Lists, Book Lists, Book Lists
Children/Teens
30 books about consent and bodily autonomy for toddlers and kids.
Adults
A reading list for the 20th anniversary of September 11th.
The best books about Western intervention in Afghanistan, past and present.
15 books that reimagine fairy tales and classic literature.
11 modern classics every book collection needs.
5 tense books that blend sci-fi and horror.
33 tales about campus life.
7 thrillers about the dark side of academia.
6 books about reincarnation.
On the Riot
11 thoughtful divorce books for kids.
5 YA books about being the new kid.
What to read after Get a Life, Chloe Brown.
15 more books about Appalachia to read instead of Hillbilly Elegy.
15 Argentinian books in translation.
16 of the best contemporary romance novels since 2016.
10 genre-defying memoirs you need to read.
8 thought-provoking books about adults going back to school.
10 thrilling books that take place at an amusement park.
Level Up (Library Reads)
Do you take part in Library Reads, the monthly list of best books selected by librarians only? We've made it easy for you to find eligible diverse titles to nominate. Kelly Jensen created a database of upcoming diverse books that anyone can edit, and Nora Rawlins of Early Word is doing the same, as well as including information about series, vendors, and publisher buzz.
---
I hope your own pandemic obsessions continue to bring you entertainment. Catch you on Friday!
—Katie McLain Horner, @kt_librarylady on Twitter.