Sponsored by Mulholland Books.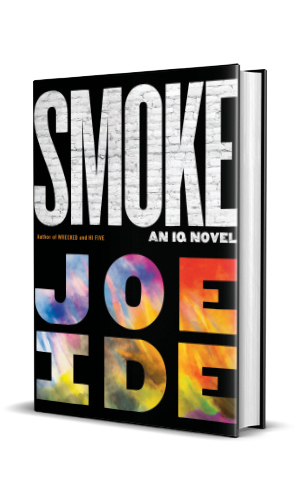 Isaiah Quintabe—a young, unlicensed detective from East Long Beach—and his masterful sidekick, Juanell Dodson find themselves at a crossroads in this latest installment of the IQ mystery series. Author Joe Ide is a crime writer's crime writer, and he's filled his best novel yet with desperate souls, courageous outcasts, and truly evil villains. With deft plotting, lacerating humor, and a keen eye for the ways in which characters rise or fall based on their ties to one another, Smoke is Joe Ide's crowning achievement.
Hi mystery fans! I have two mysteries rooted in settings that vividly come alive, and both start with missing person cases. So get toosh comfy to armchair travel to New Zealand and Tasmania for some serious page turning.
This is the perfect beach read to escape your winter situation. Aarav Rai is a 26-year-old bestselling crime author whose mother disappeared–with a quarter of a million of his father's money–when he was a teenager. Was she a missing person who should be presumed dead or a woman in an abusive relationship who took money and ran?
Those have been the questions left behind in an Auckland, New Zealand, cul-de-sac. Except now Nina Rai's car has been found with her body inside at Waitākere Ranges Regional Park adding new questions: did she die in a car accident; was she murdered? Aarav has plenty of theories from his crime writing brain, but he was recently in an accident and is having memory issues–including around what he remembers from the night of his mother's disappearance. But he does remember her screaming.
And so we're taken not only into Aarav's thoughts and memories of his childhood but also into the cul-de-sac of wealthy neighbors as he tries to unravel everyone's secrets and dirty deeds…
I love small communities and watching all the secrets being exposed, so this was already my catnip, and then it had the added bonus of a great location we rarely get to armchair travel to. Aarav is an interesting, layered, on-and-off unlikeable character forced to face his complicated feelings and memories of his childhood and parents.
I listened to the audiobook, narrated by Raj Varma, which is always my go-to format for settings I am unfamiliar with in hopes to hear proper pronunciations. I really liked Varma's voice, accent, and that he did not do high pitched women's voices.
(TW alcoholism/ domestic abuse/ statutory (19/16)/ dog death questioned as poisoning, no graphic details/ past suicide, detail/ past eating disorder, detail)
I love that I can count on Harper to deliver an immersive, page-turning, atmospheric mystery every single time.
I'm not going to give a lot of plot away on this one because a lot is revealed in fragments and I loved collecting the pieces as I was getting to know the characters. Kieran Elliott has returned home to a small south coast town in Tasmania. His father has dementia, being looked after by his mother, and he's come home with his girlfriend Mia and new baby daughter to help pack up the home.
He's not only dealing with the current situation and emotional toll of an ill parent but it's also forcing him and the community to face a past many would rather bury. There was an accident. There may still be a missing person. There have only ever been questions and accusations. And now there is a murdered woman. Kieran is about to learn that you can't run away from an unresolved past…
I loved watching Kieran and Mia reconnect with people they hadn't seen in a long time and all the complexities involved, the tension of a place trying so hard to forget the past, the family dynamics, the complicated nature of grief, all playing out along the ocean coast, which can quickly turn from tranquil to violent.
(TW parent with dementia/ drowning/ suicide on page)
From The Book Riot Crime Vault
Women Have Always Loved Reading Thrillers—Just Ask the Victorians
---
Browse all the books recommended in Unusual Suspects previous newsletters on this shelf. See upcoming 2021 releases. Check out this Unusual Suspects Pinterest board and get Tailored Book Recommendations!
Until next time, keep investigating! In the meantime, come talk books with me on Twitter, Instagram, Goodreads, and Litsy–you can find me under Jamie Canavés.
If a mystery fan forwarded this newsletter to you and you'd like your very own, you can sign up here.