Happy Thursday, Audiophiles!
Some housekeeping/news: While I am usually a full-time freelancer, which allows me to write this fantastic audiobooks newsletter, I have taken a gig with a production company working on documentaries, that's going to keep me occupied full-time for the foreseeable future. So, alas, I have to relinquish my role as audiobooks newsletter writer.
But don't despair! Your regularly scheduled audiobooks content will come to you next week and all weeks hereafter courtesy of Vanessa Diaz, Rioter extraordinaire! (More on her in a moment, but rest assured, you're in excellent hands). As for me, I will still be posting about books of all kinds over at Book Riot when I get the chance.
---
Sponsored by Hachette Audio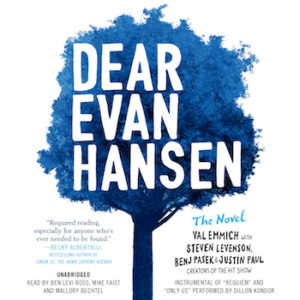 From Dear Evan Hansen's creators comes the groundbreaking novel inspired by the six-time Tony Award-winning Broadway hit. Meet Evan Hansen, a high school senior suffering from anxiety who inadvertently becomes part of a family's grieving process after their son's suicide. Offering insight into the loneliness and emotional landscape of many overlooked teenagers–especially in the age of incessant social media, the full story and experience of Dear Evan Hansen has remained inaccessible to many fans far from Broadway. Now, the audiobook – narrated by past and present stars of the show – is an ideal way to experience the complete story.
---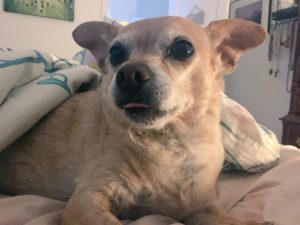 Sally is going to miss y'all, too!
And if you'll indulge me: I want to take a minute to say how much I have enjoyed writing this newsletter and hearing from all of you. I know it's just a weekly newsletter about audiobooks (peppered with occasional pictures of my dog) but it's meant more to me than that. I have felt like I'm part of a secret, cool book club for audiophiles and I've loved it. I'm especially grateful for those of you who have written to/tweeted at me with all kinds of book suggestions opinions about audiobook narrators, etc. So while you will be in excellent hands with Vanessa (as will I, seeing as I'll be reading the newsletter, too) please feel free to keep in touch on twitter where I'm msmacb or via email at katiemacwrites@gmail.com. Don't spam me with ads for cheap viagra or anything tho, k? Thanks, friends.
On that note–-the note of loving your feedback/suggestions, not questionably sourced ED medication–-I got a couple of recommendations about horror audiobooks for scaredy cats that I wanted to share with you.
But first! Don't forget to enter our giveaway for a custom book stamp for your personal library. Enter here!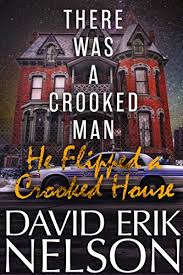 Carla says, "I'm pretty much a scaredy cat when it comes to horror… but I recently listened to There Was a Crooked Man, He Flipped a Crooked House by David Erik Nelson narration by David Sadzin and it was fantastic… What a delightful ending… It's fairly short 2hrs and change so perfect for the on the go person…"
The under-three hour audiobook is really an underappreciated sub-genre, so I'll be giving There Was a Crooked Man, He Flipped a Crooked House a whirl.
And newsletter-reader-and-brave-soul Jon has managed to do the unimaginable: convince me to try listening to some Stephen King books that will undoubtedly make me sleep with the lights on for the rest of my life. How'd he manage this feat?
He says of Stephen King's It: "I know that he is designated as a horror writer, but this book is really a coming of age/rising to the challenge with your friends by your side story. Yes ,there are scary bits but the love story takes front and center throughout.
Give it a try. You won't be disappointed."
To which I replied something along the lines of BUTCLOWNSANDDEMONSANDSTEPHENKINGIMSCAAAAAAAAARRDDD
But Jon was up to the task! He reassured me, "I promise you that while there are some scary parts, the overall book is a really cool balance between increasing tension and a love story.. My daughter read it (at my urging) in high school and fell in love with really great writing.
That being said I would recommend working up to It with Firestarter, Cujo, definitely Needful Things, The Green Mile and The Dark Tower series. Each of these pretends to be a horror book but in reality, they all speak to the human condition with one scary caveat.
Also get as many as you can in audio. It totally ups the personal involvement in the story. Makes your brain work to 'see' it differently and with more color."
Do y'all realize how much I must trust Jon to let him convince me of this?
Ok, I said I would get back to Vanessa Diaz, who as of next week will be your fearless leader!
But who is she? Well, let me tell you: Vanessa is a writer, reader and generally bookish Latina from San Diego. If loving Harry Potter and Agatha Christie is wrong, she doesn't want to be right. Vanessa's penchant for books, travel and tea is rivaled only by her serious addictions to milk, avocado and floral lattes. When not reading books or selling them, she can be found blogging, working on her first novel or cozying up at a library.
Check out some of her thoughts on books and audiobooks, like "Not Your Perfect Narrator," where she talks about how representation matters–-but only if it's done right. Or this post, where she talks about her love of Flavia De Luce series.
Welp, that's it for me this week (and for the following weeks…SOB!). Thank you for being great newsletter readers and please be as good to Vanessa as you were to me.
Yours in audio,
~Katie