Happy October, audiophiles!
You guys are the very best in the world, did you know that? A few weeks ago, I included a note in this newsletter about Mrs. Lindsey in Georgia, who was raising money for audiobooks, a portable CD player, and batteries so she can help all her students develop a love of reading. She was hoping to raise $449 by January first and was only about $150 in when the newsletter went out. And y'all stepped up in a major way! Mrs. Lindsey's classroom met its goal and is totally funded! Thanks so much to all of you who contributed and to all of you for indulging my request in this newsletter.
---
Sponsored by Nobody Real by Steven Camden, published by HarperCollins.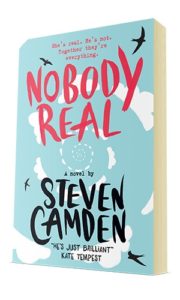 For years, Marcie has been hitching a ride on the train of her best friend Cara's life. Now there's only one more summer until they're off to college as planned. But Marcie has a secret, and time is running out for her to decide what she really wants. Thor was also Marcie's friend—before she cast him out—and time is running out for him too. But Thor is not real. And that's a real problem. This is the story of a teenage girl and the return of her imaginary friend, and we guarantee you've never read anything like it.
---
But before I get to that,  don't forget to enter our giveaway for a custom book stamp for your personal library. Enter for your chance to win here.
Audio Riot: There have been tons of great audiobook content on Book Riot of late. If you've missed any posts this month, I've got you covered!
For the Masterpiece Theater fans, Rioter Gretchen has four audiobooks for filled with bodices, bustles, drama, and sweeping, sweeping emotion! Check them out here: 4 Audiobooks Masterpiece Theater Season.
Elizabeth Allen helps audiophiles navigate that eternal question: Audible vs. Libro.FM. As I've mentioned many times in this newsletter, Audible is so easy and convenient and reasonably priced but…you know, it's also taking over the world. Elizabeth puts it this way:
"[Audible] is a convenient way to get easy access to an immense library of audiobooks. And aside from borrowing from your library and watching the gray hairs grow in as you anticipate your turn on the wait list, it's one of the few ways to listen to audiobooks without having to take a second mortgage out on your house.
However, if you're anything like me, you feel like you're betraying your local independent bookstore each month as you get that email announcing the arrival of your new credit. But then that guilt is quickly replaced with the joy of getting to consume a book you've been dying to read as you slog through your daily commute. It's a vicious, bookish cycle."
Figure out which platform works best for your reading schedule here: Audible vs. Libro.FM: Which Audiobooks Option Should You Choose
As you may know, I looooooove nonfiction and Rioter Rebecca has 50 Must-read Nonfiction Audiobooks for you to feast your ears on. Don't miss these 50 amazing, must-read nonfiction audiobooks including memoir, essay, history, sociology, self-help, and more.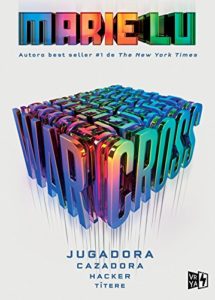 Rioter Olivia writes about how she discovered a love of audiobooks through the library (woohoo!) and Marie Lu's book Warcross. She says, "Listening to Warcross made me feel as though I was running alongside Emika as she competed in a game taking place in a digital world. It hooked me immediately and kept me listening to it while I cleaned my room, as I cooked, and even when I was washing my hair. I discovered how versatile audiobooks were, and how they turned mundane activities into small reading spurts." Read the full post here: Discovering My Love for Audiobooks.
Only 3% of books published in the USA every year are in translation, and even fewer of those make it to audiobooks. Check out 10 you shouldn't miss: 10 Great Audiobooks in Translation by Sarah Ullery
Emily Polson explains how listening to audiobooks has been a source of comfort and freedom since she graduated from college and moved to a new city. I think she's significantly younger than I am but I related to what she's saying here. I'm an introvert and most of my friends live across a bridge of some kind, so I spend a lot of time alone. Which made me relate a lot to this in particular:
"Since graduating and moving away from home, I've started spending a lot more time by myself. I go grocery shopping alone. I do laundry and household chores alone. I have two roommates, but we all have busy lives and different schedules, so I often cook meals alone, eat alone, and wash the dishes alone. These activities were occasionally solitary when I lived at home or in my college dorm, but now that's an everyday reality of my life. I love listening to audiobooks while I do these adult things because it makes me savor that solitude rather than dwell in it."  Read the rest of her great post here: How Listening to Audiobooks Helped Me Transition to Adulthood.
CALLING ALL STAR WARS FANS! Here's a roundup of 5 of the best Star Wars audiobooks, including YA and MG titles, brought to you by Christine Hoxmeier: 5 of the Best Star Wars Audiobooks.
Rioter Priya writes An Appreciation for Simon Vance, Audiobook Narrator Extraordinaire. She extolls the many qualities that make Vance an excellent audiobook narrator. I'll add an anecdote that has nothing to do with his narration: he lives not far from me and when I was working at the public library, Simon Vance was really cool about doing these Fireside Readings, where he would sometimes read a story to the public. Yes, the narration was great, but isn't it always nice to know when someone seems like a good dude?
Finally, Rioter Cassandra has 3 Reasons Teachers Love Audiobooks by Cassandra, and Dana Lee has a post full of Rag tag space crews, alien species, ships that defy our puny understanding of science and technology in her post Audiobooks in Space! 8 Sci-Fi Titles for Voyagers.
What are y'all listening to? What can't you wait to get your hand on this month? Let me know in twitter, where I'm msmacb or via email at katie@riotnewmedia.com.
Until next week,
~Katie