Howdy, audiophiles!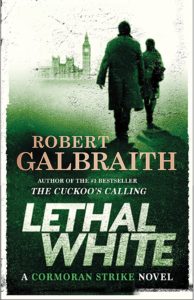 What's in your ears these days? I just finished listening to Robert Galbraith AKA JK Rowling's fourth Cormoran Strike mystery, Lethal White. I really enjoyed it–-it could have used a little more editing–-but otherwise it was really entertaining. I really liked the first two in the series, but the third was a little gross for my taste (the book opens with a severed leg being sent to the detective agency) but I still finished it, so I suppose that's an endorsement in and of itself.
---
Sponsored by The Hero's Brother by M. Scott Anderson from The Parchment Farm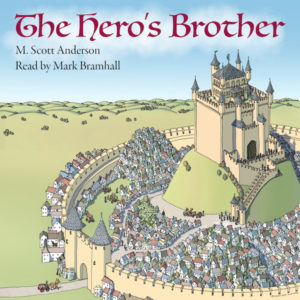 It's hard enough being barely above average, when your brothers include the deadliest swordsman of the realm, a saint, prodigies – and the greatest hero of the Middle Ages. But what if you haven't seen your Queen of Love in years, and she's imprisoned by lethal librarians and a one-armed religious zealot? Even worse, your only allies turn out to be vicious killers, with terrible table manners. Who all want to murder your heroic brother. The result – in a world of pedantic misrule, feckless magic, and courage both dauntless and daunted – is either High Adventure or an Identity Crisis. Or both.
---
Don't forget to enter our giveaway for a custom book stamp for your personal library. Enter here!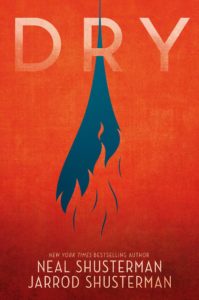 As it's the spookiest, scariest month of the year, I wanted to highlight some of the most frightening audiobooks but, as a scaredy cat I'm not the best authority on horror. Right now, I'm listening to the Young Adult book Dry by Neal Shusterman and Jarrod Shusterman, which is kind of like horror–-at least for me, because it's novel about California running out of water. Coupled with that super scary report about climate change that was just released by the Intergovernmental Panel on Climate Change, is about as close to horror as I'm going to get. So I enlisted some help from my fellow rioters as well as scoured the internet for the horroristy horror audiobooks I could find.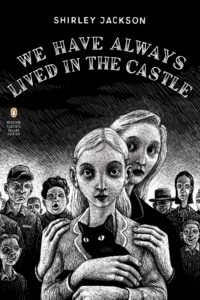 Rioter Margaret Kingsbury told me what she's listening to: "I'm listening to We Have Always Lived in the Castle by Shirley Jackson, read by Bernadette Dunne. Shirley Jackson does amazing things with character voice, and I love how Bernadette Dunne captures each character idiosyncrasy. Now when I read the title, I read it in Uncle Julian's voice. It's not heavy on the horror, but the creepiness slowly builds up, and the main character — Merricat — is so weirdly wonderful. It's just under 6 hours, so a perfect quick listen."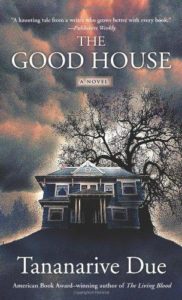 Rioter Jessica Woodbury also recommended The Good House by Tananarive Due (different from The Good House by Ann Leary, a book I'm always talking about how much I love). This Good House is "a story of ancient powers and modern retribution in a small Pacific Northwest town. When a young woman returns to her grandmother's empty mansion, she is pitted against demonic forces that have poisoned her family for generations."
I hunted through a bunch of horror audiobook lists which I'm compiling here. For descriptions of all the books, check out the links at the end of each list.
From Backpackerverse:
1) Doctor Sleep: A Novel by Stephen King
2) Call of Cthulhu and Other Stories by H. P. Lovecraft
3) Weaveworld by Clive Barker
4) Night Chill by Jeff Gunhus
5) The Haunting of Blackwood House by Darcy Coates
6) The Ghost Files (The Ghost Files – Book 1) by Apryl Baker
7) The Darkening by Paul Antony Jones
8) Alex by Adam J. Nicolai
9) The House on 211 by L. A. Maldonado
10) Wickers Bog: A Tale of Southern Gothic Horror by Mike Duran
https://backpackerverse.com/best-horror-audiobooks/
Bustle put together a list of 13 audiobooks they think are "way more terrifying" than the written version:
https://www.bustle.com/p/13-horror-audiobooks-that-are-actually-way-more-terrifying-than-the-written-version-7871394
With a name like Dead Good Books, you can count on these recs to scare the bejesus out of you.
The Crow Girl by Erik Axl Sund, read by Gabrielle Glaisters
It by Stephen King, read by Steven Weber
Lying In Wait by Liz Nugent, read by Caoilfheann Dunne, David McFetridge and Lesley McGuire
The Snowman by Jo Nesbo, read by Sean Barrett
Ghost Stories by E F Benson, read by Mark Gatiss
Good Me Bad Me by Ali Land, read by Hannah Murray
Bird Box by Josh Malerman, read by Katharine Mangold
Fear, ed. by Roald Dahl, read by Rory Kinnear, Julian Rhind-Tutt, Tom Felton and Kevin Eldon
https://www.deadgoodbooks.co.uk/creepy-scary-audiobooks/
Last but certainly not least, the great Amanda Nelson put together this list of scary audiobooks for Book Riot in 2016. Note that this is the *third* list on which Stephen King's It appears, so you can be sure I will never, as long as I live, listen to that audiobook.
What are your favorite horror audiobooks? Or mystery audiobooks that get you in the mood for Halloween? Let me know on twitter, where I'm msmacb or via email at katie@riotnewmedia.com.
Until next week,
~Katie