Happy Thursday, audiophiles,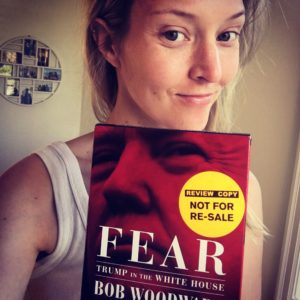 Boo-hoo, I have the flu! Fortunately, I got my germy little hands on this sucker (Bob Woodward's Fear), so I'm doing ok, considering everything hurts and–-at least according to Woodward and other reputable journalists covering the White House–-we all have good reason to be afraid.
---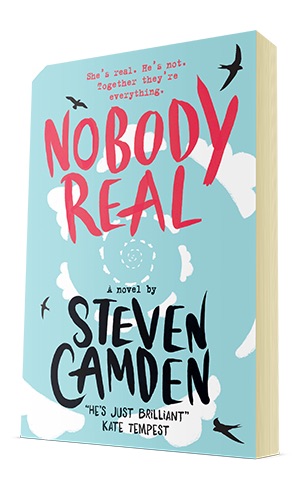 Sponsored by Nobody Real by Steven Camden, published by HarperCollins
For years, Marcie has been hitching a ride on the train of her best friend Cara's life. Now there's only one more summer until they're off to college as planned. But Marcie has a secret, and time is running out for her to decide what she really wants. Thor was also Marcie's friend—before she cast him out—and time is running out for him too. But Thor is not real. And that's a real problem. This is the story of a teenage girl and the return of her imaginary friend, and we guarantee you've never read anything like it.
---
Kid Lit lovers! Don't forget we're giving away a 6-month subscription to OwlCrate Jr! Enter here!
Audible continues to dominate the audiobooks market, no surprise there. As The Verge announced, Audible is giving members two free original audiobooks each month.
The Audible originals are produced in-house, like the podcasts found in the Channels section of the Audible app. The Verge explains, "The new Audible Originals offering will work similarly to a book-of-the-month club: on the first Friday of each month, Audible will release a list of six original titles, from which subscribers can download two, alongside the credits that they already pick up as part of their plan. This month's titles are Michael Lewis' The Coming Storm, Carey Mulligan's Girls & Boys, Jane Austen's Emma, Jack Cantos' The Dented Head of Joey Pigza, Sharon Washington's Feeding the Dragon, and The X-Files: Cold Cases."
Audible is bringing in some heavy hitting narrators to help with the narration of the Originals: Emma Thompson narrates the AO version of Emma. You can find out more about that choice and listen to a sample via Bustle here.
So while I'm all for free Audible tacking on free audiobooks produced in-house to Audible memberships, I'm less wild about the fact that Audible Original programming that isn't available in print. While only Audible members (or those who wish to purchase it separately from Audible) can listen to Emma Thompson and cast's dramatized narration of Emma, anyone can go to their local library and check out the print or audio version of Jane Austin's classic novel. By and large, however, the Audible Originals don't have print counterparts, and that's what makes me feel a little squishy about the whole thing.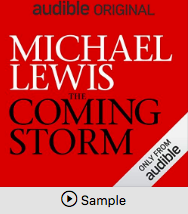 For example, as noted by Joshua Kim on the Inside Higher Ed blog, Lewis' Audible Original, The Perfect Storm, in which "Lewis uses the lens of weather, and the Department of Commerce's National Weather Service, to explain why the federal government matters to all of us" is only available on audio. According to Kim, the short audiobook is very informative and well done–-just what you would expect from an author as accomplished as Lewis. In fact, Lewis has signed a deal with Audible to release four more short books only as audiobooks on Audible. What's not to like? Kim puts it well:
"Isn't it a good thing if exclusive audiobook deals serve to bring more people to audiobooks? The answer, I think, is that it is a mistake to attempt to grow the use of any medium by shutting down access to other platforms. Reading should never be a zero-sum game. Yes, I want an audiobook option for my books. But that does not mean that I don't want there to be print and e-book options as well."
Kim goes on to talk about how his wife doesn't like audiobooks. "She feels that her retention of audiobooks is limited compared to reading with her eyes. My wife might love The Coming Storm. But she will not read this book. The audiobook only format is shutting her out."
As many of you know, I am an accessibility nut. One of the things I love about audiobooks, in fact, is that they often make books accessible to more people. So, like Kim, I think material should be consumable all the different ways: print, e-books, audio, etc. I love podcasts, but one of the quibbles I have is that too few podcasts posts transcripts of their episodes. (I realize it's not always feasible, but in my perfect world, that's what I would like to see in a perfect world). So I am not thrilled about audiobook only content, but maybe I'm just being uptight. What do y'all think? Let me know on twitter at msmacb or via email at katie@riotnewmedia.com.
That's kind of a bummery note to end on, so here's some good accessibility news: Penguin Random House launched a partnership with the Royal National Institute of Blind People, making its books available to blind and partially sighted readers. 25,000 Penguin Random House titles – together with new releases – are now available to RNIB Bookshare members for free.
And, finally, if you have a couple extra dollars to spare, consider donating to this fourth-grade classroom in Austell, Georgia. Mrs. Lindsey is raising money for audiobooks, a portable CD player, and batteries so she can help all her students develop a love of reading. More than three-quarters of her students are from low-income households. She's hoping to raise $449 by January 1st. If you're feeling generous, take a look at her page here.
That's it for me this week! I'm gonna go drown myself in DayQuil!
Until next week,
~Katie