Sponsored by World Piece, New VIZ Originals Sci-Fi Manga.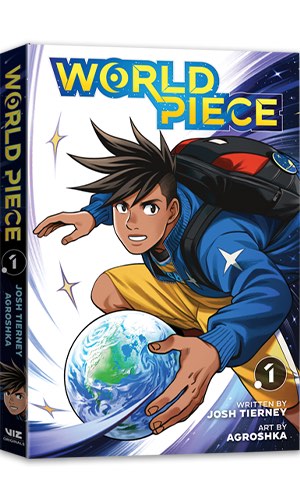 tk
Justina Ireland and Tessa Gratton Co-Writing YA Fantasy Duology Chaos & Flame
Ruta Rimas at Razorbill has acquired the rights to a new YA fantasy duology from Justina Ireland (Dread Nation) and Tessa Gratton (The Queens of Innis Lear). The books will follow two scions from two rival houses who get swept up in the dangerous game the prince regent is playing, and the only way they will be able to survive is by trusting each other. Publication is set for spring 2023.
Clifford the Big Red Dog Film Trailer Released
Check out the new trailer for Clifford the Big Red Dog. The children's film, based on the Clifford series by Norman Bridwell, is coming to theaters September 17 of this year. If you watch the trailer, be sure to like and share. For every like and share the trailer receives, the film will donate $1 to Best Friends Animal Society, up to $20,000. Clifford the Big Red Dog is directed by Walt Becker and stars Darby Camp as Emily Elizabeth Howard, Jack Whitehall as Uncle Casey Howard, Izaac Wang as Emily Elizabeth's neighbor Owen Yu, and David Alan Grier as the voice of Clifford.
Simon & Schuster Announces Black Celebrity Imprint
Today, Simon & Schuster's Gallery Book Group announced the launch of 13A. 13A is a new imprint whose name is a reference to the Constitutional amendment that abolished slavery. The imprint is dedicated to "publishing renowned, relevant, Black voices in culture and politics.​" Charles M. Suitt is serving as publisher. For its first publication in July, the imprint will release a revised edition of Patti LaBelle's cookbook LaBelle Cuisine. In 2022, the imprint plans to publish a collection of autobiographical essays by ESPN commentator Stephen A. Smith; a cookbook from chef Aisha  "Pinky"  Cole, (aka the Slutty Vegan); and a memoir by former NBA star Allen Iverson.
15 Adult Fiction Books from BookFest That Go Straight to the TBR Pile
Another successful year of BookFest has come and gone, and our TBR lists are all a little bit longer because of it. Trying to wade your way through all the new books that were introduced at BookFest? Here's a list of 15 amazing adult fiction books that you won't want to miss!