Hey y'all, welcome to the Kissing Books newsletter. I hope your spirit is doing well today. I'm PN Hinton, your guide through the roller coaster of a ride that the world of romance can be. If this is your first time reading this newsletter, I'm glad that you're here. If you're a regular reader, welcome back; it's always good to see you.
Last Saturday, I went to watch my nephew's baseball game in the nice spring weather. When I got home that night, I found a tan line from where my bracelet was. Y'all…the sun was that present and it's just the beginning of April. If this is an indicator of how the summer heat will be, I will likely be staying indoors for most of it.
I finished I'll Come Back for You, which I highly recommend for a 'horro-romance' fix. I'm still reading Dating Dr. Dil and started an arc of Queerly Beloved by Book Riot's own Susie Dumond.
Quick note before we proceed. It was brought to my attention that while Marie Kondo stated that owning a max of 30 books was her preference, it was not intended to be a hard-set rule for others. Apologies for my misunderstanding on that!
Romance Reflection
Today I want to talk about how important music is when it comes to romances, especially the love scenes. True, this is mainly for movies, but I've noticed books in the last few years include playlists. Usually it is what the author was listening to when writing a particular scene in that chapter or illustrates the feeling the characters were going through at that point in the plot.
And I dig it. Writing is a not an easy task, despite what people may think. Sometimes, you need inspiration to get into the mindset for the scene that is currently being written; so, it helps to have something extra to get the creative juices flowing. Music has always been, very integral to any kind of storytelling, even romances.
Take for instance the movie oft forgotten Boys & Girls, which was essentially When Harry Met Sally for a younger audience. When the two main characters finally hook up, Tyrese's Lately is playing in the background. And that is for sure one of my go-to songs I think of when I think of slow dancing in all its various forms.
I myself have a go-to song I will use for inspiration if I ever get back to writing romances: Billy Ocean's Love Zone. It is a song that embedded itself in my brain as a young'un and I can't remove it now, even if I wanted to. Which I don't.
Book Riot Romance
If you're a huge fan of sports in your romances, here is a list of some books to check out.
Don't forget you can get three free audiobooks at Audiobooks.com with a free trial!
Around the Web in Romance
Looking for some new beginnings romances? Check out some of the ones listed here.
I agree with those who have felt conflicted at seeing this type of display. On the one hand, yay for displaying romances. On the other one, the sign is a bit dismissive. A lot of the books featured there deal with heavy topics so to call them cheesy is more than a bit disingenuous.
Another Bridgerton quiz to find out which character you're the most and least likely compatible with. I got Will and Edwina respectively, which honestly, tracks.
Recommendations
One thing I really liked about I'll Come Back for You is the strong sibling relationship that was present throughout the book. It was clear that Whitney and Helen cared deeply about one another to the point they were willing to open up a business again. And they way they looked out for each other when the ghosting got real was amazing.
Between that and the fact that National Sibling Day was this past week, I decided to focus on book series that were about siblings. Please note that I'm going to be recommending the whole series as opposed to individual books and just give a general overview of them and the titles in the series.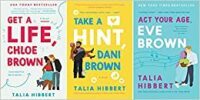 The Brown Sisters trilogy by Talia Hibbert
Starting with this one since it recently took Romancelandia by storm. This series by romance darling Talia Hibbert involves the Brown sisters Chloe, Dani, and Eve and them finding their happily ever afters. What I particularly love about this series is that the sisters often get together for a chat session and this is featured in the books. They are also staunch supporters of one another but also aren't afraid to tell each other the truth, even when they don't want to hear it.
Series includes Get a Life, Chloe Brown, Take a Hint, Dani Brown, and Act Your Age, Eve Brown.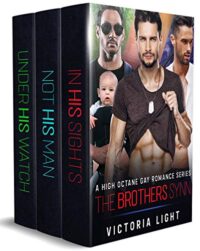 The Brothers Synn by Victoria Light
This series of books is about a trio of brothers who are also ex-military and the men who they fall in love with. Since the heroes are ex-military, you can expect more action than typical in these book,s but since they're romances there will be an HEA.
Series includes In His Sights, Not His Man, and Under His Watch.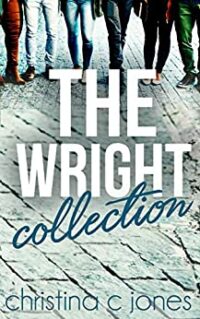 The Wright Brothers by Christina C. Jones
These books feature the Wright brothers and the various challenges they face in life and in love. As with most series like this, each one focuses on a different brother's romance but they are also unique and feature different settings and tropes with their respective characters.
Series includes Getting Schooled, Pulling Doubles, Bending the Rules, and Christmas with the Wrights.
---
And that is all I have for you today. I hope that your weekend is restful and relaxing since I hope to be doing that myself. I'll be back Monday with a fresh newsletter. In the meantime, I can be found posting on Twitter under the handle @PScribe801. Happy reading!