Hello Audiophiles! Here in the American South, we are experiencing a full-on pollenagedan, where everyone's car is covered in a fine layer of yellow dust—it's even in the Corgis' floof! So I've been spending a bit of time inside hiding from the golden onslaught.
I finished Vol 5 of He Who Fights with Monsters. After I finished it, I felt INCREDIBLY tempted to restart the whole series! Ugh! And how am I supposed to wait until June for Vol 6? #AudiobookNerdProblems
In the spring, I always get the urge to relisten to my favorite fantasy-related novels. I recently bought the entire Chrestomanci series by Diana Wynne Jones, which is perfect on audiobook. It has that wonderful, fantastical, small-town English vibe. Jones possesses the unique ability to make incredibly complex stories seem very straightforward. But once you scratch the surface, you realize how complicated her stories truly are!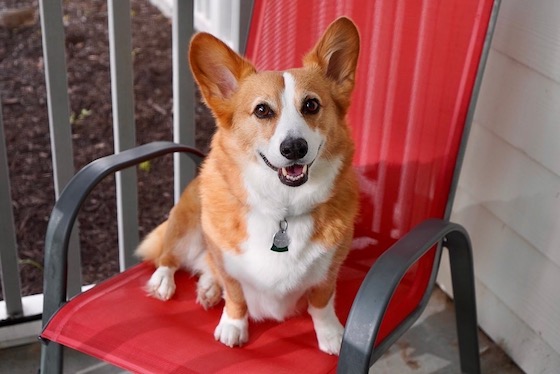 Recent Listens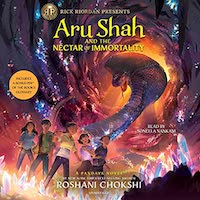 For the last several years, I've looked forward to spring when the latest Aru Shah book will come out and I can savor each new adventure. Aru is a reincarnation of one of the Pandava brothers from Hindu mythology. As she goes on her different adventures, she meets the reincarnations of the other four Pandava brothers, but this time around, they are all girls. Aru and her soul sisters are tasked with defeating The Sleeper, a malicious enemy determined to find the Nectar of Immortality, and end/rule the world.
I don't want to spoil the fifth book for you, but let's just say the book's ending is incredibly satisfying. There's something special about listening to this series with the same narrator all the way through, which is how I prefer to listen to my series. Keeping the same narrator with the same series (particularly a series from the same character's perspective) helps the books sound cohesive and the characters' voices remain the same, like you are returning to visit old friends. In this case, Soneela Nankani is with you every step of the way. The first Aru book, Aru Shah and the End of Time, was the first time that I remember truly falling in love with Nankani's narration. She has this way of capturing the protagonist's narrative voice that really grabs my attention.
For the longest time, I wasn't sure I'd be ready to say goodbye to Aru and her sisters. I loved everything about Aru, her nerdy references and truly clumsy moments. With every book, I watched her learn and grow older. It was almost like I was a silent 6th sister in her adventures. From what I've seen online, middle graders felt the same. To me, that is the most important: kids in the target audience should be able to connect and relate to the story.
Narrated by Soneela Nankani
Don't forget you can get three free audiobooks at Audiobooks.com with a free trial!
New Releases!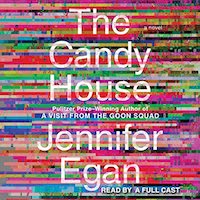 Visit from the Goon Squad received much acclaim when it came out several years ago. Now Jennifer Egan is back with a companion novel, which you can read on its own or as a follow up to Goon Squad. BUT The Candy House received the royal treatment, audiobook wise, and is narrated by a full cast. Ah! Can't wait!
Narrated by a Full Cast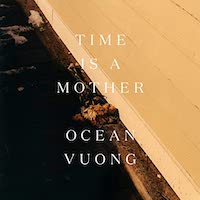 I just finished listening to Ocean Vuong narrate his latest poetry collection on audio. Ugh, it's so incredibly beautiful, and there's nothing like listening to a poet narrate his work. Time Is a Mother was written after Vuong's mother passed away, and it's full of longing for the person he loved most.
Narrated by Ocean Vuong (On Earth We're Briefly Gorgeous by Ocean Vuong)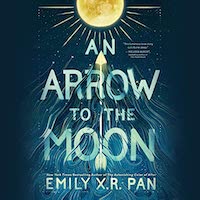 I ADORED The Astonishing Color of After, so I've been waiting SO LONG to listen to this one. An Arrow to the Moon is Romeo and Juliet meets Chinese mythology, which is 100% in my wheelhouse.
Narrated by Natalie Naudus, Shawn K. Jain, and David Shih (Atomic Anna by Rachel Barenbaum, Golden Boys by Phil Stamper, and No Longer Human by Osamu Dazai)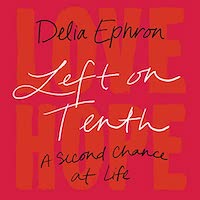 This heartrending memoir follows Delia Ephron after the death of both her sister and her husband. She meets a new romantic interest, but is shortly thereafter diagnosed with cancer. Full of heart from someone facing the complex reality of life, Left on Tenth is a beautiful memoir.
Narrated by Delia Ephron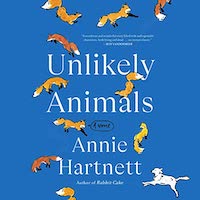 I loved Annie Hartnett's debut novel, Rabbit Cake, so I've been waiting on Unlikely Animals for years. But it's well worth it! Emma Starling is a med student who's faced with caring for her father while he's experiencing a deteriorating brain disease.
Narrated by Mark Bramhall and Kirby Heyborne (Nine Lives by Peter Swanson and Gone Girl by Gillian Flynn)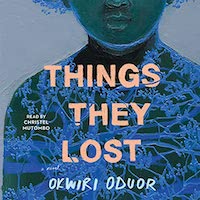 This novel follows Ayosa, a wandering spirit who feels incredibly alone. But when she meets someone new, she finds herself caught between the world of the living and her own. Full of the complex contradictions that is life, Things They Lost is sure to tug on your heartstrings.
Narrated by Christel Mutombo
Around the Web
"Celebrate National Poetry Month (and the Oral Tradition) with These 6 Audiobooks" (Paste) – I love poetry on audiobook! Here are some great recommendations.
"Barnes & Noble is finally offering an audiobook service" (Engadget) – This news has been EVERYWHERE! Barnes and Noble has finally decided to enter the audiobook market. But who would leave their already established libraries to move to B&N's service? Definitely tell me your thoughts on this!
---
That's it for this week! You can find me over on my substack Winchester Ave or over on Instagram @kdwinchester. As always, feel free to drop me a line at kendra.d.winchester@gmail.com. For even MORE audiobook content, you can find my articles over on Book Riot.
Happy listening, bookish friends!
~ Kendra