Welcome to Check Your Shelf. I have to admit, I'm writing this newsletter on a bit of a cranky note…my husband and I had plans for a Barbenheimer weekend, and Oppenheimer went fine, but our theater ended up canceling our Barbie showing about 30 minutes in because the projector wouldn't stop skipping! We got free passes, and we should be able to go next Sunday, but dammit, I was really looking forward to this! So now I have to spend another week of avoiding Barbie spoilers. Le sigh.
On a more enjoyable note, if you haven't already, make sure to check out Book Riot's New Release Index, which has been keeping velocireaders in the know about all the latest books since 2017! It's new books for days! Subscribe today — you won't be able to read them all, but it's fun to try!
Collection Development Corner
Publishing News
UPS and Teamsters Union avoid a strike with a historic deal.
HarperCollins is closing the YA imprint, Inkyard Press.
A new startup proposes an influencer-driven publishing company.
Goodreads is right to divide opinions, but wrong to boil them down. Plus: the wrath of Goodreads.
New & Upcoming Titles
Kim Sherwood announces a new James Bond novel.
Here's a preview of Jada Pinkett Smith's memoir, Worthy.
Here's the cover reveal for Trevor Noah's upcoming illustrated book, Into the Uncut Grass.
And here's the cover reveal for the latest book from Gillian Flynn's imprint: One of the Good Guys by Araminta Hall.
12 new books to get you to the end of the summer and beyond.
Weekly book picks from Crime Reads, LitHub, New York Times, USA Today.
The best international crime fiction for July.
August picks from Barnes & Noble (general, teens, kids), Epic Reads, Kirkus, New York Times, The Root.
What Your Patrons Are Hearing About
Tom Lake – Ann Patchett (The Guardian, LA Times)
The Exorcist Legacy: 50 Years of Fear – Nat Segaloff (Entertainment Weekly, LA Times)
Family Lore – Elizabeth Acevedo (Datebook, Time)
American Prometheus: The Triumph and Tragedy of J. Robert Oppenheimer – Kai Bird & Martin J. Sherwin (The Atlantic)
Somebody's Fool – Richard Russo (New York Times)
RA/Genre Resources
The current explosion of time travel novels goes beyond science fiction and fantasy.
Where to start with Haruki Murakami.
The past, present, and future of crime fiction in India.
On the Riot
10 new thrilling and deliciously dark romance books.
The best new Korean literature in translation.
Recent poetry releases to add to your collections.
The best books that Rioters read in April – June 2023.
The best new weekly book releases.
Reading pathways for Aya de León.
In a wave of Greek mythology retellings, where are the Greek writers?
Sand, sand, and more sand. Is it Anakin Skywalker's worst nightmare? No, it's desertpunk!
The importance of non-sexual intimacy in romance novels.
All Things Comics
Here's a recap of the news from the 2023 San Diego Comic-Con.
And here are the winners of the 2023 Eisner Awards.
The sequel to My Favorite Thing is Monsters has a release date!
Here's a preview of Jamie Lee Curtis' upcoming graphic novel, Mother Nature.
Trailers for One Piece and Heartstopper, Season 2.
On the Riot
The best comics Rioters read from April – June 2023.
Why comics are the ultimate reading slump-buster and restart.
8 of the best manga adaptations.
Join Rebecca & Jeff in the First Edition podcast to consider the 10 finalists for the "It Book" of August and pick a winner.
Book Lists, Book Lists, Book Lists
Children/Teens
YA nonfiction books about the universe.
14 YA mystery series to keep you up at night.
YA romance novels like Red, White, and Royal Blue.
Adults
5 SF novels about going on vacation.
Books to read after watching Oppenheimer, from Barnes & Noble and Town & Country.
8 books to turn to when life gets overwhelming.
7 books for the lifelong learner.
5 books that would be in Barbie's Dreamhouse.
Top 10 books by neglected female thinkers.
Greta Gerwig's 10 favorite books.
5 SF stories of science unimpeded by safety concerns.
21 cozy fall books to help you get ready for the season.
What to read if you have Beyoncé and her Renaissance tour on the brain.
9 gothic horror novels to spend your summer reading.
10 books if you enjoy generation-spanning sci-fi epics like Foundation.
8 prolific authors to check out ASAP.
10 sun-soaked mysteries and thrillers.
On the Riot
8 chapter books for second graders to expand their horizons.
Classic YA books that make you feel seen.
8 heartfelt YA books featuring characters with anxiety.
25 of the best romance book series.
Adult versions of your favorite childhood fantasy novels.
20 must-read baseball romances.
9 of the best gentle self-help books.
8 books about whistleblowers.
9 atmospheric mystery novels to help you explore the world.
Level Up (Library Reads)
Do you take part in Library Reads, the monthly list of best books selected by librarians only? We've made it easy for you to find eligible diverse titles to nominate. Kelly Jensen has a guide to discovering upcoming diverse books, and Nora Rawlins of Early Word has created a database of upcoming diverse titles to nominate as well that includes information about series, vendors, and publisher buzz.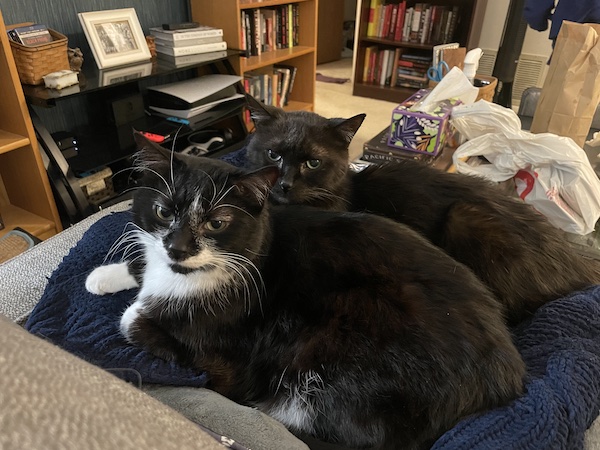 The boys are in a snuggly phase again! Or at least, Dini is just tolerating Gilbert as he tries to steal his napping spot. But they're so cute when they're like this!!
Okay, that's all I have for today. Hopefully by this time next week I'll have seen the Barbie movie in its entirety!
—Katie McLain Horner, @kt_librarylady on Twitter.