Welcome to Check Your Shelf. We had our first real COVID scare this weekend, although thankfully it appears to have just been a scare. My husband woke up on Friday with a cough, a nasty sore throat, other respiratory issues, and body aches, although thankfully he and I both tested negative all weekend. Which with this new variant isn't necessarily a foolproof indicator, but he started making a significant recovery after only two days, so I think he picked up a cold somewhere. But it was enough to knock him out of a couple big events we had planned this weekend, and even though he likely did not have COVID, I just have to say that COVID really sucks.
On a more positive note, don't forget that Book Riot is hiring an Editorial Operations Associate! This person will be heavily involved with the back-end stuff that makes Book Riot run like a well-oiled machine, so if that sounds like you, you can apply here! Women, individuals with disabilities, and people of color are strongly encouraged to apply.
---
Collection Development Corner
Publishing News
The HarperCollins union sets a July 20th strike date.
The "great publishing resignation" exposes the failings of the industry.
Finding a place for disability in publishing.
A rare book dealer has been charged for conspiring to sell Don Henley's songwriting notes, including the words to "Hotel California."
Alleged book thief Filippo Bernardini may avoid trial in the US.
New & Upcoming Titles
Model Jeremy Meeks, otherwise known as "Prison Bae" has signed a book deal for his memoir. (I can't believe I just wrote a sentence that included the phrase "Prison Bae.")
July book club picks from Read With Jenna, Reese Witherspoon, Barnes & Noble, and Good Morning America.
Weekly book picks from Bustle, Crime Reads, New York Times, and USA Today.
Most anticipated July picks from Bustle, CBC.
The most anticipated books for the second half of 2022.
What Your Patrons Are Hearing About
Hollywood Ending: Harvey Weinstein and the Culture of Silence – Ken Auletta (Deadline, LA Times, New York Times, Vanity Fair, Washington Post)
Normal Family: On Truth, Love, and How I Met My 35 Siblings – Chrysta Bilton (LA Times, USA Today, Washington Post)
The Great Man Theory – Teddy Wayne (The Millions, New York Times, Washington Post)
Upgrade – Blake Crouch (Entertainment Weekly, Time)
Thank You for Your Servitude: Donald Trump's Washington and the Price of Submission – Mark Leibovich (New York Times, NPR)
Tanqueray – Brandon Stanton & Stephanie Johnson (New York Times, Washington Post)
RA/Genre Resources
How SFF books can be used to critique power structures.
On the Riot
Essential indie presses for queer book lovers.
2022 YA books set in New England.
The best new weekly releases to TBR.
Rioters pick their favorite books of 2022 so far.
Your guide to Summer 2022 YA books: July – September.
Great board books publishing in the second half of 2022.
A non-disabled reader's guide to disability literature.
Make room for the new cozy mysteries — we want more!
First person plural POV books.
All Things Comics
Comic book sales had their best year in 2021, and 2022 is on pace to be even better.
Daniel Kaluuya will not be reprising his role as W'Kabi in the next Black Panther movie.
On the Riot
Riot Roundup: the best comics Rioters read in the first half of 2022.
11 books that started as webcomics.
10 comics and books like The Sandman series.
Marvel Unlimited and DC Extended Universe: are they worth it?
Audiophilia
Listens on the history and future of reproductive justice.
Libro.fm has an app for the Apple Watch now.
The July 2022 Earphone Award Winners have been listed.
On the Riot
Audiobook recordings of three key Supreme Court abortion rulings have been released.
7 nonfiction audiobooks for Disability Pride Month.
The best places to find audiobook narrator jobs for beginners.
How romance audiobooks saved this reader's bedtime routine.
Book Lists, Book Lists, Book Lists
Children/Teens
26 YA royal romance books to swoon over.
Adults
8 #BookTok sensations to love.
9 of Julia Quinn's romance recommendations.
5 brilliantly plotted mysteries recommended by Louise Penny.
80 books every man should read. (Side note: I was understandably skeptical when I saw this headline, but it's actually a really solid list.
12 self-published LGBTQ books to bring to the beach this summer.
8 books about the gig economy.
The history of reproductive rights in the U.S., as told through 20 books.
Top 10 thrillers to put you off traveling.
5 must-read autobiographies by Black comedians.
7 novels about wealthy people behaving badly.
7 great novels about young female friendships.
5 novels about the perils and pitfalls of fictional fame.
7 historical fiction novels set in the Pacific Northwest.
10 novels and memoirs with recipes that you can cook along to.
100 years of popular books on Goodreads.
5 novels rooted in West African folklore and magic.
On the Riot
10 fantastic kids' baseball books.
13 of the best rivals-to-lovers YA romance books.
Riot Roundup: the best books we read January – June 2022.
18 of the best romance book club books.
9 breathtaking books like Princess Mononoke.
8 suburban horror novels that prove monsters live right next door.
8 mystery and thriller novels featuring libraries and bookstores.
The best history books for the biggest historical eras.
SF books like Murderbot that feature robots and AI.
Books for the extremely online reader.
Edgar Allan Poe retellings and read-alikes.
Level Up (Library Reads)
Do you take part in Library Reads, the monthly list of best books selected by librarians only? We've made it easy for you to find eligible diverse titles to nominate. Kelly Jensen has a guide to discovering upcoming diverse books, and Nora Rawlins of Early Word has created a database of upcoming diverse titles to nominate, as well as including information about series, vendors, and publisher buzz.
---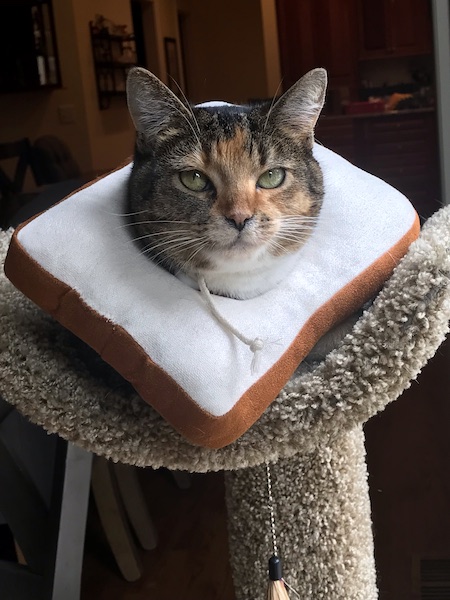 Okay, this issue's cat photo spot has to go to my parents' cat, Penny. My mom's been telling me about how Penny likes to torment the only other female cat in the house, and finally the other cat had had ENOUGH and scratched Penny's paw to the point where it needed vet attention. Well, Penny decided to go after the other cat again, her paw started bleeding again, and although she didn't need another trip to the vet, my mom decided to put a cone collar on Penny in the hopes that it might deter her from going after the other cat, and she decided to have a little fun with it. My mom now calls her "Toasty." Also, I would just like to point out that that is NOT the face of a cat who has learned its lesson about anything.
Peace out everyone. May all your pets be well behaved enough to avoid wearing a giant collar that looks like bread.
—Katie McLain Horner, @kt_librarylady on Twitter.