Welcome to Read this Book, a newsletter where I recommend one book that needs to jump onto your TBR pile! This week, I'm recommending a multigenerational family saga translated from French by the wonderful Tina Kover.
What do S.A. Cosby, Khaled Hosseini, Sarah Bakewell, and Yahdon Israel have in common? They've been guests on Book Riot's newest podcast, First Edition where BookRiot.com co-founder Jeff O'Neal explores the wide bookish world. Subscribe to hear them and stay to hear Book Riot's editors pick the "it" book of the month.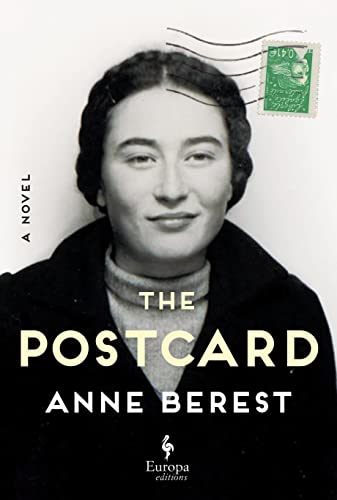 The Postcard by Anne Berest, Translated by Tina Kover
During the holiday season of 2003, a postcard arrives at the Berest home. Anne looks at the back of the card and sees the names of her great-grandparents and their two children, all of whom died during the Holocaust. But who sent the postcard? And why did they include the names of her lost family members?
After seeing the postcard, Anne's mom takes her aside and tells her the story of their family history, beginning in Russia during the early 20th century. Theirs is a sprawling story, filled with family members who move to countries across Europe and as far away as the United States, always looking for a safe place to call home.
Over the course of the next 15 years, Anne searches for the author of the postcard, trying to find out more about her family members' last days. She goes to private detectives, handwriting specialists, and government archives. But she struggles to find anything that will tell her more about her ancestors.
The Postcard is an expansive book that takes you around the world, connecting stories from characters across time. In many ways, Anne is disconnected from her Jewish heritage. Her family isn't religious, and hasn't been for a few generations, so Anne is unfamiliar with many Jewish holidays and customs. But she is from a line of Jewish women, and she shares that heritage with her daughter.
I love a family saga that spans the course of decades. There's just something special about seeing characters grow and change over the course of time that keeps me entranced for hours. Anne's family is complex, constantly moving and adapting to new cultures. But Anne is disconnected from that history, intentionally so, based on her grandmother's insistence on not talking about her family's past. I kept turning the pages, hanging on every word, and waiting to find out what would happen next.
Delighting velocireaders since 2017, Book Riot's New Release Index will keep you in the know about all the latest books. Start your 14-day free trail today.
---
That's it for this week! You can find me over on my substack Winchester Ave, over on Instagram @kdwinchester, or on my podcast Read Appalachia. As always, feel free to drop me a line at kendra.d.winchester@gmail.com. For even MORE bookish content, you can find my articles over on Book Riot.
Happy reading, Friends!
~ Kendra