Welcome to Read This Book, a newsletter where I recommend one book that should absolutely be put at the top of your TBR pile. Recommended books will vary across genre and age category and include shiny new books, older books you may have missed, and some classics I suggest finally getting around to.
Before I do that, I have a question: What do S.A. Cosby, Khaled Hosseini, Sarah Bakewell, and Yahdon Israel have in common? They've been guests on Book Riot's newest podcast, First Edition where BookRiot.com co-founder Jeff O'Neal explores the wide bookish world. Subscribe to hear them and stay to hear Book Riot's editors pick the "it" book of the month.
Today's pick is an incredibly helpful nonfiction read that aims to help readers get the most out of going to therapy (including getting to therapy in the first place).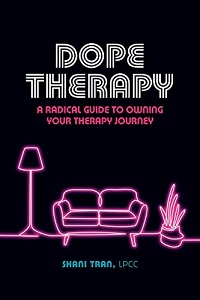 While I firmly believe that therapy is not necessarily for everyone, I have certainly recommended trying out therapy to countless people over the years. The thing is, if someone has never been to therapy they don't really know what to expect, how it can help, how to even go about starting, and it all can be super intimidating. Shani Tran wrote this book to help address these questions and more. By the way, the "dope" in the title means cool, good, rad, etc. This book is not about recreational drugs.
The author, a therapist herself, aims to alleviate a lot of the anxiety that can bubble up around seeking a therapist, going to therapy, and even ending a relationship with a therapist. The book has thoughtful responses to many of the common misconceptions around therapy and helps readers try to recognize when they are or are not actually ready to start talking to a therapist. There are some dry but necessary bits on things like insurance coverage and what all the letters after a therapist's name mean and the very important distinction between a psychiatrist and someone who does talk therapy (though, some psychiatrists do both). As someone who has helped multiple people find therapists, I can confidently say that her information on finding a therapist and more importantly, the questions you should ask them to see if they are a good fit for you are invaluable. There are logistical questions to ask as well as questions around values, religion, politics, therapeutic style, and more. Tran goes in-depth about the differences between therapists who have cultural competency versus cultural humility, and what marginalized folks may want to look for and ask about.
What I love about this book is the author doesn't just stop at getting you in the door at a therapist's office. She also describes what to possibly expect at a person's first session as well as the myriad ways a person has power in how their therapy experience goes. Tran describes what a relationship with a therapist can look like and what expectations outside a therapy session can be like. She has chapters on trauma and forgiveness as well as closure and finishes off with some frequently asked questions. This book is a great read and a great resource.
Delighting velocireaders since 2017, Book Riot's New Release Index will keep you in the know about all the latest books. Start your 14-day free trail today.
---
That's it for now, book-lovers!
Patricia
Find me on Book Riot, the All the Books podcast, Twitter, and Instagram.
Find more books by subscribing to Book Riot Newsletters.