Welcome to Check Your Shelf. I think we need to kick off this newsletter on a lighter note, so please enjoy this recent photo/thirst trap from Illinois' brand new Secretary of State (and State Librarian), Alexi Giannoulias, at a local Pride parade. This is the same person who helped spearhead Illinois' recent book ban legislation, so needless to say he's making himself VERY popular with the IL library crowd! (And he has a very good PR team.)
Don't forget you can subscribe to The Deep Dive, a biweekly newsletter to inform and inspire readers, delivered to your inbox! Your first read (The Power Reader's Guide to Reading Logs & Trackers) is on the house. Check out all the details and choose your membership level at bookriot.substack.com
Libraries & Librarians
Cool Library Updates
The Los Angeles County Library is developing a program to give access to all of their ebooks to students and residents across the state.
Salt Lake City's social worker at the downtown library has already helped thousands of people.
Worth Reading
The world's digital memory is at risk.
Book Adaptations in the News
Blumhouse TV snags the rights to Clémence Michallon's novel The Quiet Tenant.
Lashana Lynch joins Eddie Redmayne for the cast of The Day of the Jackal.
Censorship News
70 years of the Library Bill of Rights.
ALA is distributing $1 million "to support and expand intellectual freedom initiatives" across the country.
Unpacking the 2023 legislation of concern for libraries and education.
LGBTQ+ librarians are trying to keep vital books accessible to queer youth, despite the bans.
The Tyler Public Library (TX) is considering moving two YA titles (All Boys Aren't Blue and Out of Darkness) to the adult section.
The Miami-Dade School Board (FL) gets an earful from the public about book restrictions.
St. Tammany Library Board (LA) is working through 156 (!!!) titles still in the review queue after a year of nearly nonstop complaints. This is utter nonsense.
A Georgia teacher was fired for reading a children's book about acceptance in class.
The Dover (NH) city council denounces "unconstitutional" attempts to ban books from libraries.
Ludlow (MA) school board declined to vote on a policy that would potentially remove dozens of library books.
Massachusetts State Rep. Jim Atkins has filed a bill to ban book bans in libraries.
Felix Ever After and Push will remain in Old Rochester Regional school libraries (MA).
Guilford Schools (CT) have received five book challenges, which will be reviewed in September. From the article: "In all five requests Scarpellino recommended that parents should determine what age group these five books should be recommended for and asked for the board to go on record regarding the appropriateness of the books for children." You know who's not trained to make that decision? PARENTS. You know who is trained to make that decision? LIBRARIANS.
Wantagh High School (NY) is debating whether or not to retain Fun Home.
Two previously banned books have been reinstated in Central York (PA) school libraries; however, their new policy requires the district to create a book rating system.
A West Shores School (PA) parent is demanding that the district remove two books from the collection. Except that neither of the books are in the district to begin with.
Parents in the Mannheim Township school district (PA) are upset that their children have access to school resources "without parental oversight." Apparently schools are supposed to be parents, except when parents don't want them to be parents.
A Frederick County Public Schools (MD) committee has delayed the release of their decision regarding 35 challenged books because the committee cannot come to a consensus on four of them.
Blue Ridge Library (VA) is dealing with an active protestor claiming that the library distributes porn to minors. He has targeted other political officials before, and has been sued for defamation, so he sounds like a real piece of work.
Front Royal, Virginia has a new group that formed in support of the Samuels Library, and in response to the county Board of Supervisors withholding a majority of the library's budget appropriation.
Parents in Appomattox County (VA) raised an absolute stink over a Pride & acceptance display in the children's department: "During that Tuesday night board meeting, Carter said parents wanted the library to be shut down, for the library board to be fired, and to pull all local funding from it. Falling River District Board member John Hinkle made a motion to fire the entire library board." The same board member said, "This community is kind of the heart of the Bible Belt, and we need to do what's right."
A former Charlotte (NC) charter school teacher is suing the school, saying that they had been given permission to use Dear Martin in the classroom, but was then fired for using the book after a group of parents complained.
A new Wake County (NC) policy would limit how often book challenges can be filed, and would allow students to serve on a book challenge review panel, which should be standard for ALL schools, tbh.
After a Greenville County (SC) library director told the manager of the Travelers Rest Library to take down a Pride display, the manager refused.
Horry County Schools (SC) have banned 13 books this year, and have restricted access to other materials as well.
Spartanburg Public Library (SC) heard from a number of residents about LGBTQ+ books in the children's section.
Current status of book reviews in Beaufort County Schools (SC).
A York County (SC) council member wants to remove books from the children's section AND reduce the size of the library board from 10 to 7 members.
North Shelby Library Board (AR) heard complaints from parents about an LGBTQ display in the children's department, and voted to keep the display exactly where it is, with no modifications.
The current status of book bans happening in the Saline County Library (AR), where county officials have threatened to take control of the library board.
Crawford County (AR) approved a $60,000 appropriation for anticipated legal costs related to pending library lawsuits.
Williamson County Schools (TN) are keeping five challenged books on the shelves. One of the books was challenged by a member of the Florida Citizens Alliance, who does not have any connection to the district whatsoever.
The Ferndale Area District Library (MI) were hit by a "Hide the Pride" campaign, but received a ton of communal support in replacing their missing LGBTQ+ books.
A proposed bill in Wisconsin would overturn current legislation "that provides protection for employees of public, private, and tribal schools from prosecution of an obscene materials violation," and undoubtedly pave the way for censorship across the state.
West Bend Schools (WI) will retain four challenged books.
The Christian County Library (MO) has refused to create a book and material rating system. ""I keep going back to one word, 'implement,'" said Board President Matthew Suarez during the meeting. "We would not be implementing a rating system, we would be creating one … That is something not within the capacity of our current library, nor within our budget to hire the staff for reading those materials."
Nixa (MO) School District voted to ban or otherwise restrict access to six books at a recent board meeting.
(Paywalled) Springfield-Green County Public Library (MO) has fielded 23 materials challenges over the last 5 years.
Over 350 people attended a St. Charles County (MO) library board meeting to fight over the appropriateness of an LGBTQ+ staff member's attire at the children's desk. This is just horrifying and I can't imagine how that must feel to have your very existence debated and argued against for the sake of scoring some political points.
Remember last year, when the Oklahoma teacher received national attention for providing a QR code to the Brooklyn Library's free ebook program? The Assistant Attorney General has ruled that the Oklahoma State Department of Education "failed to prove" that the teacher violated state laws, but her license may be revoked by the state Board of Education anyway.
A Fremont County (WY) school board member decided to survey people about which books should be pulled from the district, asking questions such as "'Do you believe that schools should teach and present 'controversial issues' to students such as but not limited to: critical race theory, Black Lives Matter, LGBTQ+, artificial intelligence, religion, fracking, cloning, human trafficking, and gun control?'" and "'Do you believe that prohibiting certain books in the school library is the same as book banning?'" Frankly, I would LOVE to take that survey. Why yes, I DO think schools should teach these topics, and YES, prohibiting books in a school library IS the same as book banning! Thank you for asking!
The Natrona County School District (WY) has elected to keep Tricks in the school library, but it requires parental permission to check out.
Lander Schools (WY) have implemented a new challenge policy that would immediately remove a challenged book from the shelves, which is NOT how these processes are supposed to work!
The state of book bans in Utah.
North Idaho's Community Library Network has a new chair and a new far-right majority, so expect additional book banning news coming from this area soon. The new trustees specifically campaigned on keeping explicit books out of the children's and teen's sections.
The Boundary County Library (ID) will decide next month on the fate of Me and Earl and the Dying Girl.
A majority of Huntington Beach City Council (CA) members voted in support of a proposal to find ways to restrict children's access to sexually explicit books in public libraries. Please note that this is the city council voting on this, and not the library board.
Bonita Unified School District (CA) voted to retain a number of challenged books. From the article: "'We need to not have these [books] in a school library,' said Tami Brown-Gedigian on May 3 after reading excerpts from Kuklin's book. 'It's fine, go to a public library if you want to read that stuff, this is a free country. But don't push this on my kids.'" Yeah, because book bans aren't happening in public libraries at all…
Anchorage Public Library (AK) rejects three board nominees from the mayor, who has a history of promoting censorship.
Numbers & Trends
The bestselling books of the week.
Subscribe to First Edition for interviews, lists, rankings, recommendations, and much more, featuring people who know and love books.
Award News
The Shirley Jackson Award nominees have been announced.
For the first time, the Yoto Carnegie medal for children's books went to a book in translation.
Bookish Curiosities & Miscellaneous
Everyone likes reading, so why are we so afraid of it?
John Lewis gets his own Forever stamp.
Hasan Minhaj asked Barack Obama if he truly curated his own end-of-the-year lists. (Spoiler: yes, he does.)
On the Riot
The path to becoming a school librarian.
How to get free books for your school library (and use them to host a book fair).
Library displays to try in your elementary school library.
How books are used to perpetuate the prison industrial complex.
Lesser-known queer literary icons.
The bookish life of Molly Ringwald.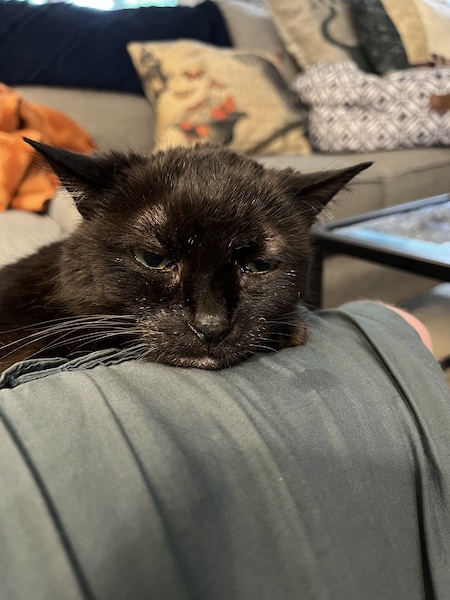 Gilbert looks like he's just DONE with a lot of things right now. He doesn't even care that he left a drool spot on Blaine's pant leg.
All right friends. Enjoy the early holiday weekend! I'll check in again next week.
—Katie McLain Horner, @kt_librarylady on Twitter.