Happy Monday, Book People!
Looking for fascinating stories, informed takes, useful advice, and more drawn from our collective experience as power readers, teachers, librarians, booksellers, and bookish professionals? Subscribe to The Deep Dive, a biweekly newsletter to inform and inspire readers, delivered to your inbox! Your first read (The Power Reader's Guide to Reading Logs & Trackers) is on the house. Check out all the details and choose your membership level at bookriot.substack.com.
How goes it? If you were here last week, you'll know I've been under the weather. Well…I am slowly starting to feel better. My voice isn't 100%, but I am able to squeak out a few sentences every now and then. And lucky, I can still type, so the newsletter show must go on! Let's talk books!
Book Deals and Reveals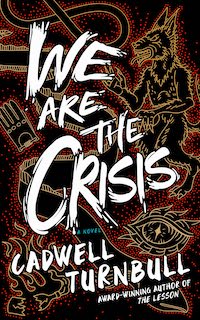 Tor.com has shared the cover of Cadwell Turnbull's long-awaited sequel to No Gods, No Monsters, entitled We Are the Crisis. The novel is forthcoming November 7, 2023 from Blackstone Publishing.
Crime Reads is sharing the cover an an excerpt of Angel of Indian Lake, the thrilling conclusion of Stephen Graham Jones' Indian Lake Trilogy. The book is out from Saga Press in March 2024.
Puffin books is sharing the cover of Rick Riordan's Percy Jackson and the Olympians: The Chalice of the Gods, illustrated by Khadijah Khatib. The book is out globally on Sept 26.
We Need Diverse Books has shared the cover of RELIT: 16 Latinx Remixes of Classic Stories, edited by Sandra Proudman, with cover art by Valentino Lasso. This book is out in February 2024.
Everyone's talking about Fourth Wing by Rebecca Yarros, and thankfully, you won't have to wait long for the sequel! Here's the cover reveal for Iron Flame, out on November 7!
Rachel Lynn Solomon, author of The Ex Talk, is back with a new, fun romcom. And ahead of its release, Entertainment Weekly is sharing an excerpt from the book, entitled Business or Pleasure.
Wednesday breakout star Emma Meyers has been cast as the leading role of Pip Fitz-Amobi in the upcoming BBC adaptation of Holly Jackson's YA murder mystery novel series A Good Girl's Guide to Murder.
Blumhouse TV has landed the rights to adapt Clémence Michallon's debut novel The Quiet Tenant.
Make an impact this month by supporting these classrooms asking for LGBTQ+ books for their students via DonorsChoose.
Book Riot Recommends
Hi, welcome to everyone's favorite segment of Book Radar called Book Riot Recommends. This is where I'll talk to you about all the books I'm reading, the books I'm loving, and the books I can't wait to read and love in the near future. I think you're going to love them too!
Subscribe to First Edition for interviews, lists, rankings, recommendations, and much more, featuring people who know and love books.
Prepare Your Shelves!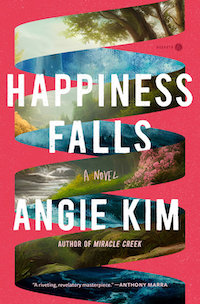 Happiness Falls by Angie Kim (Hogarth, August 29)
If the name Angie Kim is somehow unfamiliar to you, then you're likely one of the only people who didn't read Miracle Creek back in 2019. Miracle Creek was one of the buzziest titles of that year, but I think Happiness Falls is going to be even more popular with readers (if that's even possible). So if you want to be cool and read what all the cool people are reading this August, then prepare your shelves! Angie Kim's sophomore novel is coming.
Happiness Falls is a character-driven mystery/thriller narrated by 20-year-old Mia, a Korean American girl who lives with her parents, her twin brother John, and her 14-year-old brother Eugene in Virginia. One day Eugene and his father go out for a walk and don't return for a long time. When Eugene finally comes back, he's alone and covered in blood. Eugene is the only person who knows what happened to their father…and he can't speak.
Both a dramatic and moving family portrait and an edge-of-your-seat crime investigation, Happiness Falls is filled with shocking twists and turns at every corner. And it's out in two short months, so get ready! It'll be here before you know it.
What I'm Reading This Week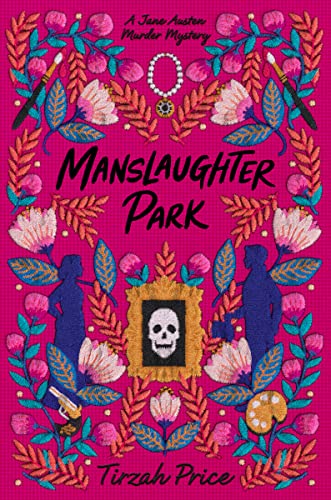 Manslaughter Park by Tirzah Price
The Troop by Nick Cutter
Orange by Ichigo Takano
Chain-Gang All-Stars by Nana Kwame Adjei-Brenyah
Highly Suspicious and Unfairly Cute by Talia Hibbert
Monday Memes
It's not that the books aren't good. And yet…why do I always end up doing this?
And Here's A Cat Picture!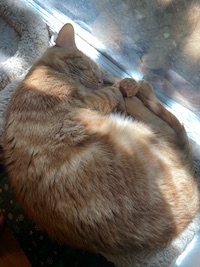 Before you go, how about a relaxing image of a cat resting in the shade to calm your nerves and to get you through your week? I'm feeling better already just looking at this peaceful little buddy.
And that is all, friends. Have a wonderful rest of your week. See you Thursday!