Hey‌ ‌there‌ horror fans, ‌I'm‌ ‌Jessica‌ ‌Avery‌ ‌and‌ ‌I'll‌ ‌be‌ ‌delivering‌ ‌your‌ ‌weekly‌ ‌brief‌ ‌of‌ ‌all‌ ‌that's‌ ‌ghastly‌ ‌and‌ ‌grim‌ ‌in‌ ‌the‌ ‌world‌ ‌of‌ ‌Horror.‌ ‌Whether‌ ‌you're‌ ‌looking‌ ‌for‌ ‌a‌ ‌backlist‌ ‌book‌ ‌that‌ ‌will‌ ‌give‌‌ you‌ ‌the‌ ‌willies,‌ ‌a‌ ‌terrifying‌ ‌new‌ ‌release,‌ ‌or‌ ‌the‌ ‌latest‌ ‌in‌ ‌horror‌ ‌community‌ ‌news,‌ ‌you'll‌ ‌find‌ ‌it‌ ‌here‌ in‌ ‌The‌ ‌Fright‌ ‌Stuff.
This June I've had the pleasure of promoting so many wonderful queer horror books for readers of all ages in celebration of Pride month. And since today is, sadly, our last Fright Stuff of the month, I thought this would be the perfect time to share just a few of the exciting new titles being published this year. After all, 2023 is only half over! There's still plenty of queer horror on the way.
Before we get started stacking your TBR: Are you looking for fascinating stories, informed takes, useful advice, and more drawn from our collective experience as power readers, teachers, librarians, booksellers, and bookish professionals? Subscribe to The Deep Dive, a biweekly newsletter to inform and inspire readers, delivered to your inbox! Your first read (The Power Reader's Guide to Reading Logs & Trackers) is on the house. Check out all the details and choose your membership level at bookriot.substack.com.
Bookish Goods
Pride month might be almost over but, hey, if June has to end at least it leaves us officially in the second half of the year and on the descent into fall. Haunted days are just around the corner! May this delightful T-shirt (which comes in many color options, but I love the traditional black and orange myself) remind you that, just like Halloween, Pride is a year round affair! Keep it Gay & Spooky ghoulies.
$26+
New Releases
If you like your sci-fi with an alarming amount of body horror (and of course I mean that in the best way), this is the book for you. Welcome to The Archive Undying, the first book in Emma Mieko Candon's The Downworld Sequence series, where AI powered robots once worshiped as gods have become corrupted and gone mad, destroying the very worlds they created. Enter Sunai, who many years ago was offered a final gift from a dying god. If a gift is what you call it. Sunai is frozen in time, un-aging, un-dying. He roams from one dying city to the next on the run from his own past, until one bad night and too much to drink finds him waking up exactly where he doesn't want to be: on the road back to a faith and a broken world he tried to escape.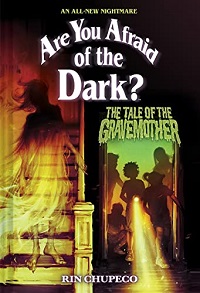 Were you also a '90's kid who grew up watching Are You Afraid of the Dark? Does that super eerie intro music set you atingle with nostalgia? Well get ready my fellow fans of the frightful, because Rin Chupeco's new middle grade horror (the first in a new Are You Afraid of the Dark? book series) has all the creepy goodness you remember. It's also a great way to introduce the junior scary book readers in your life to the series that shaped so many of us into horror fans! The Tale of the Gravemother is a classic ghost story about a spirit who haunts an old mansion on the outside of the little town of Solitude and kidnaps children. Zane and his family just inherited said haunted mansion — yikes! — and now it looks like the Gravemother has set her sights on his little sister. Unless Zane and his new friend Garrett can figure out the Gravemother's secret, Emmy might disappear forever!
For a more comprehensive list, check out our New Books newsletter!
As always, you can catch me on twitter at @JtheBookworm, where I try to keep up on all that's new and frightening.