Hello and welcome (back) to the Kissing Books newsletter. I'm PN Hinton, here to give you the rundown on the world of romance, including new releases, recommendations, and other entertaining ways to pass your time.
Today is the first day of my vacation and, even though I'm writing from the past, I know I'm already enjoying it simply because it's vacation time. Between birthday gifts and a trip to Ghoulish Books, an independent horror book store that recently opened near me, I will have plenty of books to get me through the week. The excitement almost can't be contained.
Don't forget to check out The Deep Dive for some insider insight into the bookish world from various professionals in the field. Currently, Sharifah's The Power Reader's Guide to Reading Logs & Trackers is available to read for free and will give you an idea of what content you can expect from it. If you're game, then head here to choose a membership level.
Bookish Goods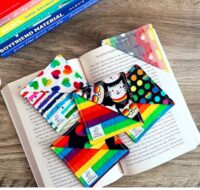 I love how bright and vibrant these corner bookmarks are. A great way to hold your place and add a splash of color to the black and white of the pages. $5
New Releases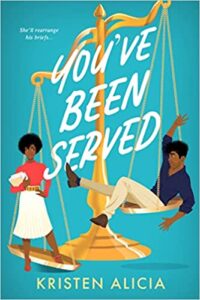 Thanks to the intervention from a Magic 8 Ball, Simone decides to change career paths from a chef to a lawyer. As expected, this decision comes with a lot of unplanned effects, including having to get used to a professor who seems to have it out for her, experiencing "actual" winter, and fellow classmate Silas, who in addition to being a kiss-ass, is also a great kisser. However, Simone is determined to not let any of that distract her, not even Silas, no matter how amazing his kisses are.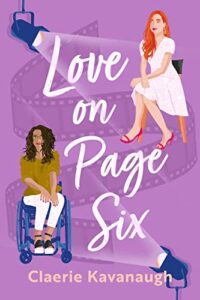 Journalist Daphne goes undercover as a make-up artist for telenovela star Bridget hoping for a scoop that will help save her family's magazine. Due largely in part to her mom/manager's direction, Bridget has been keeping up a façade both off and on screen. When the two share a spontaneous kiss, this secret appears to be on the brink of being discussed, which will have huge repercussions for both of the women.
For a more comprehensive list of new releases, check out our New Books newsletter.
Riot Recommendations
I was having a doozy of a time coming up with a theme for today's recommendations. I reached out to a few friends to ask them what their favorite trope is to try to get some inspiration. The two I asked mentioned enemies-to-lovers as a top one, which you know, same. So, it's good to know that we're on that same bookish wavelength.
Their answers got me to thinking of the specifics of that genre though, one of which is "forbidden" love. That also lead me to the idea of "star-crossed" lovers. Of course most of us think of Romeo and Juliet whenever we hear that, even though we all know that is not really a romance at all. But the framework has been used multiple times for all types of stories.
And with that mindset, I decided that today's recommendations would be some books that, for one reason or another, fall under that umbrella of forbidden love. Enjoy!
In this spin on the tale, Ramón is the son of a fast-food entrepreneur and Julieta is a restaurant owner who is also the daughter of the woman whose taco recipe his father stole years prior. The first time they met was on Día de los Muertos where they share one scorching kiss. The next time they run into each other is when they realize this past connection as well as that they are also landlord and tenant. Is this a chance to try to mend the hurts of the past or are these two destined to remain apart?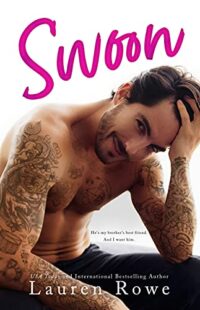 Swoon by Lauren Rowe
Amy has been harboring a crush on Colin, her brother's best friend. But to him, she has always just been Logan's little sister. Colin seems determined to keep her firmly in that box, even after they share one kiss. Amy will not be deterred though, and when she moves out to California to start working for and living with Colin, she is determined to make sure that he looks at her like the woman she is.
As you can imagine, I'm subscribed to a lot of author's newsletters to keep a pulse on deals, new releases, and the like. However, it is also important to share not-great news, which is why I was appreciative of this blog post Jae did concerning the recent AC Adams/Adam Gaffen situation.
Following that, here is a recent blog post from Tasha L. Harrison on what types of tropes to avoid in LGBTQIA fiction.
In happier news, last week I learned there is a romance bookstore by the name of Grump & Sunshine in Maine.
Here are some romances that are set in or involve bookstores or libraries.
And that's all I have for y'all today. I'll be back on Thursday with more updates from the romance world. In the meantime, I can be found posting on Twitter under @PScribe801. Until then, happy reading and stay hydrated.