Bookish Goods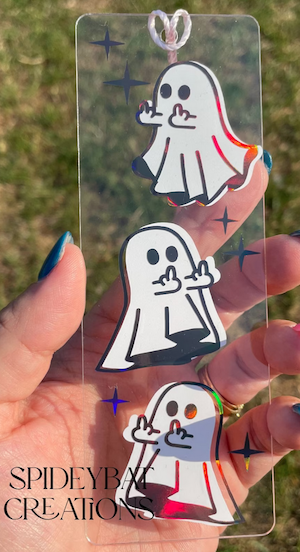 I might be writing this at the end of the day and I may have laughed way too hard at these adorably rude ghosts. ($8.50)
New Releases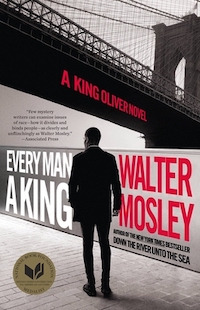 Every Man a King (King Oliver #2) by Walter Mosley
I love Walter Mosley and am glad he has a new crime series — his backlist is extensive and in all genres! This series is for fans of PIs, and old school detectives looking for a modern story.
Joe King Oliver lives in a world where people owe each other favors and no one is all good or all bad. He used to work for the NYPD until he was framed and ended up in Rikers. Now he's a PI with his daughter helping out in the office, even if he's trying very hard to dissuade her from this line of business. He ends up with two jobs, both really uncomfortable: a family friend needs him to look into a white nationalist arrested for murder who is being hidden in the prison system; and his ex-wife needs help for her wealthy husband. As usual King is going to find himself down very dangerous rabbit holes…
You can jump in here, but if you're a completionist pick up Down the River Unto the Sea.
The audiobook is narrated by Dion Graham who is always an automatic listen for me.
(TW brief suicide mention, detail)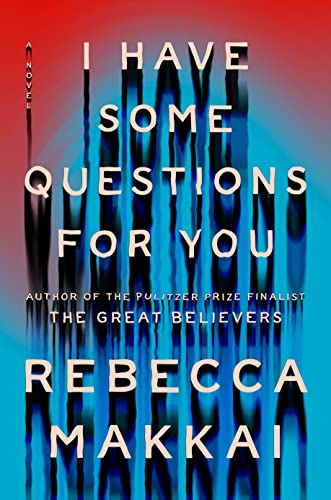 This is one of my favorite reads of the year. It has so much of my catnip: university setting, return to past school, a past murder mystery being reexamined, and a true crime podcast host. It also dives into the way rape culture has always existed but the difference in language and understanding through generations, the spectrum of predators, and the way victims are exploited in the true crime genre.
Bodie Kane is a well known podcaster with two young children and a marriage-on-paper-only when she's asked to return to Granby School, the boarding school in New England she once attended, to teach a film class. She accepts, even though she never really enjoyed her time there and her roommate was murdered. Now one of her students decides to take on the assignment Kane gives with a focus on her roommate's murder. The case was solved, the athletic trainer found guilty, but the student is convinced it was all wrong. Now Kane has a front row seat to the students digging into the case, a flood of her own memories, and a world where it feels like everyone has an online opinion for true crime cases.
The audiobook is a great production, mostly narrated by Julia Whelan with a bit narrated by JD Jackson. More audiobook productions should follow this lead.
(TW brief mention past drug overdose, brief mention past addiction and death unknown if suicide, detail/ brief mention past domestic abuse/ mentions sexual assault case/ eating disorder/ rumors of statutory student teacher/ past memory possible suicide attempt/ recounts past groping/ mentions suicide cases, method mentioned/ mentions of terminal cancer diagnosis and death)
For a more comprehensive list, check out our New Books newsletter.
Riot Recommendations
With the news that "The HarperCollins Union, which represents 250 employees, just announced that they've voted to ratify the contract negotiated with publishing giant HarperCollins and will return to work on February 21," I thought I'd share two of their titles that released at the end of 2022.
For fans of thrillers, family drama, and fashion! The story revolves around two young women tied in different ways to the fashion industry, specifically the New York fashion house Simon Van Doren. Brandi Maxwell is the intern realizing the job is anything but glamours but still enamored by the world of fashion. Taylor Van Doren is about to lose her inheritance from the fashion house her father runs if she fails another drug test. At a party Brandi overhears something she shouldn't as Taylor is now ready for revenge…
Nine Liars (Truly Devious #5) by Maureen Johnson
If you are a fan of the mystery genre and nods to the tropes, you should 100% be reading this series. Also great for fans of found family, friend groups. The first three books, starting with Truly Devious, are a trilogy and need to be read together in order. Book 4 and 5 however can be read as standalones, and without having read the trilogy.
Stevie Bell is a senior at Ellingham Academy but her boyfriend is now studying in London so obviously she jumps at the chance to convince the principal to let her and her friends do a study abroad course in London. But there isn't much time for studying when Stevie learns of an unsolved murder mystery: In the '90s, nine Cambridge friends were staying at a friend's home playing drunk hide-n-seek in the middle of the night when two were murdered with an ax. After meeting one of the survivors, Stevie can't get the case out of her head, and being Stevie she's going to prove that it wasn't a robbery gone wrong. If she's correct, that means one of the surviving seven friends was the ax murderer…
I bloody loved this book — it's super satisfying for mystery lovers.
(TW anxiety attack)
News and Roundups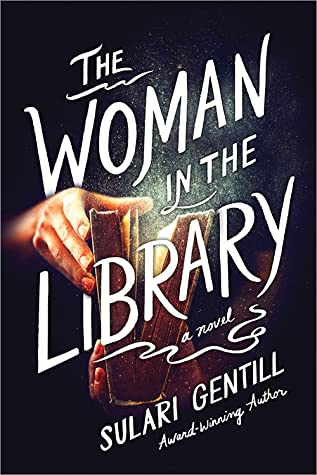 45 Books About Libraries and Librarians to Check Out Now
Authors Sign Open Letter to New York Times Calling Out Anti-Trans Coverage
How to Talk About Book Bans With Friends, Library Patrons, and More
The Guardian: The best recent crime and thrillers – review roundup
Must-Listen: Bookish Podcast Episodes From Non-Bookish Podcasts
10 Mystery Book Series That Keep Amateur Detectives Guessing
Liked The Night Manager? Here are 7 crime thriller shows & movies that are as intense and suspenseful
'A Singular Crime': Warner Bros' Argentinian Crime Thriller Sells To Key Markets — EFM