Dear Book Friends,
Welcome to Thursday's Book Radar! I hope this week has been a good one for you. If it hasn't been good yet, you'll be happy to know Mercury is no longer in retrograde, so things might be looking up soon. Here's hoping, because I feel like so far this month has been a little wild for everyone. Anyway, I'm hoping for the best for you (and me), and now let's talk books.
Book Deals and Reveals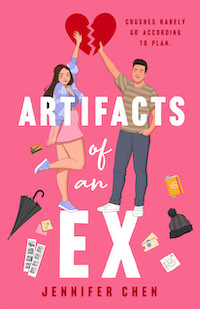 Here's the very adorable cover of Jennifer Chen's debut novel Artifacts of an Ex. This book is out from Wednesday Books on November 14th.
Molly Ringwald has sold North American rights to her memoir The Paris Years to Penguin Press. According to the publisher, the actor shares intimate details about "the transformational years she spent living and working in Paris in her 20s" in this memoir. No release date has been announced yet.
The WandaVision spinoff Agatha: Coven of Chaos began production on Tuesday, January 17th, in Atlanta, GA.
Everything Everywhere All at Once stars Michelle Yeoh and Ke Huy Quan are reuniting in Disney+'s American Born Chinese, a series adaptation of the graphic novel by Gene Luen Yang.
Blacula, the star of the 1970s classic Blacula and Scream, Blacula, Scream, is back in a new graphic novel, and io9 has a giant preview.
Academy Award-nominee Aunjanue Ellis is set to star in Ava DuVernay's feature adaptation of Caste. The adaptation is inspired by Pulitzer Prize-winner Isabel Wilkerson's best-selling book Caste: Origins of Our Discontent.
John Paul Brammer, author of ¡Hola Papi!, is working on a new graphic novel, and he's giving fans over at Substack a sneak peek at a scene
From "fauxhawk" to "vaxxed" and "embiggen", here are some of the hundreds of new words that have been added to the Scrabble dictionary.
Read an excerpt from Vera Wong's Unsolicited Advice for Murderers by Jesse Q. Sutanto, the author of Dial A for Aunties.
Book Riot Recommends
Hi, welcome to everyone's favorite segment of Book Radar called Book Riot Recommends. This is where I'll talk to you about all the books I'm reading, the books I'm loving, and the books I can't wait to read and love in the near future. I think you're going to love them too!
Can't Wait for This One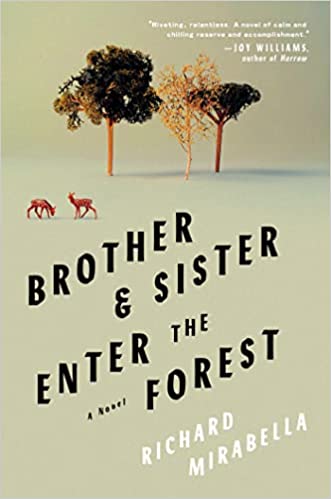 Okay, here's the deal. The book I want to share with you in this week's "Can't Wait for This One" is Richard Mirabella's debut novel. It's a queer coming-of-age novel that deals with some extremely dark issues, but I think you're all going to love it. It's coming out this March, so it'll be available in only a few short months.
Justin and his sister Willa have not been in communication for several years. As children, Willa was her brother's protector. Now, Justin has shown up on her doorstep looking for that protection, an escape from his own tumultuous home life. Uncertain of what chaos Justin might bring into her life, Willa is reluctant to let him in.
This book goes back and forth between two timelines. Mirabella explores the story of two siblings trying to navigate years of trauma and separation in the present. In the past timeline, the mystery of what happened years earlier when Justin was in high school and left their family behind for a violent, older boyfriend. When Justin's boyfriend commits a terrible act, the couple are forced to go on the run, destroying Justin and his family's lives.
Want to read books from this newsletter? You can, for free! Get three free audiobooks with a trial to Audiobooks.com. Claim your 3 free audiobooks now!
Words of Literary Wisdom
"The past is never dead. It's not even past."
— BrainyQuotes.com (IYKYK)
What's Up in the Book Community?
My iPhone is constantly telling me I spend too much time staring at my screen, which is honestly so rude. But this means I spend a lot of time scrolling around the online book community: BookTube, Bookstagram, BookTok, BookLinkedIn (JK. That's not a thing…I don't think). You get the idea. Don't have the time, energy, or the will to do all of that yourself? No problem. I got you. In this weekly section of Book Radar, we'll take a look at something cool, interesting, and/or newsy that's going on in the book community.
I feel like this has been talked about to death at this point, but I couldn't help but bring it up here, because it is truly, truly wild. Colleen Hoover announced last week that It Ends with Us was being turned into a coloring book. Unsurprisingly, other people didn't seem to think that was such a good idea. TikTok responded swiftly, and needless to say the book has since been canceled. But, phew, what a journey that was. And if you missed all the fuss, you're welcome.
And Here's A Cat Picture!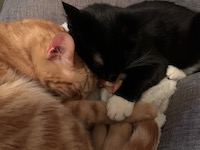 I have loved watching Murray and Remy become close friends. And you've been here for the whole journey as well, which is so cool. Look at how cuddly they are. It truly warms my heart.
And that's all for now, friends. Have a lovely weekend!