Welcome to Check Your Shelf. It's a new year!! While I don't necessarily feel the drive to start a bunch of resolutions and self-care projects at this time of year, I am happy that I decided to kick 2023 off with a haircut that's at least 3 months overdue. Goodbye, shoulder length hair and overgrown layers, hello slightly shorter hair and additional layers!
Since most places took a break over the last week, this newsletter is a bit shorter than normal, but that's all right. Ease into your 2023 newsletter reading, I say. Or check out Book Riot's most popular posts of 2022 if you're looking for something else to keep you occupied!
Collection Development Corner
New & Upcoming Titles
Here's a first look at E.M. Roy's debut novel, Let the Woods Keep Our Bodies, which is being pitched as My Best Friend's Exorcism meets Twin Peaks. SIGN. ME. UP.
Best of 2022 picks from Mashable (mental health), Mental Floss, NBC (LGBTQ+), and Wired.
Most anticipated January picks from Barnes & Noble (adult, kids/YA), New York Times, PopSugar (romance), Washington Post.
Most anticipated 2023 picks from Barnes & Noble (debut novels), Buzzfeed (YA), Kirkus, and Salon.
RA/Genre Resources
Louise Penny sets the record straight on the "cozy mysteries" myth.
On the Riot
What's it like being an eBook developer?
The best backlist books that Rioters read in 2022.
The best new weekly releases to TBR.
12 SFF and horror debuts to watch for in 2023.
Author readalikes for Brandon Sanderson.
Black romance has always been here.
In defense of pop culture references in books.
Book genres that don't exist, but probably should!
All Things Comics
On the Riot
11 exciting comics coming in 2023.
This Rioter read some manga with the absolute weirdest titles.
Audiophilia
On the Riot
YA fantasy series with excellent audiobooks.
Book Lists, Book Lists, Book Lists
Children/Teens
The 25 all-time best book series for teens.
Adults
10 suspenseful reads that peer into suburbia's dark side.
On the Riot
8 New Year's books for children.
8 magical mystery books to get lost in.
Readalikes for your favorite TV shows and films.
Science fiction and fantasy books to hunker down with this winter.
Poetry books to inspire year-end reflection.
9 great Hindu mythology books.
10 books about California history.
8 books about fashion history.
Level Up (Library Reads)
Do you take part in Library Reads, the monthly list of best books selected by librarians only? We've made it easy for you to find eligible diverse titles to nominate. Kelly Jensen has a guide to discovering upcoming diverse books, and Nora Rawlins of Early Word has created a database of upcoming diverse titles to nominate, as well as including information about series, vendors, and publisher buzz.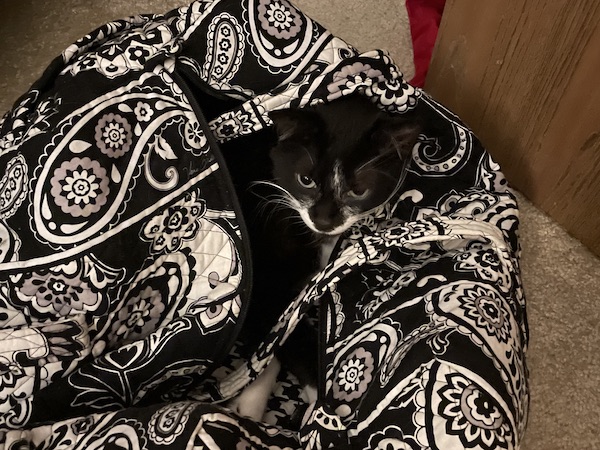 Dini loves camouflaging himself and then listening to us wander around the apartment wondering where he's gotten to. My husband actually almost kicked the bag before he realized there was a little kitty head sticking out of the top!
All right, friends, that's all I've got for this week. Stay cool, and remember to write 2023 on anything you have to date.
—Katie McLain Horner, @kt_librarylady on Twitter.