Hello and welcome (back) to the Kissing Books newsletter. I'm here in your inboxes with another update from the world of romance. I hope that the week up to this point has been kind to you. I know that, overall, it's been kind of hectic all around. So, be sure to make and take time for yourself to relax.
In fun news, today is International Sloth Day! I don't know why but that just makes me smile. Maybe it's because Sid always cracked me up in Ice Age. While I wouldn't call them favorite animals (those would be owls), I still smile every time I see a video or picture of one.
Onward!
Bookish Goods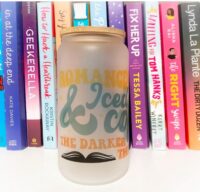 Even if I don't necessarily agree with the message on this, as I take my non-flavored coffee with at least a little cream, I love everything about the design of this cup. It's cute, it's functional, and it's affordable. That's what we call a triple win. $10
New Releases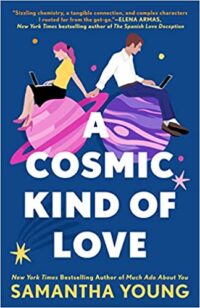 When event planner Hallie accidentally receives video diaries of astronaut Christopher, her client's ex, she can't help but watch them. She even goes as far as sending emails and video clips to the defunct email address, figuring they will never go anywhere. That inbox was not as defunct as it seemed though and soon the emails and videos are forwarded to Chris, who is now back on earth. From there a mutual attraction develops. However, will this crush have a chance of shooting towards the stars or will it be a failure to launch?
Seraphina is a bright young writer who, after a series of unfortunate life events, finds herself back living with her parents. Quickly, she falls into a routine with one of the highlights being her weekly visits with her grandfather. August has also returned home to help take care of his elderly mother to prevent his sisters from putting her in a home. Their paths cross and what started out as a one-night stand soon turns into something more until a secret is unearthed that could tear them apart forever.
For a more comprehensive list of new releases, check out our New Books newsletter.
Riot Recommendations
Today's theme came to me as a shower thought. I love when I actually remember those! Getting back on track, one of the things that I love about the romance genre is there really is something for everybody.
Alternatively, this means that not everything is for everybody and that is where we get to deal breakers. Which I completely get, since I have more than a few myself. That said, there is something to be said about testing your own boundaries every now and then. Sometimes you may find that one book in a disliked trope or deal breaker that you actually enjoy.
Which isn't to say you should force yourself to read anything you don't want to read or that will cause any type of trigger because your mental health is always more important. But if you find yourself looking at a book that you might be interested in if it weren't for "insert reason here," give it a chapter or two because you might be surprised.
Below are two books that fit one of those two boxes for me. This is my way of showing that I do practice what I preach, or plan to in the near future.
Deal breaker: Cheating
In real life any form of cheating is a big no for me. I can see no way of forgiving that at all and will "nope" right out of there. However, what struck me about this is Malcom knew he screwed up and that he was wrong. He wanted a chance to prove to Seraphina that he was sorry and desperately wanted to make it up to her and he proved that through his actions up to the very end.
Deal breaker: Sibling's Ex
This one is a little more complex for me because while I don't love this trope for the most part, I really liked America's Sweethearts, and I know I'm in the minority there. But the premise here is slightly the same in that it springs from a kiss where alcohol was a factor. So, I'm interested to see how that set up works its way out here with India and Travis.
Some adaptation news: first, we will soon see Thistle Grove, first introduced to us in Payback's a Witch on our TV screens. There was also a movie announcement regarding People We Meet on Vacation. That said, as exciting as this news is, I am once again reminding Hollywood that both Beverly Jenkins and Brenda Jackson both have an oeuvre of established series that could be adapted for either the big or small screen. Stop sleeping on these stories Hollywood, and get to adapting!
Check out a handful of just a few of the exciting titles headed our way this fall.
If you've ever been interested in a mentorship with Harlequin, here's your opportunity!
Whether you're new to the genre or a longtime fan, these books are still good reading and staples in the genre.
And that's it for today and this week. I'll be back in your inboxes on Monday with more updates. In the meantime, I can be found posting over on Twitter under @PScribe801. Until then, happy readying and stay hydrated!
-PN Hinton