Welcome to Check Your Shelf. Once again, spooky season is moving by too fast for my liking. I always feel like I should be loading up on new horror movies and tearing through a stack of the scariest novels, but of course, other things (namely life) get in the way. However, we have a giant bag of candy in the staff office that we're tearing through at record pace…
Collection Development Corner
Publishing News
Hallmark Publishing is closing its doors.
Can Black literature escape the representation trap?
New & Upcoming Titles
Jennette McCurdy signs a seven-figure deal for a debut novel.
Curtis Sittenfeld has a new book coming this spring!
Zoraida Cordova has a cover reveal for Kiss the Girl.
10 new horror books to get you into the Halloween season.
20 new horror novels you'll love.
Barnes & Noble has their picks for the Best Books of 2022, and there are a ton of smaller lists to jump into as well. Your TBRs will hate you.
Actually, no, your TBRs will hate you more when you take a peek at NPR's Books We Loved for 2022! Over three THOUSAND titles to dive into, with mix-and-match filters!
BBC also has a list of their best books of the year.
Weekly book picks from Bustle, Crime Reads, LitHub, The Millions, New York Times, and USA Today.
What Your Patrons Are Hearing About
Liberation Day: Stories — George Saunders (LA Times, New York Times, San Francisco Chronicle)
The Hero of This Book — Elizabeth McCracken (Slate, Washington Post)
Dinosaurs — Lydia Millet (LA Times, New York Times)
Signal Fires — Dani Shapiro (LA Times, Washington Post)
Illuminations — Alan Moore (New York Times)
Madly, Deeply: The Diaries of Alan Rickman — Alan Rickman (The Guardian)
RA/Genre Resources
A look at several Latin American women authors writing horror and fantasy.
Where to start with Nora Roberts.
On the Riot
The best weekly new releases to TBR.
Crime sub-genres to add to your TBR.
The best of both worlds: space western novels.
The portrait in the attic: how horror mirrors society.
All Things Comics
The 2022 Harvey Awards announce the best comics of the year.
Watchmen creator Alan Moore is "definitely done with comics."
Here's a first look at the TV adaptation of Essex County by Jeff Lemire.
On the Riot
3 new YA graphic novels perfect for Halloween.
Pairing popular books with manga recommendations.
The best action manhwa.
The best Beatles cameos in comics.
How to read comics and graphic novels with kids.
Audiophilia
On the Riot
10 audiobooks perfect for spooky season.
Book Lists, Book Lists, Book Lists
Children/Teens
16 witchy YA reads to get you ready for Halloween.
Adults
Top 10 road novels.
10 best Star Wars novels, ranked.
5 scary novels that use setting to embody horror.
18 books that prove we're living in a golden age of horror.
The best fiction about the theater.
Fun Halloween reads for scaredy cats.
8 books that wrestle with the complexities of religion.
5 uniquely Chicanx/Latinx representations in crime fiction.
8 spicy historical romance novels.
19 enchanting books about witches.
8 ghostly historical fiction reads that cover centuries of spooky.
Want to read books from this newsletter? You can, for free! Get three free audiobooks with a trial to Audiobooks.com. Claim your 3 free audiobooks now!
On the Riot
The best children's books of all time.
8 great UK middle grade books students will love.
13 gloriously queer witch YA fantasy novels.
The best intergenerational YA novels.
8 Celtic mythology books for all ages.
20 must-read queer millennial novels.
8 contemporary romance novels by Asian authors.
The best Black poets to read (and listen to!) right now.
12 great mysteries about mother-child relationships.
Cookbooks that will teach you to be more intuitive in the kitchen.
8 beautiful Black, queer, coming of age stories.
10 haunting found-footage horror novels. (SIGN ME UP!)
8 essential Filipino cookbooks to read after devouring Arsenic and Adobo.
10 astrology books for all types of readers.
10 books that are positively dripping with fall vibes.
Level Up (Library Reads)
Do you take part in Library Reads, the monthly list of best books selected by librarians only? We've made it easy for you to find eligible diverse titles to nominate. Kelly Jensen has a guide to discovering upcoming diverse books, and Nora Rawlins of Early Word has created a database of upcoming diverse titles to nominate, as well as including information about series, vendors, and publisher buzz.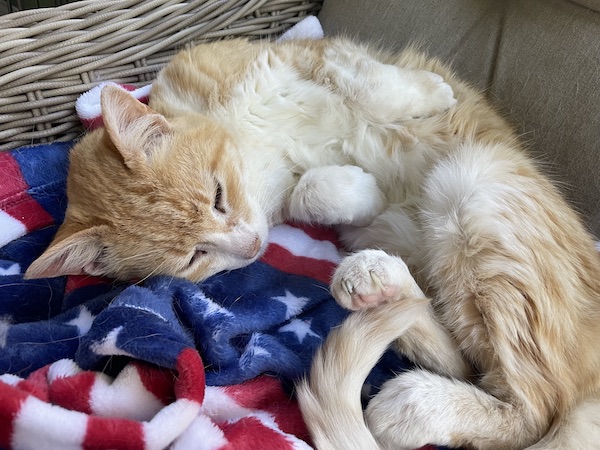 We've got a guest for this issue's cat photo. Meet Wrigley, the last remaining cat from the days when I still lived at home. He's the epitome of a crusty old coot, but he still gets around well, and he loves to rub up against people's legs, and snuggle up against my mom before bedtime. Occasionally if he's feeling spicy, he'll reach out and bop you on the head, but he's been doing that since the first day we brought him home. It's how he welcomes people into the house.
Well, I think the full moon is waning, so hopefully this week is less stressful than the last. I'll check in again on Friday.
—Katie McLain Horner, @kt_librarylady on Twitter.