Hello Book Friends!
Another Monday is here. And hey, rather than thinking about the work week we have ahead of us, let's think of this week as another opportunity to make more time for books and less time for working. Because work is for suckers. Okay, technically, I'm working right now by writing this newsletter for you. But after this? I'm going to go get a snack or something. For now, let's chat books.
Book Deals and Reveals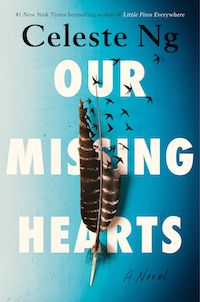 Lucy Liu is narrating the audiobook version of Celeste Ng's highly anticipated third novel Our Missing Hearts. The book in all of its formats will be released on October 4th.
Hey, let's talk about my most anticipated movie of the year, and how somehow its release date totally snuck up on me. But in case you missed it (like I did at first), Grady Hendrix tweeted last week that the adaptation of his seriously amazing (my words, not his) horror novel My Best Friend's Exorcism will be coming to Amazon Prime on September 30th. I'm just going to close my eyes and sleep until the end of September because I legitimately cannot wait a moment longer.
Let's get into some cover reveals, shall we? Check out the cover of Nick and Charlie, a Heartstopper novella. This book hits shelves on January 3, 2023!
Gabriella Saab's new historical fiction novel Daughters of Victory is out from HarperCollins on January 1st, 2023. Check out this gorgeous cover.
Sam Sanders, Saeed Jones, and Zach Stafford are hosting a new weekly podcast for SiriusXM's Stitcher called Vibe Check. The podcast, which debuts on August 17, will focus on news and culture from a Black and queer perspective.
Samantha Shannon revealed the cover of her upcoming novel A Day of Fallen Night, illustrated by Ivan Belikov and designed by David Mann.
LiteraryHub released the cover reveal for Erica Berry's forthcoming debut Wolfish: Wolf, Self, and What We Tell Ourselves About Fear, which will be published by Flatiron Books on February 21, 2023.
Amazon Studios has greenlit the historical comedy series My Lady Jane for Prime Video. The series is based on the novel My Lady Jane by Cynthia Hand, Brodi Ashton, and Jodi Meadows.
The $90 M Batgirl movie starring Leslie Grace, J.K. Simmons, and Michael Keaton has officially been pulled by Warner Bros. studio.
Here are 12 new SFF releases out in August that you should add to your TBR.
Book Riot Recommends
I'm a Contributing Editor at Book Riot, I write the Today in Books newsletter, and I'm a Bibliologist for Book Riot's Tailored Book Recommendations subscription service. I also have a PhD in English, so I'm basically a doctor of books. Books are my life, in other words, so in this section of the newsletter, let me share with you some upcoming books I'm super excited about. And I think you will be too!
Prepare Your Shelves!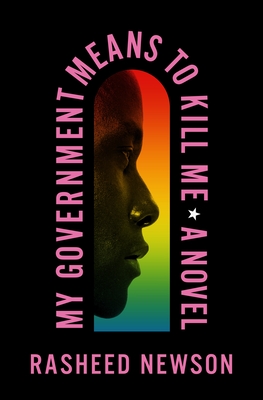 I feel like this is one of those books where the title and the cover are doing a lot of work. In other words, if you look at this cover and read this title and you're not intrigued, then I don't know what else to say to you to get you interested in picking up this book. But okay. I'm going to try.
Author Rasheed Newson is the television drama writer and producer of The Chi, Narcos, and Bel-Air. In his debut novel, Newson tells the story of the personal and political awakening of Earl "Trey" Singleton III, a young gay Black man living in New York City in the 1980s. After leaving his wealthy family behind in Indianapolis, Trey moves to the city where he interacts with a wide range of real-life characters who will change his life forever: his landlord Fred Trump, civil rights leader Bayard Rustin, gay rights activist Larry Kramer, and civil rights leader Dorothy Cotton, to name a few.
Trey ultimately becomes a founding member of the AIDS Coalition to Unleash Power (ACT UP). And along his journey as a political and social activist, Trey also finds the strength to examine himself, his past, and the meaning of life itself in the midst of so much death. This is a gay coming-of-age story with many specifics that set it clearly in the 1980s, but it's also a story that everyone will relate to and be inspired by.
Don't forget you can get three free audiobooks at Audiobooks.com with a free trial!
What I'm Reading This Week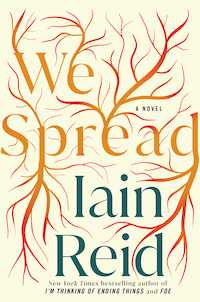 We Spread by Ian Reid
Flowers from the Storm by Laura Kinsale
The It Girl by Ruth Ware
The Lesbiana's Guide to Catholic School by Sonora Reyes
Patricia Wants to Cuddle by Samantha Allen
Monday Memes
This Monday Meme goes out to all my Jane Eyre Stans. I see you.
And Here's A Cat Picture!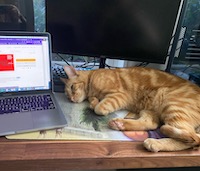 The cats are loving the new place. Here's Murray cozying up on my desk while I research cult podcasts. Yes, it was for work, I promise. But if it wasn't, that would be okay because we're not trying to work too hard this week, remember?
Anyway, that's all for today, friends! I hope you have a super chill week full of rest, relaxation, cat cuddles, good books, and all the stuff that makes life bearable. In other words, enjoy the week!