Hey‌ ‌there‌ horror fans, ‌I'm‌ ‌Jessica‌ ‌Avery‌ ‌and‌ ‌I'll‌ ‌be‌ ‌delivering‌ ‌your‌ ‌weekly‌ ‌brief‌ ‌of‌ ‌all‌ ‌that's‌ ‌ghastly‌ ‌and‌ ‌grim‌ ‌in‌ ‌the‌ ‌world‌ ‌of‌ ‌Horror.‌ ‌Whether‌ ‌you're‌ ‌looking‌ ‌for‌ ‌a‌ ‌backlist‌ ‌book‌ ‌that‌ ‌will‌ ‌give‌‌ you‌ ‌the‌ ‌willies,‌ ‌a‌ ‌terrifying‌ ‌new‌ ‌release,‌ ‌or‌ ‌the‌ ‌latest‌ ‌in‌ ‌horror‌ ‌community‌ ‌news,‌ ‌you'll‌ ‌find‌ ‌it‌ ‌here‌ in‌ ‌The‌ ‌Fright‌ ‌Stuff.
As I'm writing to you, I've got the windows open. There's a hint of wood smoke and the air's actually cool for once. It may have been in the mid-80s earlier today but right now it almost feels (and smells) like Fall! So gather around (someone else's) fire with me, and let's talk horror! We've got a magnificent, macabre puzzle inspired by one of Horror's legendary authors, new releases that will take you to two distinct but equally unsettling futures, and some gloriously neon horror covers you won't want to miss.
Bookish Goods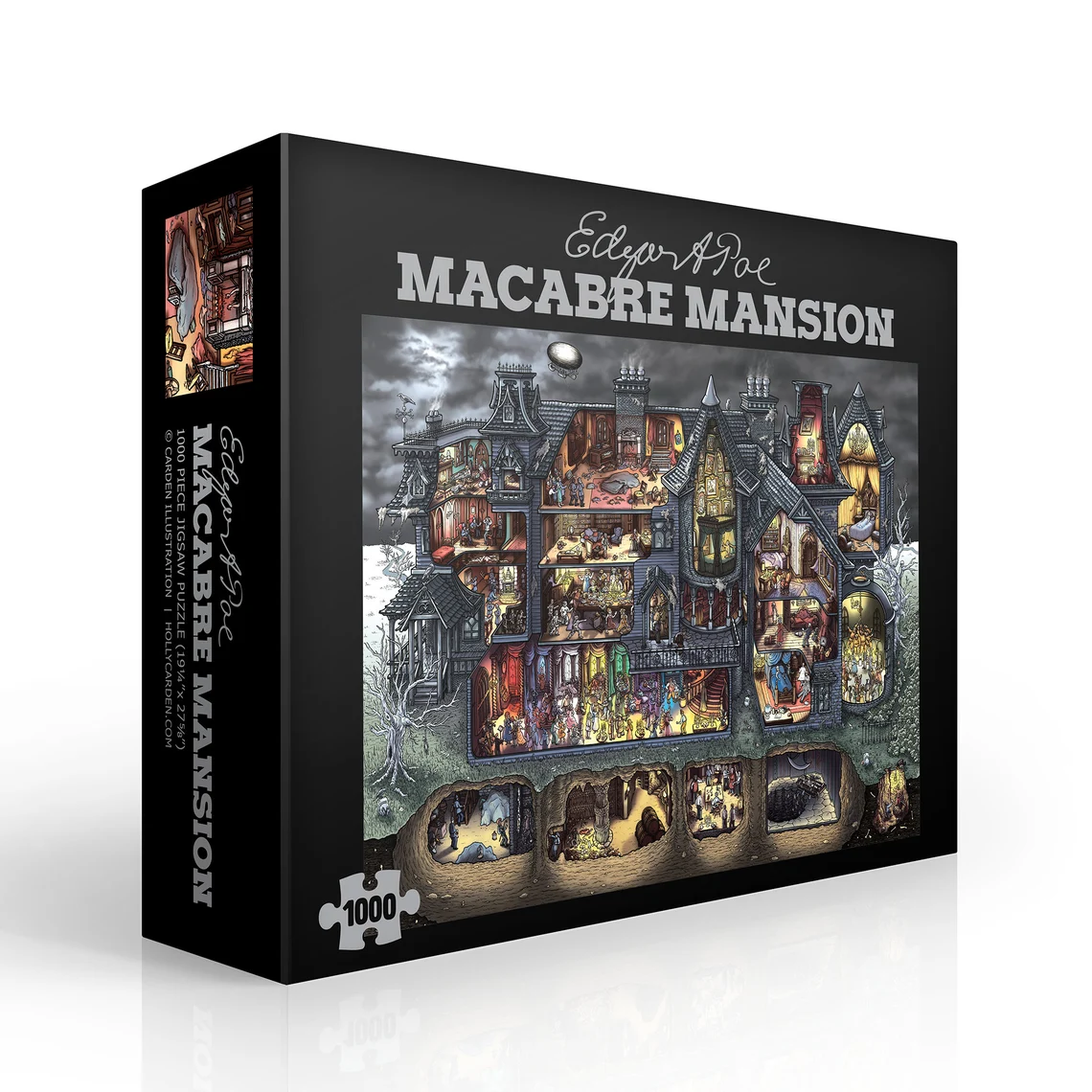 Clean off your coffee tables; you're going to want to make room for this amazing Edgar Allen Poe-inspired puzzle. Featuring original art from the puzzle's creator, Holly Carden, the 1000 piece puzzle illustrates scenes from 20 of Poe's best known short stories. Not only is the puzzle art dark and gorgeous, it's also incredibly detailed. To make things even better, if you finish the puzzle and just can't get enough of Carden's art, the Macabre Mansion is also available as a print in Carden's Etsy shop!
$35
New Releases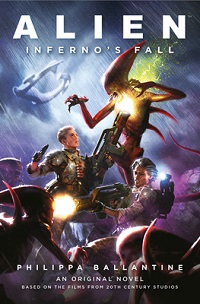 The second of three exciting Alien books to be published this year, Alien: Inferno's Fall is set on a mining planet colonized by the Union of Progressive Peoples (the UPP), during the middle of the colony wars. With the various colonial military forces tied up trying to shoot each other out of space, there's no one to come to the rescue when the tiny mining colony of Shānmén looks up one day to see a horseshoe-shaped vessel appearing out of the sky. The colonists are completely stranded, unable to escape when the strange ship suddenly unleashes a deadly black rain on the planet's surface that causes a series of violent, catastrophic transformations that threaten to wipe out the colony all together. Their only hope for rescue lies with the crew of the Righteous Fury: The Jackals, a mix of ex-Colonial and Royal marines led by the one, the only, Zula Hendricks.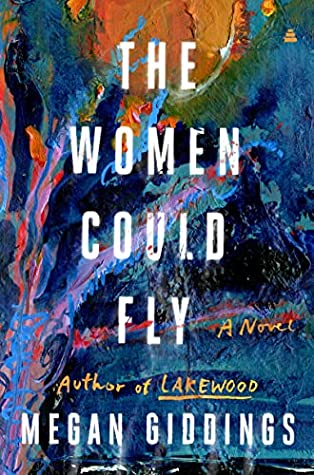 On the list of books coming out this month that I'm incredibly excited about, The Women Could Fly is way up there. An innovative variation on witchcraft and magic, Giddings's newest novel is about a future in which witches are real, and the State will do anything it can to stop them. Any woman is susceptible to becoming a witch, which means that every woman has to be meticulously controlled. Women are "encouraged" to marry by age 30 and put themselves in the care of a husband who can "help" them stay good. Otherwise, they risk being placed on a heavily monitored list of resistors; suspect women who aren't to be trusted. At 28, as a Black women and the daughter of a suspected witch, Jo is already feeling the pressure to conform to the State's demands when a new version of her missing mother's will suddenly comes to light. What it asks of Jo is strange, and will likely subject her to even closer scrutiny from the State, but Jo will have to risk being declared a witch if she wants to find out what really happened to her mother.
For a more comprehensive list, check out our New Books newsletter!
Riot Recommendations
Sometimes, in a reader's life, there comes a book cover design element that you become absolutely obsessed with, to the point where it actually starts to inform your book buying choices. For me (right now, anyway) that element goes by the name Neon.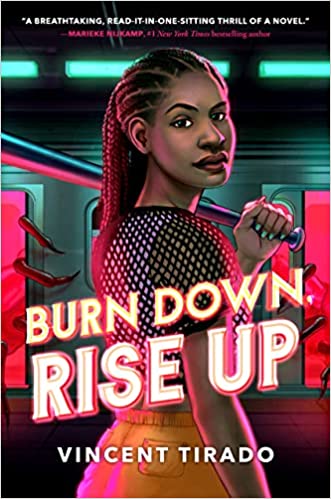 I've shared my love for Burn Down, Rise Up in this newsletter before. It's a heartbreaking, terrifying, queer, rage-inducing work of YA social horror, and it will absolutely blow your mind. But today, in particular, I want to pay homage to its amazing, subway-after-dark gorgeousness where incandescent pinks and teals give this illustrated cover an eerie glow. And the pink fades into a scalding orange, reminiscent of a burning flame. This is a Bronx-set horror novel about teen girl, Raquel, whose life has just been upended by a violent attack that leaves her mother in a coma. At the same time, the cousin of Raquel's crush — Charlize — disappears and eye witnesses identify him as the person who attacked Raquel's mother. Together, Raquel and Charlize must venture into a world of ghosts and dark histories, chasing a dangerous urban legend that may hold the key to saving their loved ones. But only if the girls can survive the Echo Game.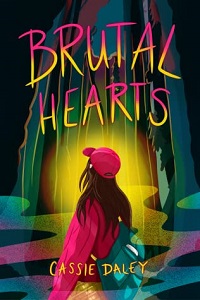 When it comes to neon (or rainbow!) horror, look no further than Cassie Daley. Her Etsy store LetsGetGalacticArt is a wonderland of fluorescent horror goodness, from art prints, to apparel, to accessories. And — a recent and very exciting addition — her debut novella, Brutal Hearts, with its gorgeous neon pink and yellow cover. A perfect retro color scheme for the '90s-set novella about a young woman searching for her lost fiancé. It's been a year since Simon went missing off a remote mountain hiking trail, but Leah can't let it go. Which is how she and her new girlfriend Josie end up back on the same mountain on the anniversary of Simon's disappearance, trying to help Leah say goodbye. But the mountain has a secret, a dangerous and wild one that lurks in the trees, turning Leah's quest for closure into a fight for survival.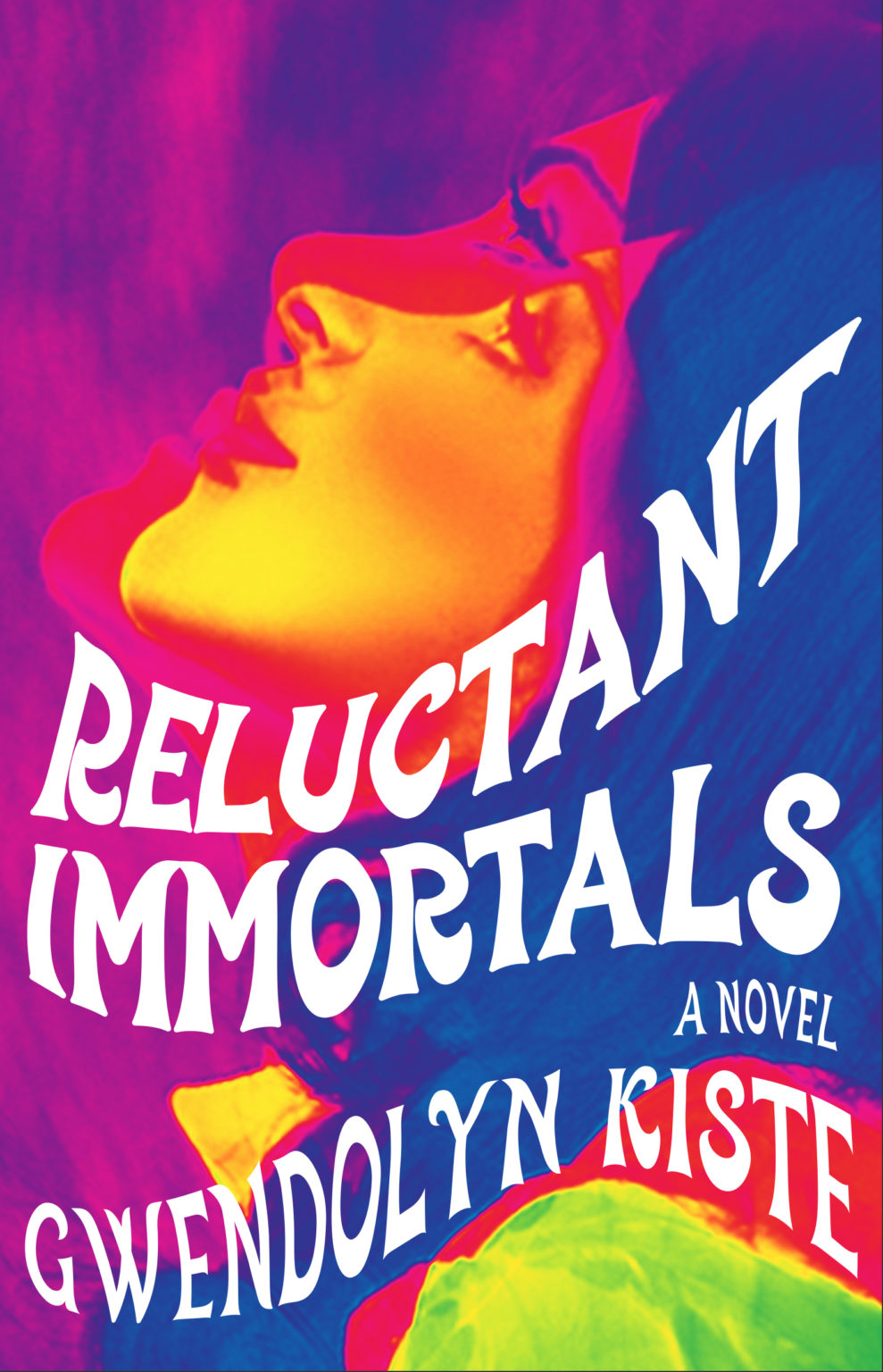 Oh hey, it's that book that Jessica can't stop talking about, but listen: I should be commended for only buying one copy, and not two just so I could have both the U.S. and UK covers. But as much as I love the the art for the UK cover, the bright, psychedelic cover of the U.S. edition is too good to be missed. Reluctant Immortals is a sort-of-sequel to two legendary Gothic novels, Dracula and Jane Eyre, starring Bertha Rochester and Lucy Westenra as immortals in Los Angeles in 1967. They have moved beyond their tragic tales and are living their best undead lives. At least until Dracula and Rochester, equally unalive, make a sudden reappearance, throwing Bertha and Lucy's new lives into disarray.
Fresh From the Skeleton's Mouth
There are so many incredible new horror books coming out this month, so if you're trying to keep track, the best place to start is this amazing list from Tor Nightfire!
Absolutely the only news I want to talk about ever (or at least for the next few seconds): Grady Hendrix's beloved '80s nostalgia fest horror novel, My Best Friend's Exorcism, is going to be a movie AND it's going to be available to stream just in time for the Halloween season! I could honestly die I'm so excited.
Gwendolyn Kiste (Reluctant Immortals) and Addie Tsai (Unwieldy Creatures) are going to be talking about feminist horror remixes at a digital event for Charis Books on August 25th! Both these fantastic retellings release this month.
As always, you can catch me on twitter at @JtheBookworm, where I try to keep up on all that's new and frightening.