Sponsored by Starscape.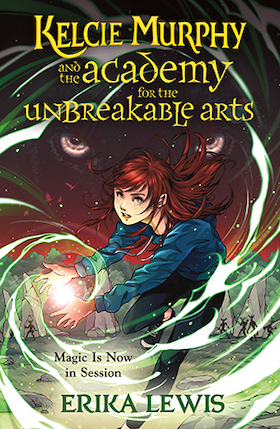 Brimming with Celtic mythology, action, and danger, Erika Lewis's debut middle grade fantasy introduces readers to a new kind of magical school and a warrior who must choose with which side of an epic battle her destiny will lie. The Otherworld is at war. The Academy for the Unbreakable Arts trains warriors. And Kelcie Murphy—a foster child raised in the human world—is dying to attend. A place at AUA means learning to fight with a sword, harnessing her hidden powers and—most importantly—finding out who her parents are, and why they abandoned her eight years ago.
Hey readers! I'm back with another week of new releases!
The Candy Dish by Kobi Yamada and Adelina Lirius
This is a new picture book from one of my favorite children's authors. This one is about a little girl who is gifted a candy dish. Each day the candy dish opens and supplies her with one piece of delicious candy, but despite her attempts, she can't force the dish to reopen and give her more. The next morning the dish opens and again gives her one piece of candy and doesn't reopen for the day. This is a sweet story about savoring each day.
This warm and lyrical picture book is inspiring and uplifting, celebrating diverse families and the bonds of people all over the world.
Stuck by Jennifer Swender
This sweet middle grade follows fourth grader Austin, the perpetual new kid. Despite his best efforts, his size (he also skipped a grade) makes it hard for him to disappear. At his new school, he quickly falls in with an outgoing friend and becomes intrigued by the Safety Squad. But Austin also has trouble reading, and his many workarounds won't help him apply to the Safety Squad. As Austin begins to find his voice, he realizes he may not be as alone as he thought.
Sharon Draper returns to the heroine of Out of My Mind in this new middle grade novel. Melody's back, this time heading off to an accessible summer camp for kids with disabilities. Though nervous, Melody's new adventure catapults her into new life experiences, making new friends, and developing her first crush.
---
Until next week!
Chelsea