Sponsored by the Middle Grade debuts of the Class of 2k21: 18 MG and YA authors debuting in 2021.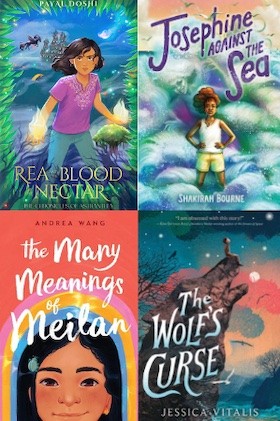 With JLG selections, starred reviews from Kirkus, Booklist, SLJ and glowing reviews in NY Times, PW and Horn Book, these diverse titles will empower young readers and take them on exciting adventures around the world. REA AND THE BLOOD OF THE NECTAR is a thrilling Indian-inspired fantasy about discovering oneself. JOSEPHINE AGAINST THE SEA is a heartwarming, magical adventure inspired by Caribbean folklore. A Chinese American girl shows the power of a name in THE MANY MEANINGS OF MEILAN. A 12-year-old boy must save his Grandpa's soul in THE WOLF'S CURSE. Add hope, courage and curiosity to your bookshelf today!
Hey readers! I'm back with another batch of new releases!
In this enchanting picture book, a king and queen unable to have children are gifted a son and daughter in the form of a wooden robot and a log princess. But the log princess turns back into a log each night, and when she's accidentally taken away, the robot takes off to find her. Along the way, both robot and princess must rescue one another.
War by José Jorge Letria, André Letria and Elisa Amado
While this is far from lighthearted fare, this is a powerful and moving picture book about the anguish of war. For anyone looking for a way to start a conversation about it, especially considering the current crisis in Afghanistan, this may be a good starting point.
In this sweet picture book, a mother, daughter, and grandmother take a trip to the end of the earth, the southern tip of India, where three oceans meet. Along the way they reconnect with old friends, revisit memories, and experience new sights.
Bad Panda by Swapna Haddow and Sheena Dempsey
In this funny book, Lin is a cuddly, cute panda whose adorableness makes her a star at the zoo. But all she really wants is to return to the panda sanctuary where her brother is. Lin reasons that if being a good panda landed her in the zoo, being a bad one would ensure her return to her brother so she sets off a plan to be a bad panda but finds her cuteness may be insurmountable.
Elvis is a Calico kitten recently adopted by Georgina. Elvis misses his sister, Etta, left behind, and Georgina is still struggling after her parents have split. As Elvis looks for a way to reunite with Etta, he begins to admire Georgina and her intricate Lego builds, and they both begin to consider they may be able to build a world that they love even if its not what they'd have first chosen for themselves.
Until next week!
Chelsea