Sponsored by Astra House, dedicated to publishing authors across genres and from around the world.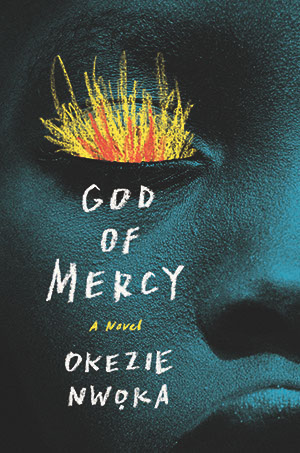 God of Mercy is set in Ichulu, an Igbo village. Their adherence to tradition has allowed them to evade the influences of colonialism and globalization. But the village is reckoning with changes, including a war between gods signaled by Ijeoma, a girl who can fly. As tensions grow between Ichulu and its neighboring colonized villages, Ijeoma is forced into exile. She is imprisoned by a Christian church. Suffering through isolation, she comes to understand the truth of merciful love. God of Mercy is a novel about wrestling with gods, confronting demons, and understanding one's true purpose.
Welcome to Check Your Shelf. The country has been cast into a seemingly endless darkness, and I'm preparing to go into semi-hibernation. Yep, Daylight Savings Time has ended, and once again I'm wondering WHY we continue with this antiquated tradition. But at least I can console myself with the fact that the days will start getting longer after December 21st, so I'll start counting down to that.
But in the meantime, let's talk books.
Collection Development Corner
Publishing News
There's been a LOT of coverage of the Justice Department's lawsuit against Penguin Random House's acquisition of Simon & Schuster: The Guardian, Library Journal, New York Times, Publishers Weekly, Wall Street Journal, and Washington Post.
Plus, who got these amazing book deals that the Justice Department alluded to, anyway?
Follett sells Baker & Taylor to a private investment company.
How bookstores are adjusting to supply chain problems.
New & Upcoming Titles
Thriller author and James Bond aficionado Kim Sherwood is expanding the 007 universe with a new series.
R.L. Stine has a collection of short stories for young readers coming out, called Stinetinglers.
Paul Newman's memoir is going to be published in 2022, 14 years after the actor's death.
Neil Young (yeah, that Neil Young) has written a science fiction novel.
A look at Brian Cox's forthcoming memoir, Putting the Rabbit in the Hat.
Silvia Moreno-Garcia's novel Signal to Noise is getting a reissue with corrections and a new cover.
Here's a first look at Lisa Taddeo's first short story collection.
The Washington Post shared its holiday gift guide.
9 authors pick their must-read fall thrillers.
Indie speculative fiction for October 2021.
M/M romance picks for October.
Weekly book picks from Crime Reads, LitHub, The Millions, New York Times, and USA Today.
October picks from Vanity Fair.
November picks from Barnes & Noble (includes some December picks too!), Crime Reads, Entertainment Weekly, Good Morning America, Goodreads, LA Times, Lambda Literary, The Millions, New York Times, Time, Tor.com (fantasy, horror/genre-blending novels), and Washington Post.
Best books of the year (so far).
What Your Patrons Are Hearing About
Our Country Friends – Gary Shteyngart (LA Times, New York Times, Slate, USA Today, Washington Post)
You Can't Be Serious – Kal Penn (New York Times, People, Shondaland, USA Today)
Both/And: A Life in Many Worlds – Huma Abedin (New York Times, NPR, Washington Post)
New York, My Village – Uwem Akpan (New York Times, Washington Post)
Five Tuesdays in Winter – Lily King (Entertainment Weekly, NPR)
My Body – Emily Ratajkowski (New York Times, Seattle Times)
Still Life – Sarah Winman (Entertainment Weekly, New York Times)
RA/Genre Resources
How to read the Outlander books in order.
On the Riot
New YA retellings to fall into.
The best recent and upcoming Indigenous stories to TBR.
12 must-read November children's book releases.
New YA releases for November to TBR.
Why this reader loves book recommendation newsletters.
Navigating winter holiday picture books when you have an interfaith family.
What this reader learned from reading a short story a day for a month.
How to pick children's books about gender.
A personal reckoning with true crime as a genre.
All Things Comics
Image Comics staff launches an effort to unionize.
Police rush to protect comic book artists after threats over a bisexual Superman from fans rose to credible levels.
Mariko Tamaki debuts a new LGBTQ+ graphic novel imprint.
Publishers Weekly's list of the Best Comics of the Year.
The best comics of October 2021.
On the Riot
YA comics and graphic novels releasing October – December, 2021.
10 informative and delightfully queer nonfiction comics.
8 delicious foodie manga to read over the holidays.
Audiophilia
The November 2021 Earphone Awards have been posted.
6 new Asian and Pacific Islander romance audiobooks.
8 of the best celebrity memoir audiobooks narrated by the authors.
The best narrators, the best listening speeds, and why we like audiobooks to begin with.
When listening to a book is better than reading it.
On the Riot
6 buzzy audiobooks for awards season.
Book Lists, Book Lists, Book Lists
Children/Teens
11 picture books to celebrate Thanksgiving.
The best Christmas books for kids & young adults.
13 YA books where the heroine saves herself.
18 YA mysteries & thrillers perfect for true crime fans.
11 YA books with more than one love story.
Adults
252 (!!) books by Native and Indigenous writers to read.
Every Booker Prize winner of the 21st century.
11 romantic suspense novels to make you swoon.
13 uplifting second-chance romances to warm your heart.
14 books for the fashion lover on your list.
Masterful mysteries set in the midwest.
The 27 best true crime books that every person should read.
The 10 best psychological thriller novels.
6 crime novels with father/daughter relationships.
6 atmospheric horror novels recommended by Grady Hendrix
7 novels by, or about, folk musicians.
10 books about alienated women in their 20's.
5 SFF books where magic has a steep cost.
On the Riot
9 Indigenous and Native American picture books to read right now.
9 of the best books by Native Alaskans and Hawaiians.
Books to make you feel less helpless about the climate emergency.
8 books that feature Dia de Muertos.
17 swoon-worthy Indian romance books.
20 must-read genre-blending romances.
10 books if you loved Squid Game.
Books about the rural queer experience.
8 spooky books of Gothic horror and magic.
Level Up (Library Reads)
Do you take part in Library Reads, the monthly list of best books selected by librarians only? We've made it easy for you to find eligible diverse titles to nominate. Kelly Jensen created a database of upcoming diverse books that anyone can edit, and Nora Rawlins of Early Word is doing the same, as well as including information about series, vendors, and publisher buzz.
Time for me to pull on a sweater and dust off the weighted blanket…I'll see you on Friday when I emerge from my den.
—Katie McLain Horner, @kt_librarylady on Twitter.