Sponsored by Oni Press.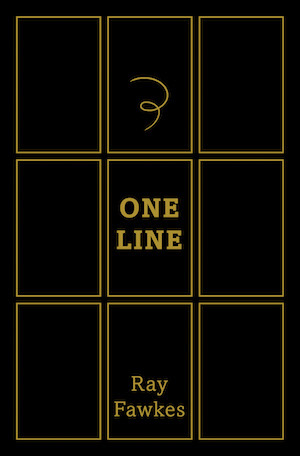 Ray Fawkes's critically acclaimed and deeply moving graphic novel series is back in special reissues featuring a brand-new installment in One Line. As One Soul followed eighteen people from birth until death, showcasing their common joys and pains as well as their unique experiences, and The People Inside looked at the lives and relationships of twenty-four individuals, One Line follows eighteen families through four centuries, showing how traditions, ethics, and prejudices are handed down from generation to generation. Told in Fawkes's groundbreaking narrative structure, each book in the One Soul series is a powerful testament to human connection across time and place.
Welcome to Check Your Shelf. The annual debate of "When is it socially acceptable to put up holiday decorations?" rages on, and I beg of everyone, please can we just wait until after Thanksgiving?? Maybe I'm just a Scrooge, but I like to have a little breathing room between holidays. That, and the fact that our Christmas tree takes up a disproportionate amount of space in our apartment.
Anyway, let's move on to libraries. And once again, this newsletter is depressingly full of banned & challenged books updates.
---
Libraries & Librarians
Cool Library Updates
The Toms River Library (NJ) just unveiled a brand new sensory space room for patrons with autism, developmental disabilities, and sensory processing disorders.
San Mateo libraries are expanding their Book-a-Bike program, which allows patrons to check out bicycles and accessories, including helmets, bike locks, GoPros, and mini first aid kits.
First graders in Bristol, TN got library books delivered to them by librarians on horseback!
Worth Reading
A conflict of values: how to prevent clashes between trustees and librarianship tenets.
New research proves what we already knew: museums and libraries create healthier and more equitable communities.
Book Adaptations in the News
Stacey Abrams' book Never Tell is being redeveloped at CBS.
Billy Porter is directing the adaptation of Lev Rosen's YA novel, Camp.
Kristen Stewart will direct an adaptation of Lidia Yuknavitch's memoir The Chronology of Water.
Andrew McCarthy is directing a documentary based on his recent memoir, Brat: An 80's Story.
Hulu is adapting Stephen King's short story "The Boogeyman" for film.
The film adaptation of Wicked has hit a delay, and production won't start until June 2022.
Here's the first trailer for Station Eleven.
Don't forget to check out our new podcast Adaptation Nation, all about TV and film adaptations of your favorite books!
Banned & Challenged Books
Texas state rep Matt Krause has initiated an investigation into Texas school district content, and has asked school officials to confirm which of the 850 (!!) titles they have in their schools, how many copies they have, and how much money they spent on the titles.
The Austin ISD is electing not to respond to Krause's request.
Meanwhile, Texas governor Greg Abbott decries school library books with "pornographic or obscene material."
This Iowa school board candidate wants to share the name of every kid who checks out pro-LGBTQ books.
The Campbell County Public Library Board voted to keep the book This Book is Gay in the teen section.
Prosecutors will not charge Campbell County library employees for making sex education and LGBTQ books available to children in the library.
The approval of a library grant in Kenai, AK has been postponed after the city council requested to preview book purchases.
Ken Raymond, the chairman of the Forsyth County Republican Party (NC) recommended that parents who are concerned about teachers using "pornographic reading material" in the classroom should call the police.
Tom Hooker, a trustee on the Byron Township Board of Trustees (MI) called for the removal of the graphic novel, Check, Please, from library shelves.
The Craighead County Jonesboro Public Library (AK) released a list of books that it was moving from the children's section to the Parent/Teacher section, which will be located near the Children's Department service desk.
Parents in the North Penn School District protested the graphic novel Gender Queer at a recent school board meeting.
The Georgetown Township (MI) superintendent has been asked to review any material in the public library that is not age-appropriate.
Waukee Northwest High School administrators have removed several books from the school library after parents protested. These books include All Boys Aren't Blue, Lawn Boy, and Gender Queer.
A dispute over Beloved in the Virginia governor's race is making Toni Morrison's book a best-seller.
Roseburg High School (OR) has received a challenge to Rupi Kaur's poetry collection Milk and Honey.
15 books at Lindbergh High School (MO) are being challenged.
An Ontario school board is reviewing every book in its 121 school libraries to remove titles that don't fit with their stated equity goals. However, some trustees are concerned about the lack of an evaluation framework, and are worried that the process will turn into a book banning "done under cover of human rights and equity."
This Book is Gay is being challenged at the Lafayette Parish Public Library for containing "pornography."
What should the library do with an objectionable book?
There is a consistency to the debate over book censorship: distress about change.
Three K-12 teachers weigh in on the consequences of critical race theory bans.
Banning Toni Morrison's books doesn't protect kids. It just sanitizes racism.
10 of the most banned and challenged books of the last decade.
Books & Authors in the News
The Justice Department sues to block the PRH acquisition of Simon & Schuster.
Did you follow the "Art Friend" controversy from that piece in the New York Times last month? Grub Street, Boston's largest nonprofit writing organization, is taking steps to address community concerns following the publication of the article.
Why every generation rediscovers Stephen King.
Numbers & Trends
TikTok is fueling a "reading renaissance" as well as an increased sale of physical books.
Why is everyone reading about trees?
Related: a look at the recent run of best-sellers that promise that plants are people too.
Award News
The 2021 Kirkus Prize winners have been announced.
Barnes & Noble names their third annual Book of the Year finalists.
Pop Cultured
9 shows to watch if you miss Monk.
Bookish Curiosities & Miscellaneous
MTV Books relaunches with My Life: Growing Up Asian in America.
"Vax" is the Oxford Languages 2021 Word of the Year.
On the Riot
Being a librarian: expectations vs. reality.
How to make interlibrary loan really work for you.
Little Free Library etiquette.
The most haunted bookstores and libraries around the world.
Some bookish good news, because dammit, we need it.
Why aren't there picture books for adults?
---
You know what they say…every library should have at least one book to piss off Texas officials. Keep fighting the good fight, everyone. I'll see you next week.
—Katie McLain Horner, @kt_librarylady on Twitter.