Sponsored by Iron Widow by Xiran Jay Zhao.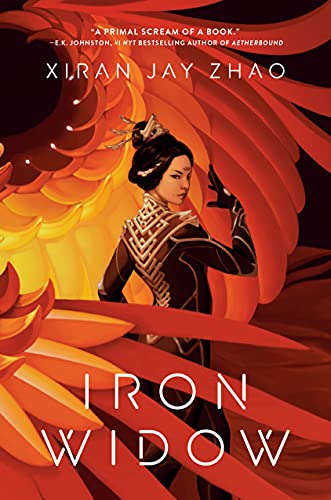 Pacific Rim meets The Handmaid's Tale in this blend of Chinese history and mecha science fiction. The boys of Huaxia dream of pairing up with girls to pilot Chrysalises, giant robots that battle the aliens beyond the Great Wall of China, even though the girls die in the process. When Zetian offers herself up as a concubine-pilot, it's to assassinate the pilot responsible for her sister's death. But it becomes clear that she is an Iron Widow, a female pilot who can sacrifice males to power up Chrysalises instead. Four hundred pages of feminist rage.
Hello Book Friends.
I got some really great responses from some of you about what you've been reading and how you've been doing on your reading goals, so thanks for reaching out. It seems like 2021 has been a great reading year for a lot of you, which is good to hear. And, you know, if it' hasn't been a great reading year for you, that's okay too. There's more to life than reading. I know. I can't believe I said that either.
Anyway, I've got book things for you, so let's do this.
— Emily
Book Deals and Reveals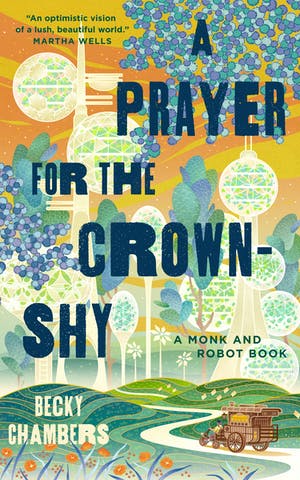 Tordotcom has unveiled the cover of Becky Chambers' new novel A Prayer for the Crown-Shy, out on July 12, 2022.
Penguin Random House Publisher Services will be distributing IDW comics to direct market comic shops and bookstores starting on June 1st, 2022.
The highly-anticipated film Dune has opened up overseas to a $36.8M debut.
Marina Lostetter tweeted the cover reveal for The Cage of Dark Hours, her sequel to The Helm of Midnight. This one's out August 2, 2022.
Pillow-Cat Books, a bookshop focused on titles about animals, opened up shop recently at 328 E. 9th St. in the East Village in New York.
The first edition of Frankenstein recently sold for a record-breaking $1.17 million.
The Guardian Review section is bidding farewell after almost 20 years of book coverage. In a Twitter thread, they explained, "From next week you can find even more agenda-setting literary journalism in the exciting new Saturday magazine where there will be new columns as well as long-standing favourites in the new Books section."
Here's the cover reveal for Jamie Wesley's Fake It Til You Bake It, a new romance novel about a reality star, a cupcake-baking football player, and my personal favorite romcom trope: fake dating.
Betty Gilpin has been announced as one of the stars of the upcoming series adaptation of Lisa Taddeo's Three Women.
LGBTQ Reads has an exclusive cover reveal for Dahlia Adler's latest contemporary f/f YA romance, Home Field Advantage.
Here's the cover reveal for Priscilla Oliveras' novel West Side Love Story, coming out May 2022. Oliveras promises mariachi bands, feuding Shakespearean families, and sisterhood.
Surprising no one, Marvel has the top two movies at the box office so far in 2021: Black Widow and Shang-Chi and the Legend of the Ten Rings.
Book Riot Recommends
I'm a Contributing Editor at Book Riot, I write the Today in Books newsletter, and I'm a Bibliologist for Book Riot's Tailored Book Recommendations subscription service. I also have a PhD in English, so I'm basically a doctor of books. Books are my life, in other words, so in this section of the newsletter, let me share with you some upcoming books I'm super excited about. And I think you will be too!
Can't Wait for This One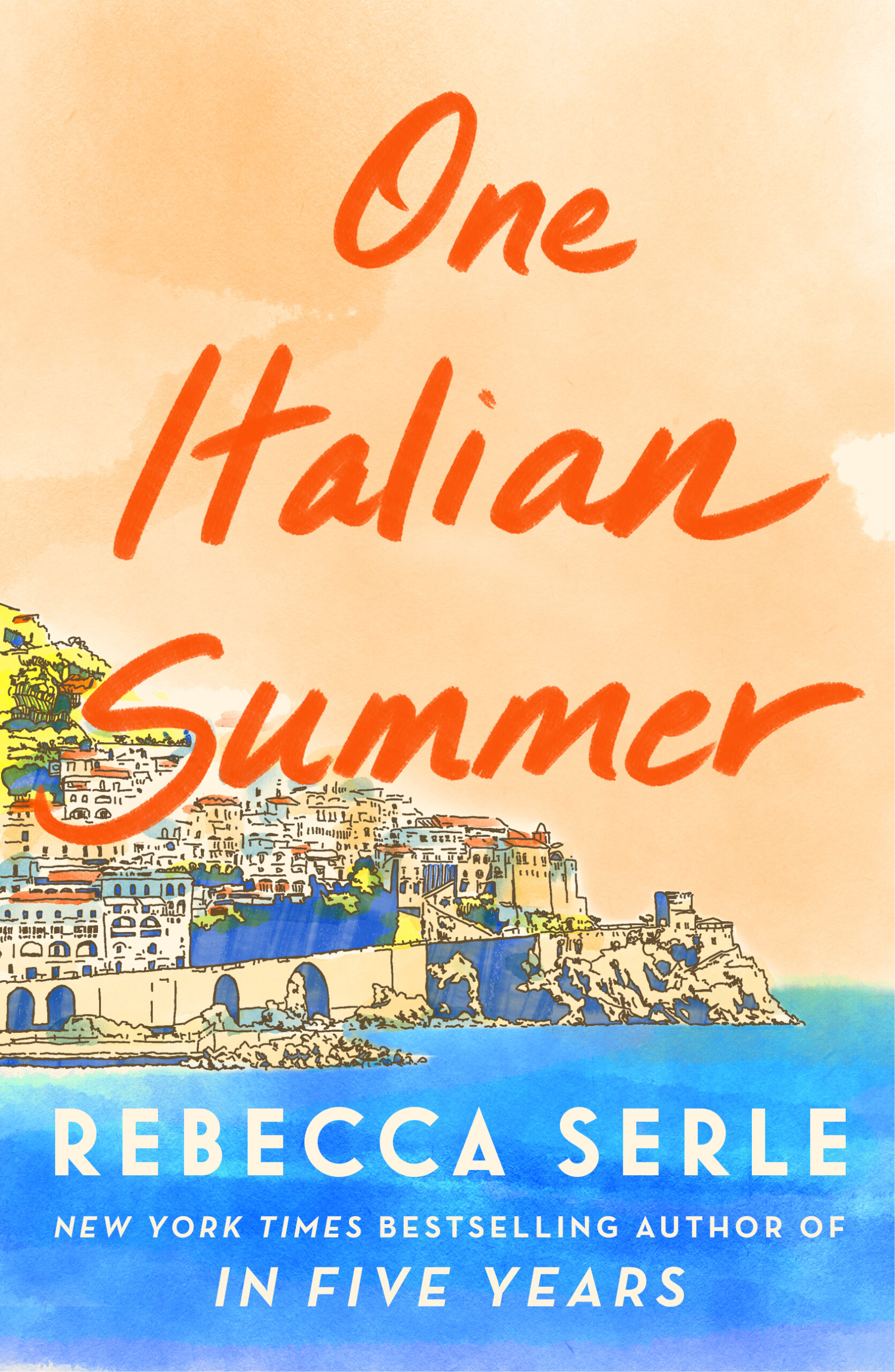 One Italian Summer by Rebecca Serle (Atria Books, March 1, 2022)
I have now read and enjoyed two Rebecca Serle novels: The Dinner List and In Five Years. Personally, I think once you make it to three, you're officially all in on an author. So Rebecca Serle's 2022 novel One Italian Summer will be a big decider for me: is this book going to live up to her two previous novels for me? Will this end up being an author I'm going to trust no matter what? Based on the premise of this one, I'm leaning towards yes.
Katy's mother Carol is everything to her: a best friend, the first person she calls when she needs anything, her support system. So when Carol dies, Katy is left feeling unmoored. To make matters worse, the two were set to go on a vacation to the Amalfi Coast, where her mother met her father years ago. Now Katy is facing potentially going on that trip without her best friend. But when Katy arrives in Italy, she feels her mother's presence everywhere. And not just in a spiritual way. Like, her mom Carol is actually there. But she's not the Carol Katy knew. The younger, 30 year-old Carol who traveled to Italy long before Katy was born. Now Katy must reconcile the version of her mother that is with her now with the mother she knew before Carol died.
What I've loved so much about Serle's novels that I've read so far? Serle crafts heartbreakingly honest love stories, but they're never about the kind of romantic love you typically get in contemporary fiction. One Italian Summer looks to be continuing in that tradition. In this book, she's exploring a beautiful love story between mother and daughter.
Words of Literary Wisdom
"If we lived in a world in which we were being properly taken care of, would self-care have the same appeal?"
— Please Don't Sit on My Bed in Your Outside Clothes by Phoebe Robinson
What's Up in the Book Community?
My iPhone is constantly telling me I spend too much time staring at my screen, which is honestly so rude. But this means I spend a lot of time scrolling around the online book community: BookTube, Bookstagram, BookTok, BookLinkedIn (JK. That's not a thing… I don't think). You get the idea. Don't have the time, energy, or the will to do all of that yourself? No problem. I got you. In this weekly section of Book Radar, we'll take a look at something cool, interesting, and/or newsy that's going on in the book community.
October is ALMOST HERE (yes, I've been counting down the days to my favorite month), which means it's time to read some Halloween-type books and maybe participate in a readathon. BookTubers love hosting readathons throughout the year, and October seems like a great time to jump into one. So here are a few you might consider joining.
This Halloween Readathon already kicked off at the beginning of September, but you have until the end of October 31st to get all of your reading in.
Here's an October Readathon co-hosted by a bunch of BookTubers that's also going on for the entire month of October.
The Scaredy-Cat Readathon is the PERFECT readathon for people who want in on all the Halloween reading fun, but are maybe not so into reading super scary stuff. You also get the whole month of October for this one.
Your Weekend Reading Soundtrack
If you're not listening to Lil Nas X's new album MONTERO this weekend while you're reading, cleaning, cooking, shopping, petting your cats, and whatever else you've got going on, you're doing it wrong. Listen to it!
And Here's a Cat Picture!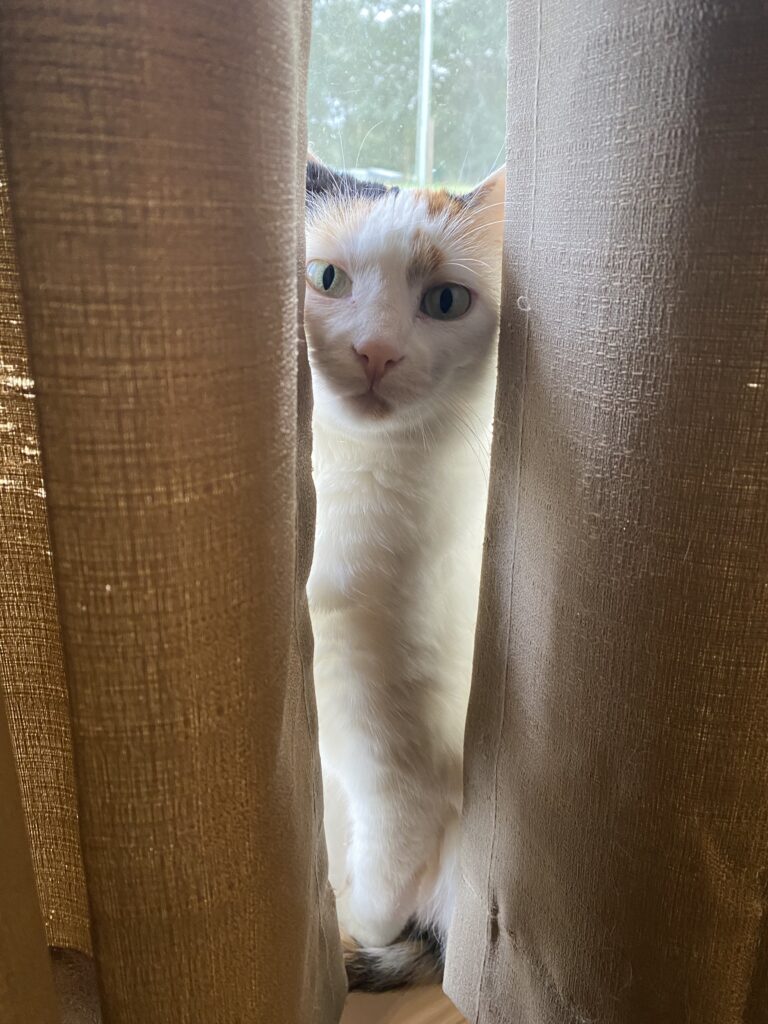 The time has come to say goodbye until next week. But before you go, have a cat picture.
Cersei is my shy girl, which is why you haven't seen as many pictures of her yet. But she is so, so sweet. Last night, she cuddled up next to me and we caught up with season 3 of What We Do in the Shadows together. Anyway, here she is living her best shy girl life, peeping out between the curtains. Hello, little girl.
---
Thanks so much for making it all the way to the end and for hanging out with me this Thursday. I hope you have a wonderful weekend. Stay safe. Read a good book. See you Monday.
❤️ Emily