Sponsored by HarperCollins Children's Books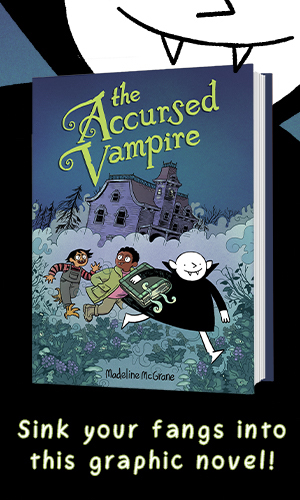 tk
The Latest Addition to Tamsyn Muir's Locked Tomb Series is Coming Soon!
On Friday, Tordotcom Publishing announced the latest addition to Tamsyn Muir's Locked Tomb Series. The third novel in the series, Nona the Ninth, will publish in fall 2022, and Alecto the Ninth will follow in fall 2023. Originally, Muir's beloved series was set to be a trilogy, but with the addition of Nona the Ninth, the world of the Locked Tomb is expanding into a series. Does that mean we have even more books to look forward to in the future? Only time will tell!
Two New Octavia E. Butler Adaptations in the Works
Fans of American sci-fi author Octavia E. Butler have a lot to look forward to! There are two adaptations of Octavia E. Butler works coming our way. HBO is working on a series adaptation of Fledgling, Octavia Butler's take on the vampire novel. Issa Rae and J.J. Abrams are on board for the project as the executive producers. Sonya Winton-Odamtten and Jonathan I. Kidd, the writers of HBO's Lovecraft Country, will write the pilot script. Additionally, Butler's Parable of the Sower has inspired an upcoming A24 film directed by Garrett Bradley (Time) and produced by Paul Mezey (Beasts of the Southern Wild). Octavia E. Butler fans can add these two projects to the list of upcoming Butler adaptations to get excited about. FX is also developing a television series based on Kindred. And Amazon Studios has two Octavia E. Butler projects in the works. The first is a series based on Butler's Wild Seed, with novelist Nnedi Okorafor co-writing. They're also developing a series based on Dawn, with Ava DuVernay executive producing.
Kalamata's Kitchen Publishes Fourth Book About Culture and Cuisine
Earlier this month, Kalamata's Kitchen published a fourth book in their series encouraging children to be open to new cuisines and cultures. This is the first book of the series to be published with Random House. Previous books in the series invited kids to try cuisine from Venezuela, the South of France, and more alongside the main character Kalamata and her "Taste Buds," a club which kids could join. In this new book, author Sarah Thomas, a former sommelier at Chef Ripert's La Bernadin in New York City, welcomes young children to try cuisine from her own Indian background. The book is illustrated by Jo Kosmides Edwards.
Americans Read Nearly 25% More Last Year, According to New Research
Did you find yourself reading a whole lot more in 2020? Well, you're not alone! According to new research, Americans read nearly 25% more last year.