Sponsored by Baen Books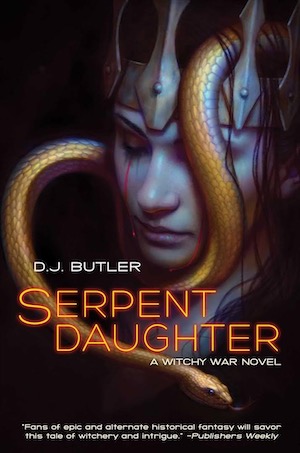 Sarah Calhoun has taken her father's throne and ascended into her goddess's presence in Unfallen Eden as her father never did. But Sarah Calhoun is dying. To survive—and to gain the strength she needs to fight an impossible war—Sarah must unite the Moundbuilder Kings to enact an ancient rite that will propel her beyond mortality. To do so, she must not only win over doubters among the Firstborn kings, but she must also beat back a rebellion.
Welcome to Check Your Shelf. Has anyone else been having a ridiculously hard time keeping track of what day it is? Earlier this week, I asked my husband multiple times to confirm that it was still Tuesday (it was). And today, my boss gave me a mini heart attack when he asked me to take care of something at the library, and when I told him I wasn't there (I'm not normally scheduled for Wednesdays), he said, "But aren't you supposed to cover for me today?" Thankfully, he quickly realized that he had asked a different staff member to cover his shift, but in that amount of time, I thought I felt my heart stop.
So what day is it again?
---
Libraries & Librarians
News Updates
A new rule bans Allegheny (PA) County Jail inmates from receiving books, and limits them to 214 pre-selected eBooks on faulty tablets that cost inmates money.
The Manhattan poetry library Poets House has suspended operations due to economic difficulties during the pandemic, but employees say that the move is a retaliatory measure against staff members' recent attempts to unionize.
New Orleans mayor LaToya Cantrell and several top public library officials have been accused of misleading the public with their proposed plan to reallocate millions in property taxes.
Cool Library Updates
The Redwood City (CA) Library will be hosting a virtual version of its award-winning Human Library program on December 5th.
Dallas Libraries add 2100 mobile WiFi hotspots to their collections.
New York Public Library released several Best Books of the Year lists for kids, teens, and adults.
Next month, you'll be able to stream a new documentary for free about Dolly Parton's Imagination Library.
Worth Reading
How libraries handle the legacy of racist murals.
How local libraries shaped the life of Octavia E. Butler.
10 people share why they're thankful for libraries.
How German librarians played a thirteen-year game of cat-and-mouse with an elusive book thief.
---
Book Adaptations in the News
Netflix is working on an adaptation of Forty Acres by Dwayne Alexander Smith, and if you've read this book before, you know that it was MADE to be a movie!
Umbrella Academy has been renewed for a third season with Netflix.
Rebecca Carroll is adapting her upcoming memoir, Surviving the White Gaze, for television.
We may be seeing a reboot of Waiting to Exhale from ABC.
First official trailer for Tiny Pretty Things!
Trailer for the long awaited sci-fi adventure Chaos Walking.
New trailer for The Underground Railroad.
---
Books & Authors in the News
Bustle looks at how romance authors and their "Romancing the Runoff" fundraiser is helping Stacey Abrams turn Georgia blue.
Warner Brothers TV strikes an overall deal with YA author and activist Kimberly Latrice Jones.
Barack Obama has made his memoir available for free to all Chicago High School students and staff!
The book White Fragility has been removed from a Florida high school after several parents complained.
Bret Easton Ellis bypasses book publishers for his latest story, and instead turns to podcasts.
---
Numbers & Trends
Obama's memoir breaks first day sales records for Penguin Random House, selling more than 887,000 copies in the first day.
Not surprisingly, James Patterson was the decades' best-selling author.
---
Award News
Joy Harjo will serve a rare third term as US poet laureate.
The winners of the National Book Awards have been announced!
Douglas Stuart wins the 2020 Booker Prize for Shuggie Bain.
Everywhere You Don't Belong by Gabriel Bump wins the Ernest J. Gaines Award for Literary Excellence.
The shortlist for the 2020 Reading Women Award in nonfiction has been released.
---
Pop Cultured
Wonder Woman: 1984 will be released in theaters on Christmas Day, but it will also be available to stream on HBO Max simultaneously.
---
Bookish Curiosities & Miscellaneous
Charles Darwin's notebooks have reportedly been stolen from Cambridge University, although they were originally believed to be mis-shelved as far back as 2000.
Oxford has broken with its tradition of naming a single word of the year, and instead named multiple words of the year for 2020.
---
On the Riot
5 favorite fictional librarians from children's media.
Librarians know…even hardcore book people engage in bad book habits.
Encouraging pleasure reading while the world is on fire.
A call for more people to try reading out loud.
How to strengthen your reading habits.
10 of the best book lights for late-night reading. Or, you know, if you're looking for ideas for winter reading program prizes…
How to make a DIY book page wreath.
---
See everyone on Tuesday. Have a safe weekend!
—Katie McLain Horner, @kt_librarylady on Twitter.