Sponsored by Baen Books.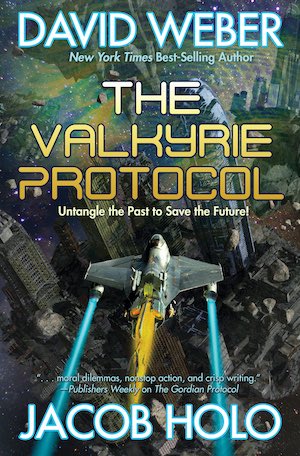 Time is running out to untangle the past to save the future. Agent Raibert Kaminski and the crew of the Transtemporal Vehicle Kleio discover careless time travel has caused a temporal implosion claiming two whole universes. Upon their return home universe SysGov, an audacious plan is put into effect by Raibert's old colleagues. They have proposed an expedition into the past to prevent the Plague of Justinian, one of the worst pandemics in human history. Meanwhile, SysGov's neighbor, the xenophobic Admin is amassing a fleet of advanced, heavily armed time machines with SysGov firmly in the crosshairs.
Happy Tuesday, shipmates! Heck of a month it's been. (It's the 6th, Lemon—I mean Alex.) And as with every other Tuesday, it's time for a whole bunch of fresh new releases, and a bit of some fun genre-related news. It's really starting to feel like autumn here; we're getting leaves turning and everything. Let the best month of the year continue! Stay safe out there, space pirates, and I'll see you on Friday.
Looking for non-book things you can do to help in the quest for justice? blacklivesmatter.card.co and The Okra Project.
New Releases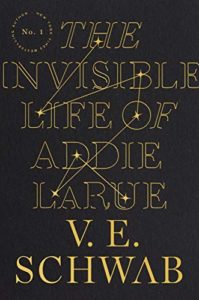 The Invisible Life of Addie LaRue by V.E. Schwab – About 300 years ago, a desperate young woman made a bargain to live forever—and the price is that she will be forgotten by everyone she meets. Until one day, she meets a young man in a bookstore who remembers her name.
The Bladebone by Ausma Zehanat Khan – The Black Khan's capital of Ashfall is on the verge of falling to the Preacher and his dark sorcery. But the brave female warriors of the Council of Hira can still stop him if they can uncover the secrets of the long lost, ancient weapon known as the Bladebone.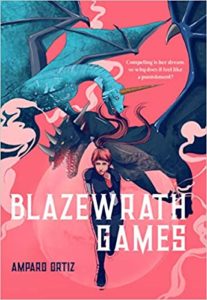 Blazewrath Games by Amparo Ortiz – The Blazewrath World Cup is the culmination of dragon riding as a sport. Each year, only sixteen countries compete–and it's Puerto Rico's first shot at the competition. Lana Torres has a shot at her dream of representing her country when Puerto Rico's Runner gets kicked off the team. But the games and perhaps dragonkind are endangered as a former Blazewrath superstar and a dragon cursed into human form start destroying dragon sanctuaries—and refuse to stop unless the Cup is cancelled.
We Were Restless Things by Cole Nagamatsu – Link Miller somehow drowned on dry land, in the middle of a forest. Only his close friend Noemi knows that he actually drowned in an impossible lake that only she can find. And now someone claiming to be Link is contacting her with dire warnings to stay out of the woods…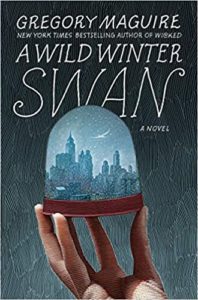 A Wild Winter Swan by Gregory Maguire – Laura lives with her grumpy, strict grandparents after her brother's death and mother's subsequent mental breakdown. She's looking down the barrel of being sent to a boarding school after being expelled. And then one night, a one-winged swan boy lands on her roof… and she decides she needs to build him a new wing so he can fly home.
The Ministry for the Future by Kim Stanley Robinson – The Ministry for the Future is established in 2025, its purpose to protect all living creatures and act as an advocate for future generations in the face of devestating climate change. These are its stories.
Over the Woodward Wall by A. Deborah Baker – Avery and Zib are exceptional children that live on the same street in different worlds. And then one morning they find themselves in the Up and Under, and they must work together if either wants to make it home. (This is the full book that existed as snippets in Middlegame.)
News and Views
First trailer is out for the new version of Roald Dahl's The Witches. The movie is skipping theaters and going to HBO Max if you want to see it. (I sure do!)
Nerds of a Feather did an interview with P. Djèlí Clark 
Clarion West is doing a speculative fiction trivia night on October 17, and you can sign up to be on a team captained by an author… or bring your own team
V.E. Schwab is writing a film adaptation of The Invisible Life of Addie LaRue.
Jeff Goldblum recreated one of the scenes from Jurassic Park with Sam Neill. It is not the scene you expect.
Olav Rokne: "Something of Freedom Is Yet to Come": The Entangled Histories of Science Fiction and Capitalism
Ross Showalter: Writing Fantasy Lets Me Show the Whole Truth of Disability
The FIYAHCon schedule is live.
Patrick Stewart has finished the sonnets.
On Book Riot
8 science fiction novels by authors of color for the end times
This week's SFF Yeah! podcast is going back to school.
This month, you can enter to win a $250 Barnes & Noble gift card.
---
See you, space pirates. You can find all of the books recommended in this newsletter on a handy Goodreads shelf. If you'd like to know more about my secret plans to dominate the seas and skies, you can catch me over at my personal site.