Sponsored by Tor Teen.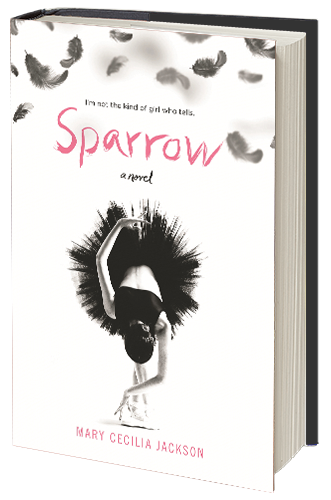 In the tradition of Laurie Halse Anderson's Speak, Mary Cecilia Jackson's devastating but hopeful YA debut is about a ballerina who finds the courage to confront the abuse that haunts her past and threatens her future. Though Sparrow is a gifted ballerina, her real talent is keeping secrets. Schooled in silence by her long-dead mother, Sparrow has always believed herself to be "not the kind of girl who tells." But in the aftermath of a brutal assault by her seemingly perfect boyfriend Tristan, Sparrow must finally find the courage to confront the ghosts of her past, or lose herself forever….
Welcome to Check Your Shelf, which is being brought to you from my quarantine bunker. This marks my first week of officially working from home…we'll see how I'm doing on Friday. (Also, who told Chicago that now would be a great time for snow?!?!)
As a general note, Book Riot has an ongoing list of COVID articles that they're updating regularly, and I'll link back to this list at the beginning of every newsletter. I hope this is a helpful resource – it certainly saves me a lot of time and mental agony. And it frees up space for more book list links, which are infinitely more enjoyable.
---
Collection Development Corner
Publishing News
New & Upcoming Titles
What Your Patrons Are Hearing About
RA/Genre Resources
On the Riot
---
All Things Comics
On the Riot
---
Audiophilia
On the Riot
---
Book Lists, Book Lists, Book Lists
Children/Teens
Adults
On the Riot
---
Level Up (Library Reads)
Do you take part in LibraryReads, the monthly list of best books selected by librarians only? We've made it easy for you to find eligible diverse titles to nominate. Kelly Jensen created a database of upcoming diverse books that anyone can edit, and Nora Rawlins of Early Word is doing the same, as well as including information about series, vendors, and publisher buzz.
Sending virtual hugs to anyone who wants them. Stay safe, healthy, and relatively sane.
Katie McLain Horner, @kt_librarylady on Twitter. Currently reading Zero Saints by Gabino Iglesias.