Sponsored by The Midnight Lie by Marie Rutkoski, with Fierce Reads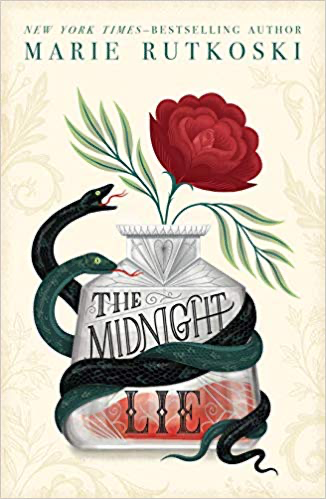 Where Nirrim lives, crime abounds, a harsh tribunal rules, and society's pleasures are reserved for the High Kith. You either follow the rules, or pay a tithe and suffer the consequences. Nirrim keeps her head down, and a dangerous secret close to her chest. But then she encounters Sid, a rakish traveler from far away, who whispers rumors that the High Kith possess magic. Sid tempts Nirrim to seek that magic for herself. But to do that, Nirrim must surrender her old life. She must place her trust in this sly stranger who asks, above all, not to be trusted.
Welcome to In The Club, a newsletter of resources to keep your book group well-met, well-read, and well-fed. Today it is also a reminder that you (corny sentiment alert!) are not alone. And before we go on, let me say this: if you're not in the mood to read or talk books, ditch 'em. One day I find comfort in reading and the next I'm too uneasy to focus. Do what you need to do.
If you're still with me, here's today's game plan: first I'm going to share a comfort food recipe made with rice, which I hope you're able to find. I'm big mad at anyone buying 80 pounds of chicken, a year's supply of rice, and all the legumes like they're bonus items on Supermarket Sweep! Next we'll talk book club strategies that work with social distancing and a few reads to bring you hope. Sound good to you? Cool cool cool.
To the club!!
---
Nibbles and Sips for Oneself 
Hey! So! A lot of us suddenly have more time on our hands to cook. I'm all about the healing power of both eating and preparing food and accordingly made a big batch of my abuela's Mexican rice this week. I thought I'd pass along a similar recipe to comfort you in these trying times.
Jauja Cocina Mexicana is my favorite YouTube channel for Mexican recipes, especially when I'm missing home. Janet Kushner (my internet tia) and her husband live in Texas and started the channel in 2015 as a way for Janet to feel less homesick for Mexico. Janet's recipe for Mexican rice is almost identical to the way my abuela taught me to make it; pair it with whole or refried beans, warm corn tortillas, and a chunk of queso fresco for a warm, soothing meal of soothing simplicity. Tip: use fresh tomato as directed for this recipe; canned sauce totally changes the flavor! Also, you can totally do this in the Instant pot: use this as a guideline.
Quarantine Book Club
Fly Solo – My first suggestion is to do the responsible thing and cancel most in-person book clubs, then have yourself a book club, party of one! Treat the time you would have spent at book club as found reading time and pick up that delicious pleasure read you've been meaning to get to for awhile.
Get a Little Face Time – Those of you who follow Book Riot on the gram may have seen this little gem below. BR staff took a time out for some social distancing yoga. The stretching was good for the body, but the visual component was the extra boost of happy I needed. For those of you having a harder time with this period of isolation, consider holding book club via video call (gentle yoga optional, but highly recommended!). You too may be surprised by how much a simple thing like getting in a little face time can do for the soul.
P.S. I love Yoga with Adriene for free online yoga. Her dog makes frequent appearances in her videos too!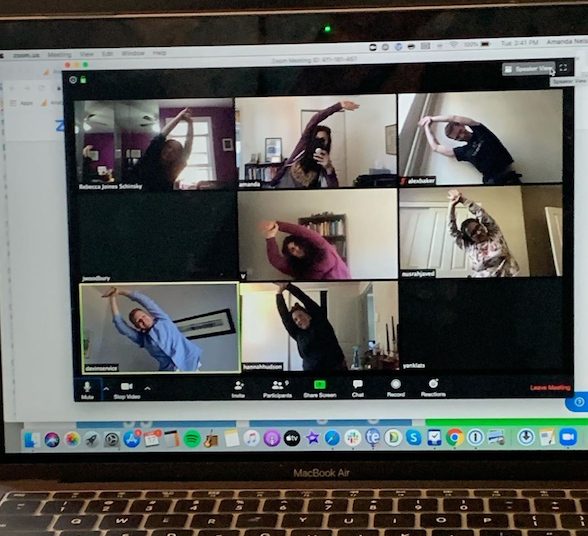 Hope Floats!
If you are looking for some hope-filled reads to tackle on that video chat, may I suggest:
Educated by Tara Westover – Tara Westover is resilience personified. Raised in rural Idaho by survivalist parents who kept her out of school, Tara went on to pursue an education for the first time at age 17 and eventually earned a PhD from Cambridge. That's the simple summary though; imagine not knowing what the Holocaust is and having a room full of college kids think you're an a$$hat when you say so, or having to be told by your roommates that you're supposed to wash your hands after using the bathroom. Imagine all manner of verbal and physical abuse from family, imagine the humiliation of feeling behind at every turn. Now imagine thriving in spite of it all. Imagine hope.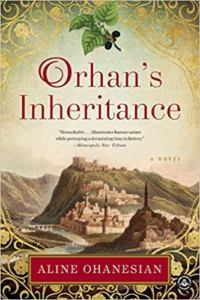 Orhan's Inheritance by Aline Ohanesian – Told in two timelines—the last years of the Ottoman Empire and the 1990s—this book is such a beautiful story about love, loss, and the horrors of the Armenian genocide. If you like stories about the complex, delicate bonds of family and perseverance in the face of extreme hardship and tragedy, pick this one up. It will also teach you a lot you probably didn't know (but should) about Turkish history.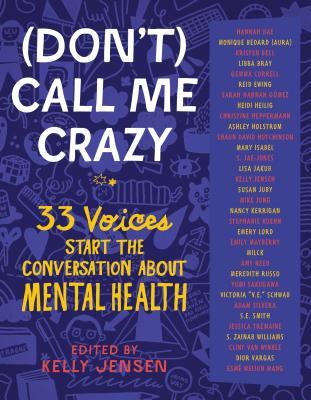 (Don't) Call Me Crazy edited by Kelly Jensen – Kelly is of a Book Riot editor, but I'd recommend this book to you even if she wasn't. Over 30 contributors like V.E. Schwab, Adam Silvera, Esmé Weijun Wang, Libba Bray, and S. Zainab Williams (hmm, where have I heard that name?) weigh in on numerous topics related to mental health and mental illness. I found a lot of solace in these candid accounts of struggle, healing, coping, not coping, and why all of our experiences are valid and fine.
Suggestion Section
We're rounding up COVID-19 updates from the bookish world in one convenient place. You'll find everything from free resources for children (story times! drawing lessons!) to news updates and a list of reliable online sources for staying informed.
I don't think this is supposed to be as funny as I found it, but I hollered at the alias used in this column about a book club invite that didn't work out. Please refer to me as "Fanny Dashwood" henceforth.
BuzzFeed's April book club pick is Barn 8; again, no time like the present to engage in an online book club!
CNET's suggestions for a work-from-home book club with links to author chats.
---
Thanks for hanging with me today! Shoot me an email at vanessa@riotnewmedia.com with your burning book club questions or find me on Twitter and the gram @buenosdiazsd. Sign up for the Audiobooks newsletter, get it on the Read Harder podcast, and watch me booktube every Tuesday and Friday too.
Stay bad & bookish, my friends.
Vanessa
More Resources:
– Our Book Group In A Box guide
– List your group on the Book Group Resources page