Sponsored by Baen Books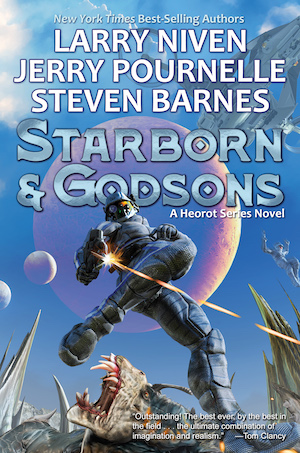 Avalon was thriving. The cold sleep colonists from Earth had settled on a verdant, livable world. The fast and cunning predators were under control, humans had power and the ability to make for all the necessities for life. They would survive. Or would they? Unbeknownst to the planet-bound humans, something was moving in the stars.
"…this work thoughtfully builds on the vision of the future…to the thrilling climax." —Publishers Weekly *Starred Review
"…gritty, realistic, and exciting storytelling from authors who matched Michael Crichton back in the day for page-turning suspense." —Booklist * Starred Review
Welcome to Check Your Shelf! This is your guide to help librarians like you up your game when it comes to doing your job (& rocking it).
The world is scary right now, friends. I hope everyone's staying healthy.
---
Collection Development Corner
Publishing News
New & Upcoming Titles
What Your Patrons Are Hearing About
The Night Watchman – Louise Erdrich (Entertainment Weekly, New York Times, USA Today, Washington Post)
Writers and Lovers – Lily King (Entertainment Weekly, LA Times, NPR, Washington Post)
Legendary Children: The First Decade of RuPaul's Drag Race and the Last Century of Queer Life – Tom Fitzgerald & Lorenzo Marquez (LA Times, Vulture, Washington Post)
The Mirror and the Light – Hilary Mantel (The Atlantic, New York Times, NPR)
Little Constructions – Anna Burns (NPR, Washington Post)
These Ghosts Are Family – Maisy Card (Entertainment Weekly, New York Times)
Separation Anxiety – Laura Zigman (New York Times, NPR)
RA/Genre Resources
On the Riot
---
All Things Comics
On the Riot
---
Audiophilia
On the Riot
---
Book Lists, Book Lists, Book Lists
Children/Teens
Adults
On the Riot
---
Level Up (Library Reads)
Do you take part in LibraryReads, the monthly list of best books selected by librarians only? We've made it easy for you to find eligible diverse titles to nominate. Kelly Jensen created a database of upcoming diverse books that anyone can edit, and Nora Rawlins of Early Word is doing the same, as well as including information about series, vendors, and publisher buzz.
Catch you on Friday! Wash those hands!
Katie McLain Horner, @kt_librarylady on Twitter. Currently reading The Last Rituals by Yrsa Sigurdardottir.