Sponsored by Chicago Review Press.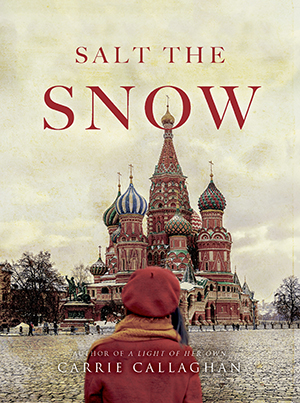 From Carrie Callaghan, author of the critically acclaimed A Light of Her Own, comes the story of the trailblazing Milly Bennett, based on the life of one of the first female war correspondents. American journalist Milly Bennett has covered murders in San Francisco, fires in Hawaii, and a civil war in China, but 1930s Moscow presents her greatest challenge yet. When her Russian husband is suddenly arrested by the secret police, Milly tries to get him released. But his arrest reveals both painful secrets about her marriage and hard truths about the Soviet state she has been working to serve.
Welcome to Read This Book, a weekly newsletter where I recommend one book that I think you absolutely must read. The books will vary across genre and age category to include new releases, backlist titles, and classics. If you're ready to explode your TBR, buckle up!
This week's recommendation is A Madness of Sunshine by Nalini Singh. You may recognize Singh's name from her romance novels, particularly her Psy Changeling series! However, this is a standalone mystery novel set in New Zealand, and while it sits firmly in the mystery/crime genre, it's got a good romantic subplot that confirms Singh knows how to craft a sizzling romantic connection no matter the genre!
"Will wasn't exactly hankering to belong anywhere. Which made him the perfect cop to send to Golden Cove."
Golden Cove is a remote community that sits on New Zealand's west coast. They have one police officer, Will, and he's only been sent to Golden Cove to manage the tourists. But when Miriama, the community's golden girl, goes missing on the eve of her departure for the big city, the town is shaken and Will has his first serious case to solve. Did she run away early? Did she get lost jogging in the woods or fall off a cliff? Or did something more sinister happen to her?
This book is told from two points of view: those of Will and Anahera, a woman who grew up in Golden Cove but left as soon as she could, haunted by her mother's premature death. Anahera is recently returned, shell-shocked by a recent betrayal, and disconcerted to find that Golden Cove is both exactly the same and subtly different. But her status as an outsider with an in makes her perspective appealing to Will, and it's not long before they've teamed up to investigate the darker suspicions they both harbor about Miriama's disappearance.
Singh is an elegant writer, and she makes the rugged, beautiful, dangerous landscape of Golden Cove come to life. The setting pulls double duty as a foreboding presence and foil for the investigation, and the suspense and tension build at a steady pace as it becomes clear that Miriama won't be found easily. This book is about how a tragedy can bring a community together–but also about how easily that sense of camaraderie can turn, exposing dark secrets and cracks in the polite facade. If you're a fan of Tana French or Jane Harper, you need this book on your TBR! I'm hoping that Singh plans on writing more mystery and suspense books, because I'll gladly read whatever she writes next.
Bonus: I listened to the audiobook, narrated by the talented Sakia Maarleveld! It's an excellent read in both print and audio.
Happy reading!
Tirzah
Find me on Book Riot, the Insiders Read Harder podcast, All the Books, and Twitter.
If someone forwarded this newsletter to you, click here to subscribe.