Sponsored by Book Marks: A Reading Tracker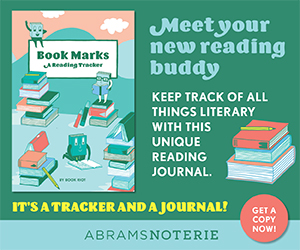 Meet your new reading buddy: an all-in-one spot to record everything and anything book related. Inspired by bullet journaling, Book Marks offers ideas for setting up a multitude of book tracking pages with a mix of fill-in prompts, charts, lists, and plenty of dot-grid pages to customize. To help expand your literary horizons, the journal also includes a section of recommended reading lists compiled by Book Riot. Use Book Marks to jot down what you're currently reading, what's on your nightstand, your favorite quotes, new vocabulary words, memorable characters, your reviews of recent reads, and more. A clever bonus: the back flap has a punch-out bookmark!
Hola Audiophiles! It's that time of the week again already! Time for some new releases and audiobooks news. This week I have a whole bunch of audio content from the Book Riot site too, because I really just have zero regard for your TBRs. So open up that Libby app, fire up Hoopla, and get those Libro or Audible credits in line.
Ready? Let's audio.
---
New Releases – February 18, 2020  (publisher descriptions in quotes)
Of Curses and Kisses by Sandhya Menon, narrated by Shiromi Arserio, Jason Carpenter – The Rao and Emerson families have been feuding for centuries, and Princess Jaya Rao decides she's had it when the Emersons begin to target her little sister. When she realizes that she and his Lordship Grey Emerson will attend the same elite boarding school, she concocts a plan: she'll make him fall in love with her and then stomp, stomp, stomp on his heart! Meanwhile, Grey knows that his 18th birthday spells doom thanks to a curse placed on him by a long dead matriarch of the Rao family. When he meets Jaya, he immediately senses that she's hiding something from him; it might just have something to do with the rose-shaped pendant she wears around her neck, and the curse.
Narrator note: Romance readers may be familiar with the work of Jason Carpenter, a veteran with a catalog of titles by Colleen Hoover, J.R. Ward, Abbi Glines, and Christina Lauren.
The Boston Massacre: An Intimate History by Serena Zabin, narrated by Andrea Gallo – You may have guessed that this is a history of the Boston Massacre! In case you need a refresher (like I did): on a late winter evening in 1770, British soldiers shot five local men to death in a storied event that helped trigger the American Revolution. Serena Zabin, a professor of American Studies at Carleton College, argues that the Massacre arose from not only political but personal conflicts. The wives and children of British soldiers had integrated into Boston society and formed a community with its residents; when the troops shot down those five men, a very intimate personal bond was shattered.
Narrator Note: I'm not familiar with Andrea Gallo who narrates a lot of nonfiction. I do see that she narrates a self help book called I Wanted Fries with That and friends, I feel seen.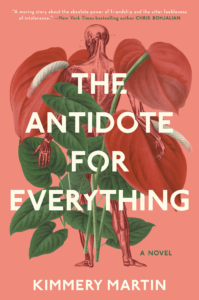 The Antidote for Everything by Kimmery Martin, narrated by Dorothy Dillingham Blue – Georgia Brown is a urologist at a South Carolina hospital where her best friend Jonah is also a family practice doctor. When she travels out of the country for a medical conference, Jonah calls with an urgent message: the hospital has instructed its physicians to stop treating all transgender patients. Jonah, a gay man, refuses to comply and is fired for his resistance. Georgia takes a stand to fight alongside her best friend but ends up doing incalculable harm.
*I was initially hesitant to highlight a book about trans issues written by a cishet woman; I ultimately decided to include it after reading several reviews citing how she consulted with numerous sensitivity readers and actually took their advice.
Narrator note: If you enjoyed Emily Griffin's All We Ever Wanted or Phil Stamper's The Gravity of Us, Dorothy Dillingham Blue was a part of both of those productions.
The Other Mrs. by Mary Kubica, narrated by Piper Goodeve, Jeremy Arthur – Sadie and her husband Will have only just moved their family from Chicago to small-town Maine when a neighbor is found dead in her home. The murder rocks the entire community but really, really shakes Sadie, who's terrified at the idea of a killer in her own backyard. It's not just the death though; it's also the old, creepy house they inherited after Will's sister died unexpectedly and the dark and threatening presence of Will's disturbed teenage niece, not to mention the couple's troubling past. As Sadie is drawn deeper into the details of the murder, she begins to realize just how much she has to lose if the truth ever comes to light.
Narrator note: Piper Goodeve is awesome in Meg Cabot's No Judgements, and Jeremy Arthur most recently narrated Kindness and Wonder: Why Mister Rogers Matters Now More Than Ever by Gavin Edwards.
Latest Listens
I'm currently very engrossed by Sherry Thomas' A Conspiracy in Belgravia! I am a huge fan of this Lady Sherlock concept and have been lagging on keeping up with the series. I'll report back when I'm done with this one. So far, so great!
From the Internets
Paste's roundup of February's best audiobooks. I've had my eye on Djinn Patrol on the Purple Line by Deepa Anappara; according to my audiobook fairy Jamie Canaves, it has a fantastic cast and is a wonderful read.
A reader with a killer commute writes into an advice column to extoll the virtues of audiobooks.
What do Claire Danes, Nick Offerman, Colin Firth, and Meryl Streep have in common? They've all narrated audiobooks! Check out this list of audiobooks narrated by these celebrities and more.
Over at the Riot
SO much good audio content on the site this week!
Check out these middle grade and YA audiobooks with Muslim girl protagonists.
We all know what it's like to find that perfect narrator and immediately want more of their work; here's a roundup of narrators we want more from asap!
Black History Month is a great time to get into these 20 must-read audiobooks narrated by Black women. We of course love them year round.
Are you an Audible person? Here are 15 books available on Audible Escape.
---
That's all I got today! Shoot me an email at vanessa@riotnewmedia.com with audiobook feedback & questions or find me on Twitter and the gram @buenosdiazsd. Sign up for the In The Club newsletter, peep the Read Harder podcast, and watch me booktube every Tuesday and Friday too!
Stay bad & bookish, my friends.
Vanessa