Sponsored by the audiobook edition of You're Not Listening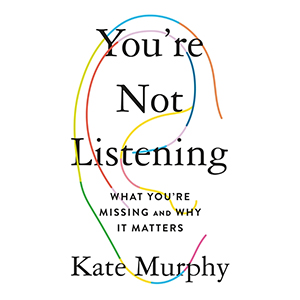 At work, we're taught to lead the conversation. On social media, we shape our personal narratives. At parties, we talk over one another. We're not listening. And no one is listening to us. In this illuminating and often humorous deep dive, Kate Murphy explains why we're not listening, what it's doing to us, and how we can reverse the trend. Equal parts cultural observation, scientific exploration, and call to action, You're Not Listening is to listening what Susan Cain's Quiet was to introversion. It's time to stop talking and start listening… starting with this audiobook read by the author.
Hola Audiophiles! We've finally reached the last few days of January, which somehow lasted 17 seconds and yet also went on for 45 years. One of the bright spots I've held onto is the number of awesome titles that hit shelves this month, including one this week by a Rioter! Let's dive into some of those now.
Ready? Let's audio.
---
New Releases – January 28 (publishers' descriptions in quotes)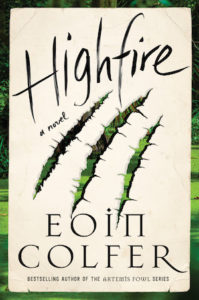 Highfire by Eoin Colfer, narrated by Johnny Heller – Wyvern used to roam the skies looking for angry mobs to scorch. Now this dragon has taken human form and spends his days getting drunkity drunk on his recliner wearing his favorite Flashdance t-shirt, as one does! When a young man named Squib faces death by grenade launcher after witnessing a corrupt cop commit a murder, Wyvern saves Squib from that fiery death. The two unlikely companions strike up a deal: Squib will bring Vern all the booze he wants and keep him company in exchange for protection against the cop who continues to hunt him.
Narrator Note: Did anyone else catch the audiobook of The Swallows by Lisa Lutz? Johnny Heller was part of that ensemble cast. He also narrated Christopher Moore's latest, Noir.
A Delicate Deception by Cat Sebastian, narrated by Joel Leslie – This is the latest in Cat Sebastian's Regency Imposter series, a trilogy of queer and queer-adjacent regency romances. Here we meet reclusive historical novelist Amelia and Sydney, an engineer, both of whom have fled London for the respite of the English countryside. Neither of them is really looking for company, but they find it and whoops, now they're kidding. Then a friend of Sydney's comes to town and reveals a secret Sydney's been holding onto that could spell doom for his relationship with Amelia.
Narrator Note: First: if you're looking for queer romance, Joel Leslie had narrated a lot, and I do mean a lot, of it. Go forth! Second: I sampled four different audiobooks to get a sense for his sound and got everything from gruff sexy Englishman to angsty lustful millennial. He doth contain multitudes.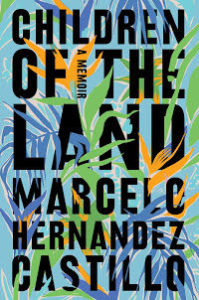 Children of the Land by Marcelo Hernandez Castillo, narrated by Tim Andres Pabon – Marcelo Hernandez Castillo is an award-winning poet and activist who was five years old when he and his family prepared to cross the US-Mexico border. Castillo went blind temporarily from the stress of it but thankfully regained his vision. With it came an understanding: crossing the border would mean learning to hide in plain sight, to make himself less visible for his very safety and that of his family.
Narrator note: Tim Andres Pabon has a deep catalog of business, finance, and self help books. I admit that isn't my usual lane, but his crisp, mellow voice pairs beautifully with Children of the Land.
Hi Five by Joe Ide, narrated by Zeno Robinson – Private detective Isaish Quintabe is back in the fourth installment in Joe Ide's IQ series. A man is found murdered in a boutique owned by his girlfriend Cristiana, whose father happens to be the biggest arms dealer on the west coast. He convinces IQ to take Cristiana's case by threatening to harm IQ's new love interest should he fail to prove her innocence. Sounds like a sticky situation, and there's more: Cristiana has multiple personalities, and all of them were witness to the crime.
Narrator Note: I was wondering how this narration was going to work after sampling Zeno Robinson's performance of James Patterson's Alex Cross. He sounds so young and fresh in it and I thought, "Would that work for Joe Ide's IQ?" No reason to worry: turns out he's just, ya know, talented. Nails it.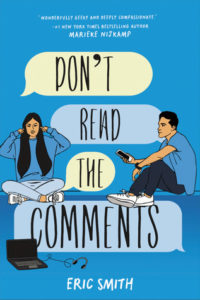 Don't Read the Comments by Eric Smith, narrated by Richa Shukla Moorjani, Sunil Malhotra – Yaaaaay, this is finally out in the world! Eric Smith is a literary agent and also one of our own, the co-host of our Hey YA podcast! He introduces us to Divya Sharma, known as celebrity gamer D1V in the world of a popular video game. She and fellow gamer Aaron Jericho run to the game for escape from the real world and troubles thy each have at home; when virtual harassment in the game bleeds into real life, Divya and Aaron band together to fight back against the trolls.
Narrator Note: I am obsessed with this narrator combo! Sunil Malhotra is awesome in When Breath Becomes Air and Eleanor & Park. I believe Richa Shukla Moorjani is newer to the game, but I am really loving the chemistry these two have here so far!
Latest Listens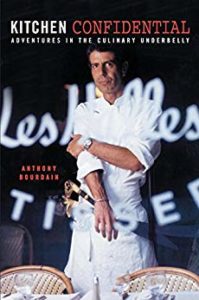 I have no new listens this week, friends. My choices have all failed me! I've ditched three different titles in the last week because they either didn't pull me in, the narration was meh, or the book had severely problematic plot points. So instead I'm giving a shout out to Kitchen Confidential by Anthony Bourdain. I saw Rebecca re-reading this on Instagram and decided to revisit it myself. It's a warm hug for my soul, but with swear words. If you want to learn a lot about the restaurant industry, about Anthony Bourdain's roots and thoughts on life and food, or just revisit an oldie but goodie like I did, treat yourself.
From the Internets
If you've been looking to get into audiobook narration, here's how to do it!
Over at the Riot
Did you know that not a lot of Australian books are published here in the US? I learned that in this post, a roundup of awesome Australian audiobooks!
---
That's all I got today! Shoot me an email at vanessa@riotnewmedia.com with audiobook feedback & questions or find me on Twitter and the gram @buenosdiazsd. Sign up for the In The Club newsletter, peep the Read Harder podcast, and watch me booktube every Tuesday and Friday too!
Stay bad & bookish, my friends.
Vanessa