Sponsored by Dynamite Entertainment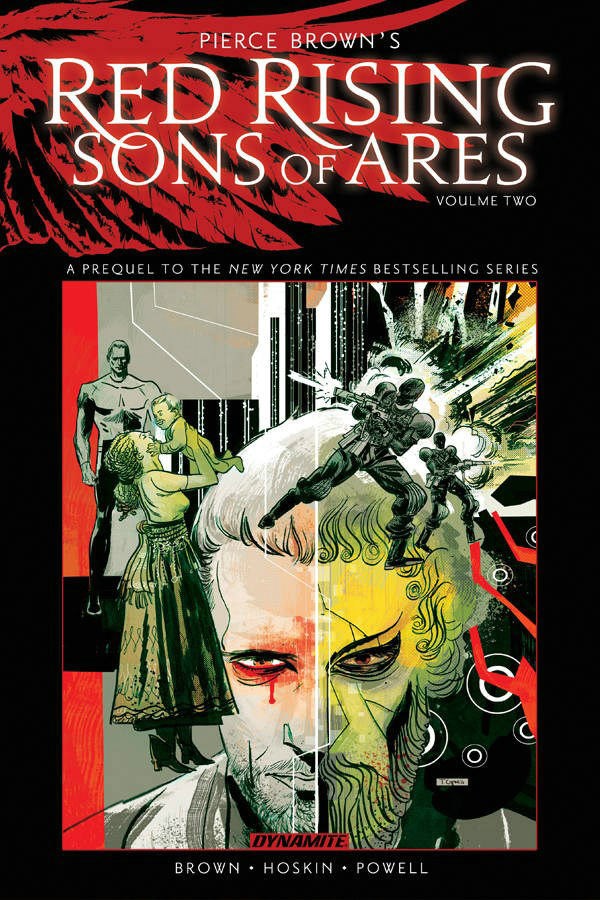 The world of Pierce Brown's Red Rising expands further in the next installment of the Sons of Ares storyline. Fitchner's quest for revenge continues as he and the other Sons of Ares seek out the Golds who have wronged his family. But actions come with repercussions and an elaborate game of cat and mouse is on. A battle of Gold versus Gold erupts further into more than acts of vengeance and becomes the seeds of a revolution.
Buckle up, buttercups, because I have a LOT of news to share with you. Book news, I mean, not personal news. I don't have any of that, other than I took the (no longer) kittens for their yearly checkup this morning, and the vet declared them GIANT MONSTERS. But that's not news to me, because I live with them.
Oh! And I've also started a 365 Movie project, where I am watching a movie a night. Because I do really enjoy movies. I just haven't watched very many in the last decade. But I have carved out a little time each evening, and it's been fun. I have really enjoyed Booksmart and Monsters University so far.
Whatever you are doing or watching or reading this week, please remember to be kind to yourself and others. I'll see you again on Monday! – xoxo, Liberty
Trivia question time! What author wrote her first novel on a dare from her sister? (Scroll to the bottom for the answer.)
Deals, Reals, and Squeals!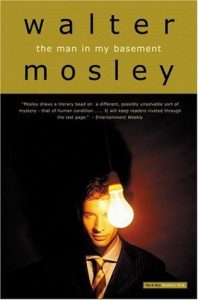 The Man in My Basement adaptation, based on the Walter Mosley novel, has added Nadia Lati as its director.
Here's the cover reveal for Alaya Dawn Johnson's Trouble the Saints.
Graywolf Press will be publishing two more books from Maggie Nelson.
Wanuri Kahiu will adapt Black Kids, Christina Hammonds Reed's upcoming YA novel.
Margaret Atwood will publish her first poetry collection in over a decade.
Lyla Lee's upcoming YA novel I'll Be The One will be adapted as a film by HBO Max.
Bywater Books is starting Amble Press, which will "will primarily publish fiction and narrative non-fiction from writers who identify as people of color, and those writing across the broader queer spectrum."
Here's the cover reveal for Ring Shout by P. Djèlí Clark.
Amy Rose Capetta announced a magical baking book.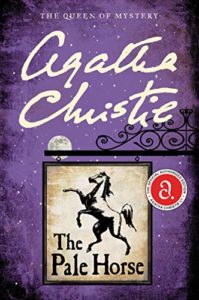 Here's the first trailer for The Pale Horse, adapted from the novel by Agatha Christie.
A. J. Hackwith shared the cover of The Archive of the Forgotten (A Novel from Hell's Library).
Here are the 2020 PEN America Literary Awards finalists!
And here are the new Newbery, Caldecott, and Printz award winners, and the 2020 Andrew Carnegie Medal winners!
Solaris Books has acquired a new novel by Yoon Ha Lee.
Mark Oshiro announced a two-book deal with HarperCollins.
Alex Segura is writing a Poe Dameron/Star Wars novel.
Here's the first look at the cover of Caitlín R. Kiernan's The Tindalos Asset.
A great interview with Ruth Negga about her appearance in Hamlet.
And Kristen Radtke announced her next book.
Book Riot Recommends
At Book Riot, I work on the New Books! email, the All the Books! podcast about new releases, and the Book Riot Insiders New Release Index. I am very fortunate to get to read a lot of upcoming titles, and learn about a lot of upcoming titles, and I'm delighted to share a couple with you each week so you can add them to your TBR! (It will now be books I loved on Mondays and books I'm excited to read on Thursdays. YAY, BOOKS!)
Excited to read:
The Silence of the White City by Eva García Sáenz (Vintage Crime/Black Lizard, July 28)
I heard from one of my favorite book people last night that this is the book she wants everyone to read this year. It's the first in a trilogy about a serial killer and a young detective known as "Kraken" who is assigned to solve the ritualistic murders. It sounds fantastic. It's already a huge bestseller in Spain and Latin America. You know me, I love a creepy serial killer book, so I can't wait to get my hands on this one!
What I'm reading this week.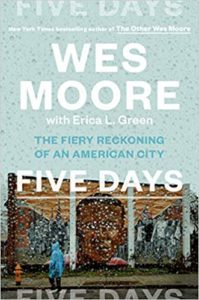 Five Days: The Fiery Reckoning of an American City by Wes Moore, Erica L. Green
Stray: A Memoir by Stephanie Danler
The City of Good Death by Priyanka Champaneri
Betty: A Novel by Tiffany McDaniel
Red Dust by Yoss, David Frye (translator)
(It has been a WEEK, so I haven't finished any of these yet.)
And this is funny.
Poor Mautice.
Song stuck in my head:
"Queen" by Perfume Genius
Trivia answer: Agatha Christie.
You made it to the bottom! High five. Thanks for reading! – xo, L