Sponsored by Grace is Gone by Emily Elgar and Harper Paperbacks.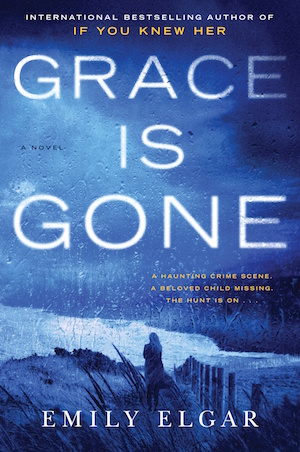 Meg and her daughter Grace are the most beloved family in their small town, the linchpin that holds their tight-knit English community together. So when Meg is found brutally murdered and her daughter missing, the members of their community are rocked by the tragedy. Her daughter, Grace, has been sick for years and all Meg has ever done is look after her. Now Meg is dead, Grace is gone—and their close friends and neighbors fear for Grace's life.
Hello mystery fans! This week I have for you a new PI series, Die Hard at a rest stop (my title for the book), and a historical mystery with a character I adored.
New PI In Ghana! (TW attempted rape on page/ suicide on page/ ableism)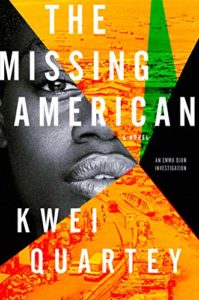 The Missing American by Kwei Quartey (Jan 14): This is Quarey's start to a new series after completing his procedural series Darko Dawson.
This series starts with multiple points of view between the U.S. and Accra, Ghana. We have a white male widow in the U.S. who falls in love with a Ghanaian woman on the internet, and a police woman in Ghana, Emma Djan, who is assaulted by a superior (attempted rape) and is forced instead to work for a private detective firm.
When the widow goes missing in Ghana–after coming to meet his new love–Djan ends up on the case that will hit closer to home than she'd like, as the widow's journalist friend and son also try to figure out what happened.
The book looks at both the scammers and victims of internet scamming, which I found super interesting–especially, since it also focuses on fetish priests (it is not a sexual thing). I really enjoyed following along with the characters' lives in Ghana and Djan's character, which will certainly have me picking up the next book in the series. Heads up there is a fair amount of ableism related to autism.
Die Hard At A Rest Stop/ Snowed-In Mystery Thriller! (TW racial slurs/ terminally ill parent not on page/ pedophile not on page)
No Exit by Taylor Adams: This made me think of Die Hard (which I love) if John McClane was a college woman tasked with saving everyone from a kidnapper while snowed in at a rest stop.
Darby Thorne is driving home to see her terminally ill mother when she gets snowed in at a rest stop with a handful of strangers during a blizzard. A less than ideal situation that quickly turns super intense when she spots a child in a cage in the back of a van at the rest stop. Surrounded by strangers, she has no idea who the van belongs to or how to get help without tipping them off that she knows…
This is the type of thriller I love: fast-paced, twisty, enough of a fun/implausible element to not give me nightmares or despair over the state of the world, and it kept me up way past my bedtime. I loved the child character, Thorne's character (battling with processing the times in her life she hasn't been the greatest human/daughter and trying to save a child and strangers at any cost to her well-being), how the plot kept evolving and taking new turns, and playing the game what-would-I-do-in-this-situation?! If you like thrillers, snowed-in mysteries, and Die Hard this was an awesome read.
For Historical And Cozy Mystery Fans (TW mentions domestic violence/ past suicide, detail/ talk of past peeping Tom)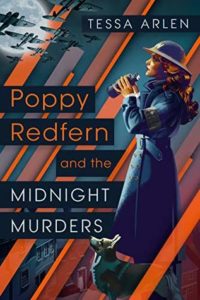 Poppy Redfern and the Midnight Murders (A Woman of WWII Mystery #1) by Tessa Arlen: This is one of those mysteries where I just fell in love with the main character early on and very much enjoyed watching her navigate her world while trying to solve a mystery.
Poppy Redfern is an Air Raid Warden in a remote English village in 1942–a few years into WWII–who has been raised by her grandparents and is rational, curious, kind, and compassionate–with a little dog as a sidekick. While her kindness and rationality has her neutral on the American Air Force members arriving in town, she is mostly alone in this mindset, especially when women begin to be murdered and all eyes turn to the Americans. Maybe not helping her stay clearheaded all the time is her crush on one of the Americans, but Redfern has the ability to shake most things off after some processing and continue with the task at hand, which in this case is who among them is a murderer?
This was an enjoyable and entertaining read with an ending (separate from the mystery) that left me wanting to follow Redfern in her future endeavors. This works well if you're looking for a new series to pickup and also if you want just a standalone as the mystery is all wrapped up in the first book. (The audiobook is on Hoopla and has a good narrator.)
Recent Releases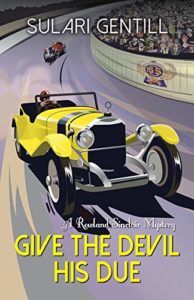 Give the Devil His Due (Rowland Sinclair #7) by Sulari Gentill: Australian historical mystery series that went real quick to the top of my TBR.
Long Bright River by Liz Moore (My current libro.fm audiobook which follows a cop trying to find her unofficially missing sister who has battled addiction since her teen years.)
The Lost Man by Jane Harper if you were waiting for the paperback edition of one of 2019's best crime books it's now out! (Review) (TW domestic abuse/ child abuse/ date rape/ suicide)
Browse all the books recommended in Unusual Suspects previous newsletters on this shelf. See 2020 upcoming releases. An Unusual Suspects Pinterest board. Get Tailored Book Recommendations!
Until next time, keep investigating! In the meantime, come talk books with me on Twitter, Instagram, and Litsy–you can find me under Jamie Canavés.
If a mystery fan forwarded this newsletter to you and you'd like your very own you can sign up here.